COMMENT

By Fernando Duarte
The unveiling of Luiz Felipe Scolari as Brazil coach for a second time came as a huge surprise to most onlookers. Not because the Brazilian Football Confederation (CBF) wanted him, but because the former Chelsea manager actually accepted what was a fourth offer to take over the
Selecao
.
After politely turning down the advances of ex-CBF president Ricardo Teixeira in 2006 and 2010, Scolari has finally said yes. But the reason why still seems a mystery, even though the 64-year-old attempted to answer the question during his first press conference on Thursday by declaring he was "happy to work with people who have confidence in me."
Scolari is well aware of the hoodoo surrounding former winning bosses' attempts to achieve a second World Cup success. He does not need to do much research to learn that Italy's Vittorio Pozzo was the last man to actually succeed in doing this back in 1938.
Each of Brazil's five titles were won by different coaches. The country's only boss who has even come close to enjoying double success is Mario Zagallo, who won the tournament with Brazil in 1970 and then became technical assistant to Carlos Alberto Parreira in 1994.
The man from Passo Fundo, in Southern Brazil, also knows what a home World Cup in 2014 will mean to a country still traumatised by losing the 1950 final. Even though a crisis of confidence seems to have taken over players, public and media, it seems there can be no excuse for failure this time around.
So why is he about to down a chalice that seems so poisoned that not even Snow White dressed in a famous Rio bikini would touch it?
It certainly was not for the money. It has been widely reported that Scolari has accepted wages that will not match the €259,000 a month he collected at Palmeiras - the Sao Paulo club with whom he won this year's Brazilian Cup but also oversaw part of a league campaign that ended with relegation for the second time in 10 years.
This writer's answer? For a start, few things in football please Scolari more than a suicide mission. Nostalgia may make a lot of people remember the quality of the Brazil 2002 squad, but that team in fact flattered to deceive in the World Cup qualifiers and perhaps even Ronaldo's mother did not expect her son to become the first player since 1970 to score eight goals in the tournament.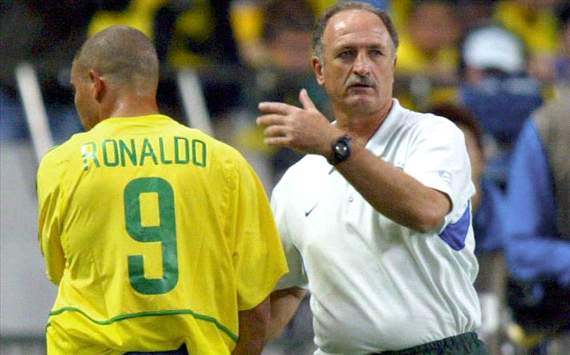 Supporting role | 'Big Phil' always got the best out of the Selecao's No.9
In that campaign, however, Scolari showed a trait that people in England and Europe would have witnessed had he received more time and support from Chelsea owner Roman Abramovich at Stamford Bridge. The Brazil boss has proven that he benefits from siege situations, especially in gelling groups of players.
That took place in the three most important campaigns of his career: Brazil in 2002, and Portugal in 2004 and 2006. These situations allowed the 'Scolari family' mentality to prevail, as egos were accommodated and pressure was deflected. However, a reason for concern is that all three groups had a fair amount of seasoned players, something Scolari will not be able to rely upon with today's side. Brazil's current squad averages around 24-years, and only four players have ever experienced World Cup action.
It will not be any surprise, then, if 'Big Phil' resorts to bringing some veterans back to the fold. Names like former Roma man Juan spring to mind, even though his predecessor Mano Menezes refused to call up the injury-prone defender. In fact he brought in Lucio, a Champions League winner with Inter. The problem is that most veterans are far from shining at the moment, with Fluminense's former Lyon striker Fred a notable exception.
| | |
| --- | --- |
| | BIG PHIL'S FIRST BRAZIL SPELL IN NUMBERS |
| 5 | Scolari led Brazil to their fifth World Cup victory in 2002 |
| 6 | The number of defeats Scolari suffered as Brazil boss |
| 8 | The number of goals scored by Ronaldo at the 2002 World Cup under Scolari |
| 26 | The Brazil trainer led his side to 19 victories in his first spell from 26 games |
| 73 | The percentage of wins gained by 'Big Phil' during his first venture with the Selecao |
Like 10 years ago, however, Big Phil inherits a group with a horrendous aftertaste of defeat in their throats. The 2002 generation wanted to make amends after the drubbing at the hands of France in Paris four years earlier. Ten years later, and history is repeating itself. Neymar is suffering from a London Olympics hangover and several players from the squad have told this author that the sensation was horrendous enough to still make some have nightmares of the Wembley defeat by Mexico.
But one can easily see Scolari using the same psychological support dispensed to the two Ronaldos for Neymar, paternal tones that the Santos striker was missing with Menezes. Brazil's coach will certainly adopt wilful blindness strong enough to embarrass Arsenal boss Arsene Wenger when defending his players.
On the pitch, he will need to work harder. As deceitful as the Fifa rankings can be, Brazil's plunge to their worst position since the list was created, almost 20 years ago, is no algorithmic accident. In two-and-a-half years under Menezes, Brazil only had glimpses of a well-oiled side and even the tests with the 4-6-0 formations came much more from necessity than some kind of admiration for Pep Guardiola's Barcelona. Since Ronaldo's retirement, Brazil have struggled to find a suitable No.9.
One thing people cannot say is that Scolari lacks
cojones
. Ten years ago, he tore up the unwritten book of Brazilian tactics by going to Japan and South Korea with a back-three formation composed of Lucio, Roque Junior and Edmilson. It is tempting to think he could tinker with the starting XI again when his first choice full-backs are Barcelona's Dani Alves and Real Madrid's Marcelo.
Scolari's second coming is not totally football-related. By bringing back a name who earned public respect a decade ago, the Brazilian FA is praying for breathing space. The trainer's well-known lack of patience with deeper probing questions by the media was addressed by the appointment of another blast from the past, Carlos Alberto Parreira (the 1994 World Cup-winning coach) as an advisor for Scolari. Parreira's role is nothing but a buffer – even after failing to win the 2006 World Cup, he is widely respected in Brazil.
One suspects both Scolari and Parreira were both driven by a mixture of patriotism and vindication, which in the case of the coach has a lot to do with the massive hit his reputation took after his ill-fated spell at Chelsea. That Brazil's first commitment in 2013 is a friendly against England at Wembley only serves to make things much more interesting.
As for what Brazil can achieve in 2014, Scolari will not try to fool anyone. These days, Brazil are not the favourites for the title and although Menezes left his post with a very decent record (27 wins and 6 draws in 40 matches), most of his results were obtained against second-tier opponents such as Gabon and Iraq. The reality is that Brazil are yet to beat a top-ranked side since a 1-0 win against England in Doha, three years ago. Their triumphs over an Argentina B team in a couple of friendlies reserved only for domestic players should not be taken into account.
The future looks positive, though. The return of Kaka, whose club career has been pretty much restricted to cameos at Real Madrid, has surprisingly helped settle the midfield, and combined with Oscar, Neymar and Hulk, the quartet combines both speed and stamina. Corinthians' Paulinho could be as influential as Gilberto Silva was in 'Big Phil's' class of 2002.
However, it is quite possible that Scolari, a devout Catholic, will resort to bringing to the dressing room the Mother Mary statue that was part of his staff when he took over Brazil in 2001 in the hope that a little bit of luck will come his way. If it does, he could yet fully remove the pain and hurt felt by the country over 50 years ago and return the
Selecao
to the top of the game.
Follow Fernando Duarte on