Aditya Bajaj




Analysis

l Borussia Dortmund

Follow on
What a week of Champion League football it has been.
If it was embarrassing for the English and the European champions, it was just about usual for the Spanish teams and if it was somewhat redeeming for the Italians as both AC Milan and Juventus recorded much needed victories ahead of an important derby, the Germans came out on top.
But for one German team in particular, it was special.
Bundesliga champions, Borussia Dortmund, drawn in the group of death in Europe came out unscathed and against all odds, will finish top regardless of what happens in the last remaining round of matches in the group stages of the competition.
In a way, it can be said that 'Group D' was nothing short of a mini 'Champions League' in itself. Real Madrid, Manchester City, Ajax and Dortmund were domestic champions last season from four of Europe's top leagues and coming out on top from such a pool is like being crowned as the champions of the champions, albeit unofficially.
A lot is being said about how Manchester City and Madrid have failed to show their class and though appreciative of Dortmund's performances, no one really credits Jürgen Klopp and his men for simply being the best of the lot.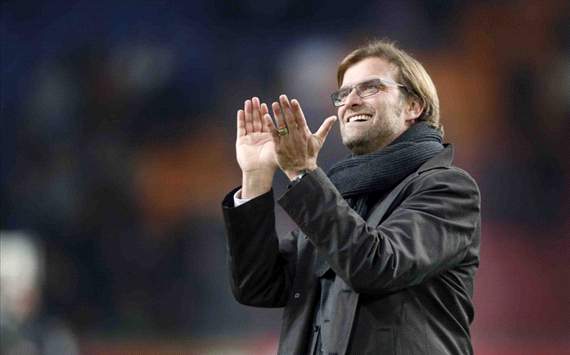 Jurgen Klopp | The German manager has revolutionised BVB since taking over in 2008
Truth be told, in a time when Chelsea face the prospect of crashing out in the group stages itself and City once again have demonstrated that they are nothing but powder cakes outside England, the Borussians have embarrassed the overspending elites by following a paradigm which breeds on quality, economy and most importantly puts the game ahead of everything else.
Zenit too can be added to that list of those that have been shamed, having splashed out some 80 million euros on the final day of the transfer market on two of the most sought after players on the continent and yet somehow are not even assured of a spot in the much maligned Europa League, leave aside qualification to the next round. While PSG despite buying a host of stars, just cannot cope without a certain Zlatan Ibrahimovic.
In a time of such financial crisis, where Arab and Russian money continues to defy all logic of recession that everyone else is reeling under, what Dortmund have done is demonstrate the importance of a solid youth system and scouting network.
Amongst the Europe's elites not long ago, the club were forced to sell off their stadium – the Westfalenstadion – back in 2002 to a real estate trust due to threating economic conditions that almost took the club down due to mounting debt. Chasing regular Champions League qualification, huge amounts were spent on expensive signings resulting in high wages which unfortunately failed to materialize as per the club's goals and targets season after season.
However a campaign by loyal fans helped raise the finance, and having sorted out an effective structure with long term goals in sight along with the help of public authorities, marketing deals and loans from various companies it was in 2007, that the club was back and so was their beloved Westfalenstadion, the shares of which were re-purchased.
Finishing 13th in the 2007-08 season, it was the appointment of Jürgen Klopp as their manager which effectively kick started what would turn out to be an astute way of climbing back to the top of the Bundesliga much to the disliking of their rivals and German powerhouse Bayern Munich who were the undisputed rulers of the country till then. It was their throne that Klopp had in sight as along with the management it was decided that building on a strong youth system was the only rational way forward to achieve success without having to face the financial difficulties of the past.
Two seasons later, they were crowned the 2010-11 Bundesliga champions, a title they successfully retained the following campaign completing an unprecedented domestic double thrashing Bayern Munich in the DFB-Pokal or the German Cup ending FC Hollywood's reign in Deutschland.
Off the field, Die Borussen are amongst the few European clubs to have recorded profits over the past couple of seasons and this is all down to the youth system that has successfully been able to produce the likes of Marcel Schmelzer, Mario Gotze and Marco Reus has helped further the careers of the likes of Mats Hummels, Kevin Großkreutz and Sven Bender who were bought at a very young age from clubs in and around Germany.
Despite losing key players, the club hasn't failed to replace them either. If captain Nuri Sahin was sold to Madrid back in 2011, Shinji Kagawa was one season old and already ready to take up his place and when the Japanese himself was sold to Manchester United this summer, the transfer facilitated the purchase of one of the best attackers in Europe today as Marco Reus was bought in to effectively replace the departing attacking midfielder whose absence is not at all felt by the home fans.
Dortmund's policy of producing and developing young players who not only do the job on the pitch but also fetch the club huge amounts in transfer proceedings and a scouting network that is quick to spot talent around the globe to replace the ones transferred is something that has helped them sustain themselves financially with their revenues showing a huge 42% jump in the 2011-12 season.
FINANCIAL STATISTICS OF SOME OF THE KEY PLAYERS PLAYING FOR BVB THIS SEASON
Player (Age)
MV at the time of joining (pounds)
Bought from
Bought for
Current MV (pounds)
% increase/decrease in MV
Roman Weidenfeller(32)
1.3m (2002)
FC Kaiserslautern
Free
4.4m
+ 238%
(10.5 years)
Neven Subotic(23)
3.5m (2008)
FSV Mainz
3.9m
16m
+357% (4.5 years)
Mats Hummels(23)
525,000 (2008)
Bayern Munich
3.6m
21m
+3900%
(4.5 years)
Lukasz Piszczek(27)
2.2 (2010)
Hertha BSC
Free
11m
+400%(2.5 years)
Marcel Schmelzer(24)
50,000 (2008)
Youth Team
Free
6.6m
+13100%
(4.5 years)
Sebastian Kehl(32)
2.8m (2002)
SC Freiburg
2.8m
2.2m
-21%(10.5 years)
Ilkay Gündogan(22)
5.7m (2011)
FC Nuremberg
4.8m
12.5m
+119%(1.5 years)
Sven Bender(23)
1.3m (2009)
1860 Munich
Free
12.5m
+861%(3.5 years)
Ivan Perisic(23)
5.3m (2011)
Club Brugge
4.8m
6.2m
+16%(1.5 years)
Jakub Blaszczykowski(26)
3m (2007)
Wisla Krakow
2.6m
8.8m
+193%(5.5 years)
Mario Gotze(20)
1.3m (2010)
Youth Team
Free
26.5m
+1938%
(2.5 years)
Marco Reus(23)
17.5(2012)
Borussia Monchengladbach
15m
24m
+37%(0.5 years)
Robert Lewandowski(24)
4.5m (2010)
Lech Poznan
4.1m
22m
+388%(2.5 years)
Kevin Großkreutz(24)
1.3 (2009)
Rot Weiss Ahlen
Free
7m
+438% (3.5 years)
Total
50.28m
-
41.6m
181m
+260 %
*Source : www.transfermarkt.co.uk
Mats Hummels, one of the best defenders in Germany, for example had a market value of a paltry 525,000 pounds when in Bayern Munich back in 2008 before he was transferred to the Signal Iduna Park. Today, four seasons later he is worth a staggering 21 million and having tied his future to the club until 2016, it's anyone's guess as to how much he will cost the others to lure him from the Bundesliga champions.
In an era, where Roman Abramovich flagged off an arm's race in the continent thanks to his exorbitant spending with Chelsea leading many an Arab billionaire to inject uncontrollable flow of wealth into clubs like Manchester City and more recently Paris Saint-Germain, Borussia Dortmund are duly showing the elites the right way to sustain success both on and off the pitch.
Udinese in Italy follow the same model, and although they have no trophies to show for their success as a club, they are still considered to be the one with the best scouting system in the continent having introduced the likes of Alexis Sanchez, Mauricio Isla, Kwadwo Asamoah and Gokhan Inler to some of the giants of football.
Having built a legacy of stars over the past few decades since the advent of the Berlusconi era back in the 80's, AC Milan have finally realized the importance of youth which was heavily ignored in the past with the club relying on their million dollar babies to turn into one of the most successful clubs in the world. The Rossoneri's current results reflect a state of decline but in truth the current model of youth over well-established but expensive players will ultimately fructify if given ample time and dealt with patience much like what the management at Dortmund has done.
Roberto Mancini defended his side's dismal performance in Europe by stating that it would be crazy to expect continental success in just two years' time. Well what good is the 300 million pounds that the club has spent over the past three seasons on buying him the players he put his fingers on? Talking about winning the most prestigious club competition in the world, City are yet to get through the group stages in two seasons!!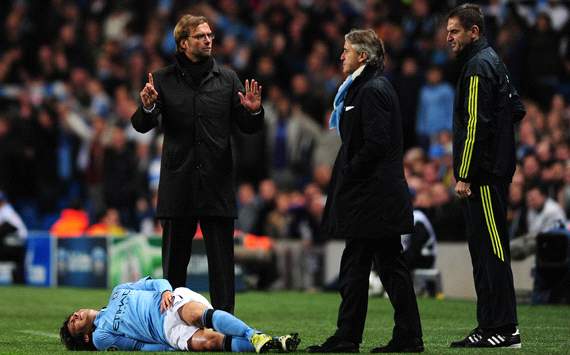 Mancini and his billionaire employers perhaps have a lot to learn from their modest German rivals

Instead of building a legacy riding on their Champions League success last season, Chelsea chose to spend some 90 million pounds to defend their title but failed to improve their squad depth and are on the verge of elimination just like City who have already packed their bags to solely concentrate on the domestic front.
Dortmund on the other hand, have a 'net' spending of almost zero over the past three seasons, and have managed to deliver two league titles against the might of the Bavarians and are now being considered amongst the favourites for the Champions League, even though turning that into a reality is a long shot.
With the Financial Fair Play (FFP) set to take charge next year, Dortmund's model is the one that every club has to eventually resort to and if at all UEFA is serious and successful at doing what they say they will and help curb the menace that these big spending clubs have created over the past few years, it will help formulate a more level and balanced playing field where success will depend on pure quality and a club's ability to produce and develop players and not how much these clubs can spend.
Yes, players like Robert Lewandowski, Mats Hummels and Gotze will continue to be chased by the wealthy and maybe next season or the season after that they will be sold as Dortmund cannot compete with the biggies when it comes to astronomic wages and lifestyle, but fans can take solace in the fact that they will be replaced by equally talented players, something the club has managed to do every season.
Yet how you wish there was something that could be done to prevent such clubs from selling their assets to build a legacy, so for once we could actually have a real football team and not a 'business company' win the Champions League!
Don't forget to let us know in the comments section below or discuss on twitter@adityabajaj

How do you stay up with football when on the move? With http://m.goal.com – your best source for mobile coverage of the beautiful game.