COMMENT
By Russell Stoddart
Manchester United
midfielder
Darren Fletcher
is an unlikely Braveheart.
The 28-year-old Scot might look more Wallace and Gromit than William Wallace but appearances can be deceptive.
His warrior spirit has an admirer in his boss Sir Alex Ferguson, who was hugely impressed with the way he silenced his Old Trafford critics to become a first-team regular.
That strength of character also served him well when confronted with the biggest challenge of his young life.
FLETCHER'S MAN UTD RETURN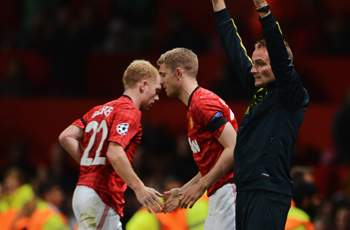 PLAYER RATING VS NEWCASTLE






The Scot looked much sharper than he did in his brief cameo against Galatasaray a week ago, adding much-needed composure to United's midfield trio as he calmly marshalled an inexperienced back four.
PLAYER RATING VS GALATASARAY





Made his long-awaited return to first-team action to tumultuous applause from the home faithful. Did not have much time to stamp his mark on the game, but it was a welcome run-out for the Scotland man.
A 'mystery virus' picked up during the 2010-11 season saw him bedridden for two weeks and lose over a stone in weight.
He made a brief return but was diagnosed with the inflammatory bowel condition ulcerative colitis, a disease that can affect every aspect of a person's quality of life.
Fletcher was granted indefinite leave last November to seek treatment, but sitting around his Cheshire home feeling sorry for himself isn't his style. A product of United's youth system, he spent some of his convalescence coaching the reserves and academy players.
The months drifted past and concerns grew that he might never play for the club again. There were rumours that Sir Alex was considering offering him a full-time coaching role and there was even talk of a testimonial match.
United insisted that Fletcher would have as long as it took before a decision was made on his football future.
Patience isn't a commodity in ready supply in football, but it has its rewards. Slowly but surely, Fletcher emerged from his private hell.
A strict diet and effective course of medication has put him on the road to recovery. It is a regime he will likely have to follow for the rest of his life. Meanwhile, a close-knit family and a sympathetic boss have helped reduce the stress levels that can aggravate colitis.
Not only did Fletcher put the pounds back on, punishing hours spent in the gym made him physically stronger than at any point before his illness.
Although no one, least of all Fletcher himself, is taking his recovery for granted, all that appears missing now is match fitness.
He received a standing ovation on his first-team return as a substitute in the Champions League match against Turkish champions Galatasaray and he captained the side in their League Cup match against Newcastle last week playing a role in front of the back four.
Sir Alex told reporters: "The great thing about Fletcher the other night was that his enthusiasm was fantastic."
Referring to the illness, the United boss commented: "It is a matter of hoping the condition stays dormant and he is handling his diet well. Hopefully he gets that break."
It is also a boost to under-fire Scotland boss Craig Levein ahead of a make-or-break World Cup double-header against Wales and Croatia later this month. Levein travelled to watch his skipper against Newcastle.
Former Manchester United star and fellow Scot Lou Macari has mapped Fletcher's recovery. He told Goal.com: "I saw Darren playing for United reserves at Stoke a couple of months ago and he was taking it easy. At the time I couldn't see a quick return to the first-team.
"He has worked round the clock to get his fitness levels back up and I was delighted to see him come through last Wednesday's League Cup match with flying colours."
Sometimes you only appreciate something when you don't have it and Fletcher's stock rose last season in his absence.
Without the services of a fully-fit Fletcher, United were dumped out of the Champions League at the group stages and then threw away too many points as they lost the title to their fierce city rivals.
The Red Devils were too often exposed without the steely backbone that Fletcher provided.
Sir Alex might possess an abundance of midfield talent, but only Fletcher fits the bill of the 'box-to-box' player who he can rely upon to snap at the heels of the opposition from start to finish.
And yet Manchester United and Fletcher have not always been an easy fit. Without possessing the flair and star-quality of the 1990's gilded United generation, he remained largely unheralded outside the dressing room during the formative years of his United career.
It took a while for him to convince sections of the United support who didn't appreciate his tireless work ethic was a crucial component to United's success.
Macari recalled: "I did a lot of phone-ins for the club's television station
MUTV
back then and was angered with some of the critical comments from fans about Darren.
"All I could do was give him my support and I took great satisfaction when the calls stopped coming in."
By the time of his illness last November, Fletcher wasn't just a regular in the United side, he was among the first names on the teamsheet.
Macari added: "I only hope that he can fully recover and we get back the player that we saw week in, week out. A permanent fixture who, along with Ryan Giggs and Paul Scholes, is a player Sir Alex can rely upon to do a job. When we lost him, I think everyone connected with the club realised they'd lost a valuable player."
With a potentially decisive set of fixtures to come before the New Year, including trips to Newcastle, where Sir Alex's side were soundly beaten last season, and Manchester City, as well as a home clash against Arsenal, Fletcher will no doubt have a part to play.
The 28-year-old is overcoming one of the toughest challenges he will ever face off the field - helping United back to their feet and on the trophy trail should be child's play.