Liverpool had a very tough last season under Kenny Dalglish where their performance was dismal as they finished 8th in the league table. That was to be their lowest ever finish in the league. Although on the other hand, Liverpool were outstanding in both the Cups, playing both the finals at Wembley.
Kenny Dalglish could not keep his job at the end of the season despite leading Liverpool to a Carling Cup glory against Cardiff, and their first trophy after winning the FA Cup in 2006. Brendan Rodgers was brought in as the club's new manager and he will be looking to start off his team's pre-season campaign on a high after having secured Fabio Borini from AS Roma, his first transfer of the season.
Back to work from July 5th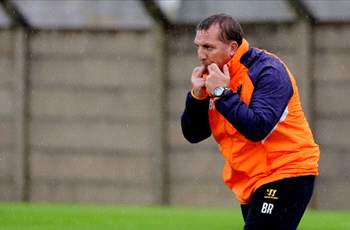 The players who were not on international duty during the summer returned to the club's training complex in Melwood on the 5th of July to get ready for the pre-season campaign with new manager Brendan Rodgers.
Alberto Aquilani and Joe Cole, who have returned from their loans also joined the first-team in training. Rodgers first had a talk with the entire team after which running and jogging sessions were held. A break followed thereafter and the players then again resumed training where they were asked to perform drills related to ball control and movements.
Liverpool then next trained at Melwood on 12th July prior to departing on their tour of North America. Medical check-ups were conducted and different possible team formations were practised. Each player was then briefed on the role they would have to play, after which the team played a small game.
Liverpool's pre-season campaign kicks off on July the 21st in the USA where they will be playing three matches in a week. After that, they will leave for their Europa League Qualification stage, and will finish off their pre-season campaign with a game against Bayer Leverkusen on 12th August, six days before the start of the season.
Goal.com
looks at the friendlies that Liverpool will indulge in before the season starts
.



| | |
| --- | --- |
| | Toronto FC vs Liverpool |
Date: 21st July, 2012

Venue: Rodgers Centre, Toronto, ON.

Kick Off: 09:00 pm BST

Sunday 22nd July:
01:30 am IST.


Liverpool kickstart their pre-season tour to the USA with a match against Toronto FC on 21st July at the Rodgers Centre in Toronto. The game against Toronto, who became the first Canadian team to enter the MLS back in 2007, will form part of the World Football Challenge.
Liverpool played Porto at the same stadium - when it was the SkyDome - back in 2004 in front of over 40,000 fans and it will be great for the club to give their fans in the region another chance to see them play.
Liverpool's Canadian fans can look forward to seeing the Reds play one of their top local teams - a truly exciting prospect and one that many fans will undoubtedly relish. The game is sure to attract huge crowd and the game will also be well contested.
About the opposition-
Toronto FC (TFC) is a Canadian professional soccer club based in Toronto, Ontario which competes in Major League Soccer(MLS). Toronto became MLS's fourteenth team in the league, and first Canadian team, upon their expansion in 2007. The team plays their home matches at the soccer specific BMO field located in exhibition place along the Toronto lake shore. The team is operated by Maple Leaf Sports and is currently coached by Paul Marriner.
They came 8th in the Eastern Conference last season and right now have a very poor record of five points from 13 league contests and a goal differential of -15.
Torsten Frings
, the forman German midfielder and captain of Toronto FC will be the man to watch out for as he has the ability to create problems for the opponent defence with his experience. His explosive powerful shots is something Liverpool have to take care of.
Date: 26th July, 2012

Venue: Fenway Park, Boston, MA

Kick Off: 1:30 am GMT

Thursday 22nd July:
05:00 am IST.


When Fenway Sports Group purchased Liverpool FC, a friendly at Fenway Park in Boston was inevitable. AS Roma as the opponent at Fenway was also on the cards as
Roma's Club president Thomas DiBenedetto is also a member of the Fenway group.
Liverpool and AS Roma square off on July 25th at Fenway Park which be their second pre-season game. Roma will definitely provide better opposition than Toronto FC, having finished seventh in Serie A last season.
Fenway Park is also celebrating its 100th birthday this year, having opened within days of the Titanic sinking so one could easily expect a packed atmosphere when the two teams come head to head.
About the opposition-
Associazione Sportiva Roma, commonly referred to as simply Roma, is a professional Italian football club based in Rome. Founded by a merger arranged by the Fascist regime in 1927, Roma have participated in the top-tier of Italian football for all of their existence but one season in the early 50s.
Home games are currently played at the
Stadio Olympico, a venue they share with city rivals Lazio. With a capacity of over 72,000, it is the
second largest of its kind in Italy, with only San Siro able to seat more.
Francesco Totti
, the club captain and a legend at the club with 501 appearances and 215 goals, will be the man to watch out for as he has a lot of experience and can cause trouble to the Liverpool defence playing as a striker or in his favoured trequartista position.
| | |
| --- | --- |
| | Tottenham vs Liverpool |
Date: 28th July, 2012

Venue: M&T Bank Stadium, Baltimore, MD.

Kick Off: 07:00 pm GMT
11:30 pm IST.


The final game of the North American tour is also the one that presents the most familiar opponent. Liverpool face Premier League opponents Tottenham on July 28th at M&T Bank Stadium at Baltimore.
This will be Liverpool's perfect test before they head off for their Europa League qualification round as Tottenham are sure to give them a tough encounter having themselves acquired the services of new manager Andre Villas-Boas and a couple of signings.
Despite this match being played at a neutral venue in the USA, both clubs have a lot of fans all across the country who would love to come see their favourite players battle it out. This match is sure to be a cracker and one not worth missing.
About the opposition-
Tottenham Hotspur Football Club, commonly referred to as Spurs, is an English football club based in Tottenham, London that plays in the Premier League. The club's home stadium is White Hart Lane. Founded in 1882, Tottenham won the FA Cup for the first time in 1901, making it the only non-league club to do so since the formation of the Football League. Tottenham was the first club in the 20th century to achieve the League and FA Cup double, winning both competitions in the 1960-61 season.
They finished fourth last season in the league but were unlucky to have not secured a Champions League spot because Chelsea got it by the virtue of winning the Champions League and securing participation as defending champions despite finishing sixth in the table.
Jan Vertonghen
, will be the player to watch out for as a lot will be expected of the former Ajax player who has shown immense amount of talent during his appearances. His ability to charge forward and play very much as an attacking defender will bring a change to the style of play for Tottenham and a stability in central defence.
| | |
| --- | --- |
| | Liverpool vs Bayer Leverkusen |
Date: 12th August, 2012

Venue: Anfield, Liverpool.

Kick Off: 3:00 p.m. (Local Time)
08:30 pm IST.


The final game of Liverpool's pre-season campaign will be against Bayer Leverkusen on 12th August at Anfield while the Reserves embark on a tour of Ireland. Leverkusen, now managed by Liverpool legend Sami Hyypia, will provide the Reds with their final preparation six days before the start of the new league season.
Liverpool supporters are sure to give Hyypia, who made 464 appearances over 10 years at Anfield, a warm reception. It will be an emotional return for the former player but apart from that, the game promises to be a good encounter as Bayer Leverkusen are a tough side to face.
About the opposition-
Bayer 04 Leverkusen, also known as Bayer Leverkusen, Leverkusen or simply Baye
r
, is a German football club based in Leverkusen, North Rhine-Westphalia.
In contrast to many other German football clubs, which hold close ties to their working class roots, Bayer Leverkusen strives for a clean, family-friendly image. The Bay Arena has the reputation of being one of the most family-friendly football stadiums in Germany. Ironically, Bayer 04 was the first Bundesliga club whose fans identified themselves as Ultras and the city of Leverkusen is one of the old industrial cities of Germany. They finished fifth in the Bundesliga last season.
André Schurrle,
their No. 9 will be the player to watch out for as the youngster is very sharp in front of goal and has impressed clubs like Chelsea who are vying for his signature. With 7 goals in 31 appearances for the Bundesliga outfit, the 21 year old may well be the difference in the game.
| | |
| --- | --- |
| | Liverpool's Man to Watch - Fabio Borini |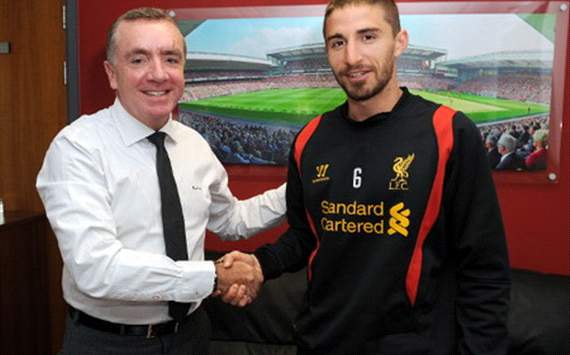 Brendan Rodgers' first signing for Liverpool since his arrival was announced on 9th July, 2012 when Fabio Borini was signed from Serie A outfit AS Roma for €13.3 million plus bonuses. The player will join the team when they head for the U.S tour.
He will wear the No. 29 jersey at the club. He plays as a striker and is a perfect addition to the club as Liverpool needed someone who can score playing up front after Andy Carroll's poor performances last season. With Carroll's future at the club in doubt, the club have the made the right move to sign a promising young striker who can really excel at the club.
Borini, who is only 21 scored 9 goals in his 24 appearances for AS Roma last season. He is sharp on the ball and it will be important that he forms a formidable partnership up at the top with Luis Suarez if Liverpool are to seriously challenge for the title this time around.
His performances in the pre-season campaign will be important as he should make use of all the chances he gets before the season begins. He could very well be the man to solve Liverpool's striking problems.
What the Bench-warmers need to do...
Not only will the new signing Fabio Borini be looking to prove a point, but also the benchwarmers from the last season and the players returning from loan spells would want to challenge for a starting place. Borini's arrival would mean Carroll would have to pull up his socks if he wants to stay at the club and play for them rather than being sent out on loan.
Returning players Alberto Aquilani and Joe Cole will only add more competition to the midfield department with as many as ten midfielders vying for spot. Youngsters Jay Spearing and Daniel Pacheco will look to impress their new boss in the pre-season campaign if given a chance.
In the defensive department, Martin Skrtel and Daniel Agger have formed a rock-solid defensive partnership which means it would be hard for the ageing Jamie Carragher to fight for a starting place. Youngsters Sebastian Coates, Danny Wilson and Jon Flanagan will hope that they get some starts in the pre-season matches so that they can show what they are capable of.
How do you stay up to date with football when on the move? With

http://m.goal.com

– your best source for mobile coverage of the beautiful game.