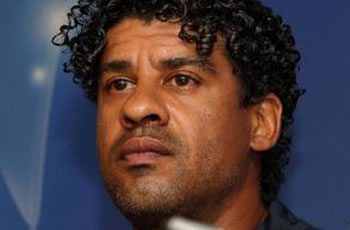 Frank Rijkaard
Date Of Birth: 30 September 1962
Place Of Birth: Amsterdam, Netherlands
Height: 1.90m
Playing Position: Defensive Midfielder / Defender
"Early Days"
In his childhood, Rijkaard was treated to the dazzling performances of Johan Cruyff, European Player of the Century. Rijkaard followed Cruyff's footsteps by starting his footballing career at his local club, Ajax Amsterdam.
"At Ajax"
Rijkaard made his debut at 17, having an immediate impact by getting his name on the score sheet. He played 23 times in his debut season, finding the back of the net on 4 occasions. Rijkaard was at Ajax for seven and a half successful years where he played as a central defender and a defensive midfielder and winning the league title thrice.
"Sporting to Zaragoza"
Following his bust up with Cruyff in the training ground, he was signed by the Portuguese club Sporting CP, but was not eligible to play in any competition, as his transfer occurred too late. The Dutchman was immediately loaned out to Spanish side, Real Zaragoza. On completing his first season at Zaragoza, he was signed by Italian giants A.C. Milan.
"At the Rossoneri"
Coach Arrigo Sacchi saw Rijkaard playing a pivotal role at Milan and transformed the central defender into a world class holding midfielder. Rijkaard played five seasons at Milan, flaunting his aggressive and firm style of play alongside fellow countrymen Marco van Basten and Ruud Gullit.
He scored the only goal in the 1990 European Cup Final to lift the European Cup for the second time in as many seasons.
"Return to Ajax"
Rijkaard returned to Ajax under Louis van Gaal. Danny Blind and Rijkaard formed an experienced defensive partnership in the Ajax team that went on to become unbeaten Dutch Champions in the 1994-95 season.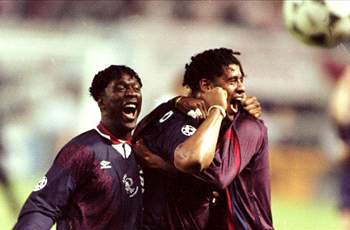 Ajax carried on their form in Europe, with Rijkaard beating his former club, Milan to lift the European Cup in 1995.
"The Netherlands"
Frank Rijkaard made his international debut for the Netherlands in 1981 and went onto acquire 73 caps and score 10 goals. Rijkaard was part of the Dutch team that won the Euro 1988. He also played for the Netherlands at the 1990 and 1994 FIFA World Cup as well as the Euro 1992.
Rijkaard was involved in a loathsome incident with Rudi Völler when playing West Germany in the 1990 World Cup. Rijkaard was booked for a bad tackle on Völler and spat on his hair while getting into a position to defend the free kick. Völler complained to the referee about the incident only to see a yellow card flashed in his face.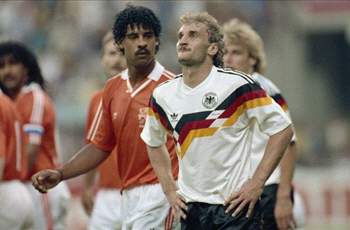 Völler went to the ground to avoid a collision with Dutch keeper Hans van Breukelen, while Rijkaard saw it as a dive in hopes for a penalty. Rijkaard confronted Völler by twisting his ear and stamping on his foot. Both Völler and Rijkaard were sent off and once again, Rijkaard spat in Völler's hair. The German press assigned him with the nickname "Llama" for his spitting.
He recorded his final international cap in the 3-2 defeat to Brazil in the quarter-finals of the 1994 FIFA World Cup.
"Coaching His Country"
Rijkaard began his coaching career as the head coach of the Netherlands national football team in 1998, previously serving as an assistant coach. Even though he lacked managerial experience, he was able to guide his side to the semi-finals of the Euro 2000. Rijkaard resigned immediately after the Euro exit at the hands of Italy.
"Struggling Sparta"
He became manager of Sparta Rotterdam in 2001. Under his leadership, the club was relegated to the second division for the first time in club history, which led to Rijkaard's sacking.
"Time at the Camp Nou"
Rijkaard was appointed manager of Barcelona in 2003 as Barcelona entered a new phase, having elected a new President in Joan Laporta and a new managerial board.
After a disappointing start at the club, he achieved a massive turnaround as he formed a new team around star player, Ronaldinho. He signed players like Deco, Samuel Eto'o, Rafael Márquez and Ludovic Giuly and promoted the likes of Víctor Valdés, Carles Puyol, Xavi and Andrés Iniesta from the youth team.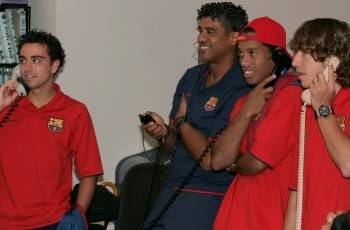 The new-look side won the La Liga in 2004-05 and in 2005-06. Rijkaard became the first Barcelona manager to have won twice at the Santiago Bernabéu.
Rijkaard lifted the Champions League trophy by beating Arsenal 2-1 in the 2005-06 season, becoming only the fifth individual to have won the European Cup both as a player and a manager.
Having not won anything for two successive seasons, Barcelona's President, Laporta announced that 2007-08 was Rijkaard's last season in charge. Laporta praised Rijkaard for his transformation of the club.
"Galatasaray"
Rijkaard signed a two-year contract with Turkish giants Galatasaray in June 2009, but was sacked in October the following year.
"Current Position"
Rijkaard took over the position as head coach of the Saudi Arabian national football team in June 2011.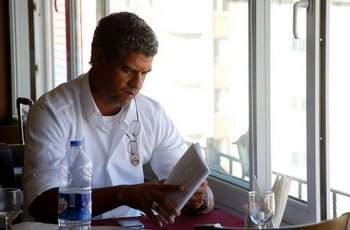 A 4-2 defeat away to Australia left Saudi Arabia eliminated in the third round of the 2014 FIFA World Cup qualification as they finished third in their group.
"Trophy Cabinet"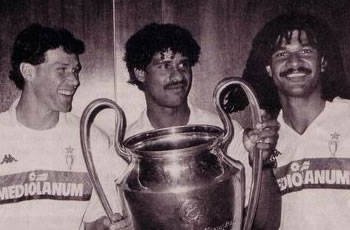 As a Player
Ajax
• Dutch League: 1982, 1983, 1985, 1994, 1995
• Dutch Super Cup: 1993, 1994
• KNVB Cup: 1983, 1986, 1987
• UEFA Cup Winners' Cup: 1987
• UEFA Champions League: 1995
Milan
• Italian League: 1992, 1993
• Italian Super Cup: 1988, 1992
• European Cup: 1989, 1990
• European Super Cup: 1989, 1990
• Intercontinental Cup: 1989, 1990
Netherlands:
• UEFA European Football Championship:1988
As a Manager
Netherlands
• UEFA Euro 2000: Semi-finalist
Barcelona
• UEFA Champions League: 2005/06
• La Liga: 2004/2005, 2005/06
• Supercopa de España: 2005, 2006
Individual Honours
• Dutch Footballer of the Year: 1985, 1987
• Serie A: Best foreign player 1992
• Guerin d'Oro: 1992
• UEFA Manager of the Year: 2005–06
• UEFA Team of the Year for Best Coach of the Year: 2006
• IFFHS World's Best Club Coach: 2006
• Onze d'Or Coach of the Year: 2006
• Don Balón Award Coach of the Year in La Liga: 2005, 2006