The term "Total Football" had been into existence for a quite a number of years. But it was implemented at the highest level by Johan Cruyff.
As a player he has won 22 domestic championships in a playing career spanning 20 years where he shifted from Ajax to Barcelona to Los Angeles Aztecs to Washington Diplomats to (then Spanish Segunda side) Levante back to Ajax and then helping Feyenoord to their first Championship in over two decades before retiring.
Throughout his career he has been quite vocal and has not hesitated to move ahead in case of a fall out with his employers.
Ever since joining Barcelona he had developed a strong attachment for the city and for Catalan culture. A product of the Ajax youth academy he helped in the development of the Spanish side's youth academy which has produced several top players.
He was part of the Ajax side that won a hat-trick of European Cups from 1971 to 1973.
Despite having graced it just once, Cruyff consistently produced a series of dazzling displays for the Netherlands, right until the final, where the might of Franz Beckenbauer's West Germany overpowered the Oranje who had to finish runners up. Cruyff managed to get the Player of the Tournament award.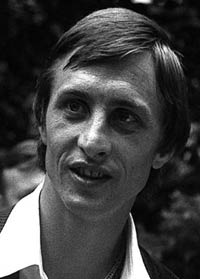 The man who defined football from his generation
He had no inhibitions in signing for Ajax's arch rivals Feyenoord when he had a fall out with the management in 1983. And he helped them win their first Dutch Championship in over two decades before retiring as a player there.
Unlike other playing legends and contemporaries, Cruyff has had a fantastic track record as coach. He is the longest reigning coach in the history of Barcelona and it was only last year that Pep Guardiola overtook his record of 11 club trophies.
He is among only four players to have won the Ballon d'Or three times in a row.
He was voted as European Player of the Century, and ranked second only to Pele in the World Player of the Century Poll.
Quick Facts
1) Full Name: Hendrik Johannes Cruyff
2) Date of Birth: 25th April 1947
3) Place of Birth: Amsterdam, The Netherlands
4) Starting position: Centre-forward
5) Clubs represented as a player: Ajax Amsterdam(1964-1973), F.C. Barcelona(1973-1978), Los Angeles Aztecs (1979), Washington Diplomats(1980-1981), Levante(1981), Ajax Amsterdam(1981-1983), Feyenoord(1983-1984)
6) Club Apeearances and Goals: 662 and 368
7) Country Appearances and Goals: 48 and 33
8) Coaching Career: Ajax Amsterdam(1985-1988), F.C. Barcelona(1988-1996)
The Master of Total football
It all started in 1957 when he was admitted to his local club, the best youth academy in the world: Ajax Amsterdam. Records suggest that his mother persuaded the Ajax authorities to give her son a try. Despite having lost his father at the age of 12 to a heart attack, the young Cruyff would be aided by legendary tactician Rinus Michels' exercise program to move ahead. And at the age of 17 years he was able to break into the Ajax playing eleven for his debut in a 3-1 loss to F.C. Groningen which was to be a springboard to the Golden Run with Ajax. The 1966-67 season saw him emerge with 41 goals in 41 games. He won two League and Cup doubles, one in that season and the other in 1969-70. But 1970 was the year which changed it all for him. Despite starting it with a groin injury that kept him out for quite a while, his form after recovery left opponents ruined.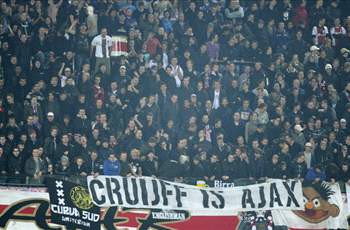 How Ajax fans have grown to define him
With the no.14 jersey, Johan Cruyff grew into a legend with a full mastery over the art of "Total Football". The Ajax and Netherlands sides both used this football strategy where each player would not have a fixed position, but would switch around the pitch keeping the formation intact. Cruyff would turn into a deep midfielder, winger, and centre forward seamlessly and with brilliance within a match, making him impossible to mark. His pace, trickery, technique and a constantly active acumen led Ajax to the European Cup treble between 1971-73. Having won everything there was to with Ajax, he opted for change and moved to F.C. Barcelona who had been relentlessly pursuing him.
El Salvador- The years at Barcelona and the attraction to all things Catalan.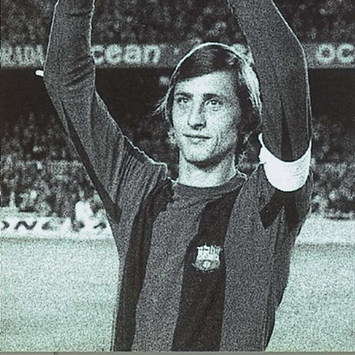 He was an instantly loved figure at the Nou Camp since his declaration on arrival that he did not want to be in a club (Real Madrid) that had associations with the Fascist leader Franco. He got his nickname El Salvador, The Saviour after helping them to their first La Liga crown for 14 years in 1973-1974 which included a 5-0 win over Madrid at the Bernabeu. After an outstanding World Cup in 1974, the Dutchman had a bit of a barren spell but continued to impress everyone and after a total of 63 goals in 184 games, he decided to leave Spain with a victory in the 1978 Copa Del Rey final.
Years in the United States and return to The Netherlands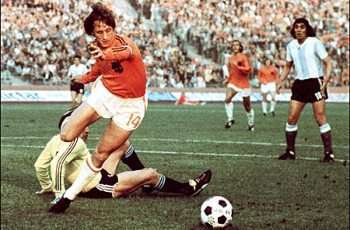 After a semi spell in USA Cruyff returned to his homeland
After Barcelona, Cruyff decided to take up a lucrative deal that would take him to the Los Angeles Aztecs in 1979. After being voted North Atlantic Soccer League player of the season he moved to the Washington Diplomats in 1980. The beginning of the 1981-1982 season saw him injured and in that phase he decided on a return to Ajax. Both the 1981-1982 as well as the following season saw him win the League Cup, and in 1983 he won yet another Dutch league and League Cup double. However the board at Ajax did not continue his contract due to "old age" and he showed them exactly what he was capable of with a move to fierce rivals Feyenoord. And in 1983-1984 he signed out his playing career with a League and Cup double at Feyenoord.
Coaching Career-The Tiki-Taka style, and the triumphant return to Spain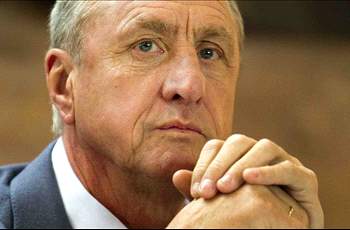 Cruyff was equally decorated as a coach: A rare feat for a legend
Since he believed in style rather than combativeness, Johan Cruyff implemented his vision as a coach. And it worked remarkably in his first tenure as a coach with Ajax between 1985-1988. As a manager he continued his dominance in the Dutch Cup with victories in 1986 and 1987 and a Cup Winner's Cup in 1987. Then he decided to return to the Nou Camp in the dugout. There with a mix of Spanish and international players he created "el Dream Team" which dominated Spain winning 4 consecutive La Liga titles between 1991-1994, and included a 1992 victory in the UEFA European Cup. The side also won the Cup Winner's Cup in 1989 and the Super Cup in 1992, along with a Copa Del Rey victory in 1990. This led him to becoming the then most successful manager in the club's history with 11 trophies. The style with which this was achieved was a free-flowing possession based technique with the Dream Team being pleasing to the eye as well as effective. Due to excessive smoking he had a bypass surgery in 1991, and its long term effect led to the curtains on his coaching career, with his last match in 1996. The legacy he has left behind in his contributions is well reflected in the current domination of Barcelona in world football.
Post 1997 involvements- The Johan Cruyff Foundation and beyond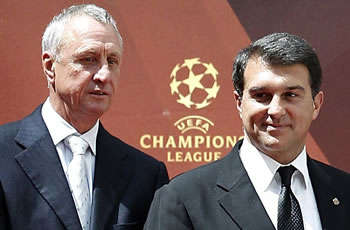 The Dutchman was actively involved into charity and in his support for Joan Laporta
In 1997 he set up the "Johan Cruyff Foundation" to help promote the mental and physical well-being of children and youths. Among its best-known results is the creation of small football pitches which in the Netherlands has exceeded 130. But there is also one in South Africa and more being planned in Brazil and Japan. In addition to that there exists Cruyff classics which "combines functionalty and style in sportswear brands". The Netherlands also has a Johan Cruyff University for developing top sports personalities. There has also been a documentary about him and his life called "En un momento dado" meaning in a given moment.
Return to Football: In the boardroom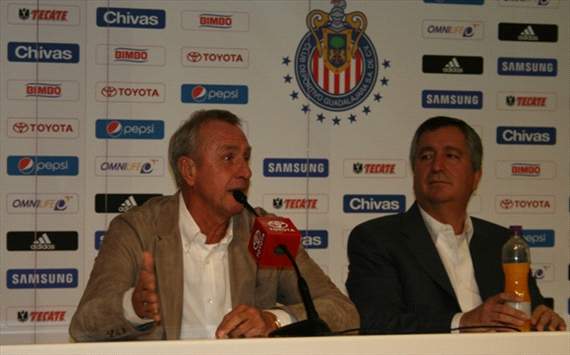 Never afriad of the unfamiliar: He is now a part of Chivas Guadalajara
Johan Cruyff could not have parted so easily with football. In 2008 it was announced that he would make another return to Ajax as the new technical director, but due to difference of opinion with then Ajax coach Marco Van Basten he pulled out. In 2009 he decided to manage the Catalonia National team, but returned to Ajax in Febuary 2011 as a technical advisor. He joined Mexican Club Chivas Guadalajara as a managerial advisor earlier this year.
Johan Cruyff Quotes
In a career peppered with greatness, disappointment, returns and exits; life has never been static for Johan Cruyff. And he was known for his deeply thoughtful quotes which are sometimes used in managerial studies. The most famous Cruyff quotes are:
"He heard the bell tolling, but doesn't know where the pendulum hangs",
"Every disadvantage has its advantage",
"Avoiding playing badly is easier than avoiding to play well",
"Football is a simple game. Its just very hard to play it simple.",
"Football is about making mistakes.".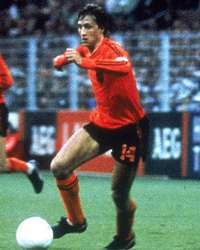 Outsoken yet decisive, Johann Cruyff had laid the foundations to the football style being followed by FC Barcelona, currently envied all across the world
How do you stay up to date with football when on the move? With http://m.goal.com – your best source for mobile coverage of the beautiful game.