In this edition of Legends, we look at the mercurial career of The King, Eric Cantona and how he won the epithet "The King of Stretford End" from the Old Trafford faithful.
Name Eric Cantona
Date of birth 24 May 1966
Place of birth Marseille, France
Height 1.88 m
Position Striker/Tails-man
EARLY YEARS
Although it has been suggested that he was born in Paris, Cantona was actually born in Marseille. The family home was a cave in one of the hills in the Caillols area of Marseille. Cantona began his football career with SO Caillolais, his local team. Originally, Cantona began to follow in his father's footsteps and often played as a goalkeeper, but his creativity and attacking instincts began to take over and he would play up front more and more often. In his time with SO Caillolais he played in more than 200 matches.
CAREER KICKS OFF IN FRANCE

Cantona's first professional club was Auxerre, where he spent two years in the youth team before making his debut in November 1983. He was part of the French under-21 side that won the 1988 U21 European Championship and shortly after he transferred to Marseille for a French record fee (FF22m). Having struggled to settle at Marseille, Cantona moved to Bordeaux on a six-month loan and then to Montpellier on a year-long loan. At Montpellier, Cantona was instrumental as the team went on to win the French Cup and his form persuaded Marseille to take him back.
At Marseille, Cantona initially played well under coach Gerard Gili and his successor Franz Beckenbauer. However, the Marseille chairman Bernard Tapie was not satisfied with the results, and replaced Beckenbauer with Raymond Goethals; Cantona was continually at odds with Goethals and Tapie and, despite helping the team win the French Division 1 title, he was transferred to Nîmes the following season. In December 1991, during a match for Nîmes he threw the ball at the referee, having been angered by one of his decisions. He was summoned to a disciplinary hearing by the French Football Federation and was banned for one month. Cantona responded by walking up to each member of the hearing committee in turn and calling him an idiot. His ban was increased to two months, and Cantona subsequently announced his retirement from football on 16 December 1991.The French national team coach Michel Platini was a fan of Cantona, and persuaded him to make a comeback. On the advice of Gérard Houllier, he moved to England to restart his career in England.
LEEDS UNITED
November 1991 after an offer from Liverpool and trials with Sheffield Wednesday, he went on to join their rivals Leeds United for a transfer fee of £900,000.
Cantona made 15 appearances for Leeds in their championship-winning season and despite only scoring three goals he was instrumental in their title success, primarily with assists for leading goalscorer Lee Chapman. He scored a hat-trick in the Charity Shield 4–3 win over Liverpool in 1992, and followed that with another in a 5–0 league win over Tottenham Hotspur. His hat-trick in the Charity Shield places him among the small elite group of players to have scored three or more goals in games at Wembley Stadium.
MANCHESTER UNITED
The mercurial and hot tempered Frenchman moved to Manchester United from Leeds for £1.2 million in 1992, which was well quoted as "The Bargain of The Decade".
In Cantona's first season at Old Trafford(1992/93), United won the inaugural Premier League by 10 points – winning the title for the first time since 1967. Bringing back the lost glory to Manchester United after 25 years!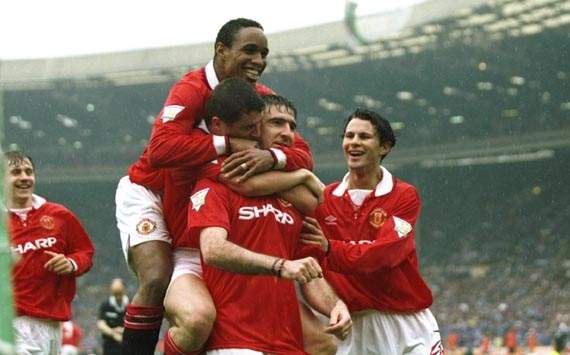 This is getting boring| Cantona ensured he wouldn't be forgotten with his time at United
The following season(1993/94) Manchester United retained the Premier League, and Cantona's two penalties helped them to a 4–0 win over Chelsea in the FA Cup Final.
In the following season(1994/95) United looked to win a third successive league title, but Cantona's 8-month ban for his infamous 'kung-fu kick' to a Crystal Palace fan after being sent off left United without their main striker, hence losing out to Blackburn Rovers in the title race.
In his cut short 1995/96 season on his comeback game against Liverpool on 1 October 1995, Cantona set up a goal for Nicky Butt two minutes into the game, and then scored a penalty after Ryan Giggs was fouled. and on the final day of the season United beat Middlesbrough 3–0 at the Riverside Stadium to win their third title in four seasons.
Manchester United also reached the 1996 FA Cup Final against Liverpool, and with regular captain Steve Bruce missing through injury, Cantona was named as captain. He then scored the only goal of the game in the 86th minute and became the first player from outside the British Isles to lift the FA Cup as captain; Manchester United became the first team to win "the double" twice.
For the 1996/97 season Cantona was confirmed as United's captain for the 1996–97 season following the departure of Steve Bruce to Birmingham City.
United retained the league in the 1996–97 season; Cantona had won four league titles in five years with United (six in seven years including those won with Marseille and Leeds United), the exception being the 1994–95 season which he had missed the second half of through suspension.
At the end of the season he announced that he was retiring from football at the age of 30.
INTERNATIONAL CAREER
Scoring 20 Goals in 45 appearances' for France, Cantona barely had an international career as it was ruined because of his bans and disciplinary issues.
Because of these issues he lost his role as the team's playmaker to Zinédine Zidane.
Enfant terrible| Cantona was the only thing that stopped Cantona on the national stage
CONTROVERSIES
Everything that Eric Cantona did on and off the football pitch exuded controversy, whether it be kicking a Crystal Palace fan in the head or simply playing the beautiful game the way it should be done. Many will always remember him more for his Kung-fu kick on a Crystal Palace fan, but that moment clouds what he achieved as a United player. Apart from this infamous kick his other controversies include, in 1987 when he was fined for punching team mate in the face. In January 1989 during a friendly game against Torpedo Moscow he kicked the ball at the crowd, then ripped off and threw away his shirt after being substituted. Just a few months earlier, he had been banned from international matches for one year after insulting the national coach on TV.
At Montpellier, he was involved in a fight with team-mate Jean-Claude Lemoult and threw his boots in the latter's face.
BEACH FOOTBALL

Shortly after his departure from Manchester United, Cantona became captain of the French national beach football team. Cantona has continued his interest in beach football games in southern Asia and at the Inaugural Kronenbourg Beach Soccer in 2002, in the city of Brighton. He managed the French team which won the inaugural FIFA Beach Soccer World Cup in 2005 in Rio de Janeiro. He also coached the 2006 FIFA Beach Soccer World Cup French national team, which finished in third place. In the 2007 World Cup Cantona was again successful, taking France to fourth place. The Cup was held in France for the first time in the 2008 World Cup; however, Cantona was unable to make the top four after losing to Italy in the quarter finals.
THE SILVER SCREEN
Cantona focused his later career mostly as an actor in French cinema. He accepted a role as a French ambassador in the English film Elizabeth (1998). In 2002 he directed a short film, Apporte-moi ton amour. He guest-starred as a mysterious bar-room philosopher in independent British film Jack Says, released to DVD in September 2008. He co-starred as director Thierry Grimandi in French Film (2009), and is co-producer and lead actor in Ken Loach's Palme D'or nominated film Looking for Eric (2009).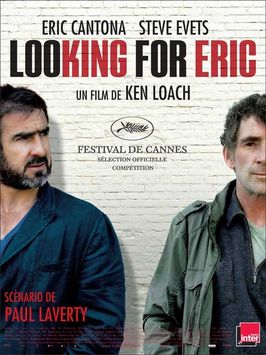 A new dynasty?| Cantona has won acclaim for his roles in several movies since retirement
RIGHT NOW...
In January 2011 Cantona was appointed as Director of Soccer of MLS side The New York Cosmos. Just last month Cantona began trying to gather the 500 signatures from elected officials necessary for a bid for the French presidential election, in order to draw support for the homeless charity and campaign group Emmaus.
QUOTABLE QUOTES

"I prefer to play and lose rather than win, because I know in advance I'm going to win."
"We knew that you don't get to be world champions without a struggle."
"You can change your wife, your politics, your religion, but never; never can you change your favourite football team."
HONOURS
Team:

Marseille:
Division 1 (2): 1988–89, 1990–91
Montpellier:
Coupe de France (1): 1989–90
Leeds United:
Football League First Division (1): 1991–92 Charity Shield (1): 1992
Manchester United:
Premier League (4): 1992–93, 1993–94, 1995–96, 1996–97
FA Cup (2): 1993–94, 1995–96
Charity Shield (3): 1993, 1994, 1996
Individual:
Ballon D'or 3rd Place 1993
PFA Players' Player of the Year (1): 1993–94
FWA Footballer of the Year (1): 1995–96
Premier League Player of the Month (1): March 1996
Premier League 10 Seasons Awards (1992–93 to 2001–02)
Overseas Team of the Decade.
Overseas Player of the Decade.
How do you stay up to date with football when on the move? With http://m.goal.com – your best source for mobile coverage of the beautiful game.