COMMENT
By Rahul Bali
Seventeen matches, earned eight points, not a single win as yet, least goals scored (8) and they have conceded lesser goals than several teams in the bottom half and understandably so as they are usually confined into their own half.
That's been the story of Pailan Arrows, or All India Football Federation's (AIFF) developmental side, a team which was formed hoping that they shall form the crux of the Indian national team which shall play the qualifiers for the 2018 World Cup in 2015. Need we say any more!
When Bob Houghton, former India coach, stated that several players from the India U-19 on joining the I-League clubs warm the benches instead of getting more playing time, it was the Indian FA president Praful Patel who made the suggestion of keeping the lot together to aid their development, an idea which excited the Englishman as he believed that with a combination of top coaching and good facilities, the kids could continue to develop.
In came Desmond Bulpin, who was credited having worked with the youngsters in the Premier League with his most notable ward being Peter Crouch, and the birth of Indian Arrows.
While many criticized the brand of football played by the club, there were a few who managed to make a name for themselves such as Jewel Raja, Lalrindika Ralte, Raju Gaikwad and others.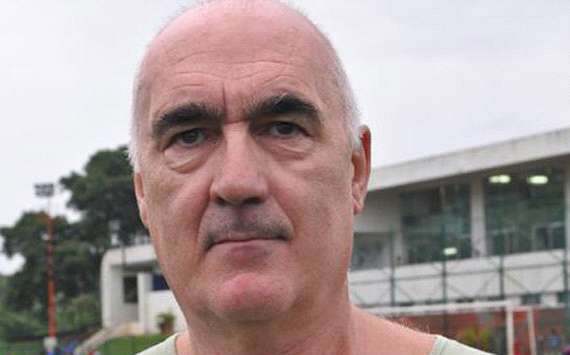 Bulpin Was Brought In To Coach The Arrows
At the start of the season, the AIFF baptized the club as Pailan Arrows after the frantic search for a sponsor, shifted base to Kolkata, said sayonara to Bulpin, was made to release the players' on-loan from I-League clubs such as Jeje Lalpekhlua and many more, roped in Sukhwinder Singh as technical director and brought in some new faces in the squad.
Since then the team has been playing a brand of football which is appalling at best. The midfielders lack creativity and there is no space between the midfield and defense line. As a striker you must thank heavens for having availed one opportunity to score. Aimless kicking, lack of quality full-backs and with players who aren't able to string together a move and add to it the tag of being the 'Futuristic Team India', it is a shining example of why the team's ranking will not go up in the coming years.
In fact watching them on television is arguably the worst advertisement for Indian football given that the play is one dimensional and boring. Except for a few talented players like Prathamesh Maulingkar, Prabir Das, Shilton D'Silva (who has been injured this season), C.S.Sabeeth and Bijendra Rai, the rest are mere average players something which Sukhwinder Singh substantiated by stating that the Arrows lack quality.
Yes, they have been decent in a few matches as against Shillong Lajong and Mohun Bagan, but one must treat these examples as an exception to the rule.
Anyone with a sane mind would suggest that once you know you won't be relegated, would you adopt tactics of sitting back to defend? There will at least be an attempt to pass the ball. It seems all the talks of 'beautiful football' seems to have been forgotten, one of the major reasons for the eviction of Bulpin.
While a few supporters may claim that they do not have foreign players in their side but that these youngsters are gaining valuable experience in the top division. Agreed but in the name of that, you can't dish out sub-standard matches and not play football but resort to 'kick and run' philosophy. The younger players should instead have more pace, more energy while what one gets to view is the exact opposite. And mind you, just by keeping the youngsters together under one base camp wouldn't help them given that they must be given an opportunity to train with some experienced lot. Hence the coaches across the world always prefer to have a few experienced lots who shall play their part by speaking to the youngsters.
It must also be pointed that players like C.S.Sabeeth, who was an excellent player with Viva Kerala last season, is hardly provided any service to score which in turn harms his development as a striker.
Speaking of talent, better players have come out of the I-League clubs than the ones at Arrows. Lenny Rodrigues, Manish Maithani, Anas Edathodika, Victorino Fernandes, Gilbert Oliveira, Francis Fernandes, Sanju Pradhan, Amrinder Singh, Arnab Mondal and many more.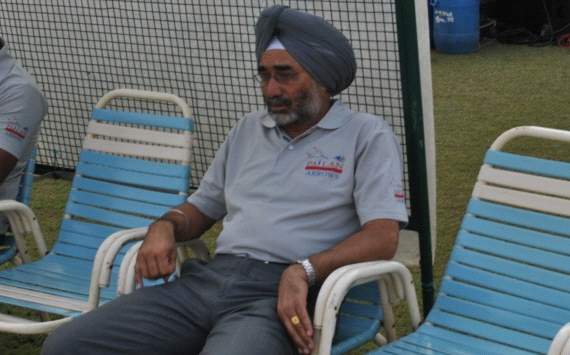 Sukhwinder Highlights The Lack Of Quality Among Pailan Arrows' Ranks
And one is just glad that Savio Medeira, the national coach, didn't choose many of Pailan Arrows for the Challenge Cup squad given that they certainly lack the quality, experience and skill. Even if they do manage to win a couple of matches, that would not cover up the epic failure this project has been with the resignation of Sukhwinder Singh being a testament of the same. With his departure, the club wouldn't even have a top class coach and that only spells further disaster.
The money utilized (read: wasted) in setting up the Arrows could be better channelised into a full fledged U-19 I-League which provide an opportunity for several talented youngsters to display their skills.
As a reader named Hakeem brilliantly summed up: "It's not a matter of the team winning or losing, but at least let people see improvement and development in the boys by seeing them play in the modern way football is played. If young stars in India play football like the way the Indian arrows players are playing then it's a big disaster for the future of Indian football. Nothing personal just a true observation."
Brilliant observation, mate and we agree.

Let us know what you think by leaving a comment below
How do you stay up to date with football when on the move? With http://m.goal.com – your best source for mobile coverage of the beautiful game.