In this week's edition of 'Legends', we look at one of the greatest players to have played in the Premier League, who stunned everyone with his great passing abilities and helped Arsenal achieve great success, during his tenure at the London club. Yes, we are talking about Dennis Bergkamp.
Dennis Nicolaas Bergkamp

Date Of Birth 10th May, 1969
Place Of Birth Amsterdam, Netherlands
Height 1.84m
Playing Position Supporting Striker
Bergkamp was born in Amsterdam on May 10, 1969. Surprising as it might seem, He was named after the Manchester United legend Denis Law, as his parents were, apparently, big fans of the Scottish striker when he came to play for the Red Devils in the 1960's. Named after a legend, it just seemed fitting that he achieve greatness too, and he did prove himself to the world.
Dennis would begin playing football at the youth level with Ajax, a club with one of the best youth academies in the world, from the age of 12. He continued to play for the youth squads, until the then Ajax manager Johan Cruyff saw his potential and pulled him into the first squad at the age of 17, in 1986, when he put pen to paper his first Ajax contract.
In the following seasons, he became a regular starter under Cruyff, controlling the play of the Dutch club in a beautiful fashion, helping Ajax to as many as 5 trophies during his 7 year stint with them. He scored 122 goals having represented Ajax in 237 games, quite a commendable record for a youngster, earning the name, Dennis "The Van Man" Bergkamp.
Dennis moved to Italy to continue playing football with FC Internazionale. Bergkamp considered the Serie A to be the biggest league in the world and was glad to have landed at Inter given that it was a top club with passionate fans, a fantastic stadium with a great atmosphere and a rich footballing history.
But Italy was not a place where Bergkamp could settle. Finding it difficult against resolute Italian defenses, he found goals hard to come by. This resulted in a great dip in form and a lot of criticism from pundits and media alike. In fact, the media changed the name of the worst player of the week award from "Donkey of the Week Award" to "Bergkamp of the Week Award".
Thus after two miserable seasons of football he left for Arsenal, when he was signed by the Gunners in 1995 by manager Bruce Rioch for a reported £7.5 million.
Signing Bergkamp seemed a very strange move, and the media raised a lot of questions at this signing, but little did they know what was to come in the future.

It took very little time for the Dutchman to get accustomed to football in England. This was all aided by the arrival of Arsene Wenger at the helm of the club. Bergkamp's career profile shows that after Wenger's arrival at Arsenal, he began to show the best form of his career and was considered by many one of the best foreign players in the Premier League era.
He helped Arsenal to many titles and was always be remembered as one of the best player to have ever played in their ranks.
He retired in 2006 and to acknowledge his contributions, 15th April every year is celebrated as Bergkamp Day.
Bergkamp began his international career in 1990 against Italy. He played all the major tournaments that came between 1990 and the year 2000, which included the 1994 and 1998 World Cup and three editions, namely 1992, 1996, and 2006, EURO. He retired from international football in 2000, stating he wouldn't play the 2002 World Cup because it would be staged in South Korea, where he wouldn't be able to travel to due to his aerophobia.
He ended his international career as the all time top scorer for the Netherlands, but was soon overtaken by Patrick Kluivert.
Club Honours: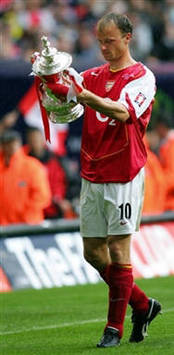 Ajax
UEFA Cup Winners Cup: 1986–87
KNVB Cup: 1986–87, 1992–93
UEFA Cup: 1991–92
Eredivisie: 1989–90
FC Internazionale
UEFA Cup: 1993–94
Arsenal
Premier League: 1997–98, 2001–02, 2003–04
FA Cup: 1997–98, 2001–02, 2002–03, 2004–05
FA Community Shield: 1998, 2002, 2004
Personal Honours:

Dutch Football Talent of the Year: 1990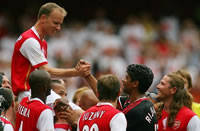 Dutch Footballer of the Year: 1991, 1992
English Football Hall of Fame
FIFA 100
"The Non-Flying Dutchman"
Due to his fear of flying, Bergkamp is nicknamed the Non-Flying Dutchman. This came after an engine of the plane cut out during flight back in 1994 and a journalist joked of having a bomb in his bag! Bergkamp decided thereafter that he would never fly again as anxiety over the flight would seriously affect his performances. This caused him a lot of problems and limited his ability to play in away matches.
Dennis Bergkamp is married to Henrita Ruizendaal since 1993 and they have 4 daughters: Estelle Deborah, Mitchel Dennis, Yasmin Naomi and Saffron Rita. Apart from football, during his time at Arsenal he studied Mechanical Engineering at The University of Bath and graduated with a B.Sc. Presently he serves as the assistant manager at Ajax, having completed his Coach Betaald Voetbal course by the KNVB, a mandatory course for coaching in the Netherlands, in 2008.
There have been very few players in the history of the Premier League that have been able to cause an impact as great as Bergkamp, to the game of any club. His contributions to Arsenal will never be forgotten by the fans at the Emirates and hope to have more players like him in the future.
How do you stay up to date with football when on the move? With http://m.goal.com – your best source for mobile coverage of the beautiful game.