Sporting Clube de Goa came into existence in 1999 when people from Panjim decided to launch a football club in Goa after Cidade de Goa had been disbanded. Apart from them playing in Indian Football's top division - I-League, they are also well renowned for their football club built on the lines of Portuguese giants, Sporting Clube de Portugal. They have also adopted a similar club crest as the Portuguese club. After Vasco SC, Sporting became the second club of public shareholding in Goa.
After the club's inception, Sporting got it's recognition during the 2001-2002 Federation Cup when they made it through to the semi-finals after beating East Bengal and Indian Bank. Sporting nearly did a Brian Clough's Nottingham Forest by almost winning the title in their debut National Football League season (2003-2004), only to be pipped by Dempo SC. For two consecutive years - 2005 and 2006 - Sporting reached the finals of the Federation Cup, only to lose to Mahindra United (in extra time) and to Mohun Bagan (by penalty shoot-outs). Sporting got relegated from the I-League Division I in 2010 but have bounced straight back, finishing second in I-League Division II.
Flaming Orange started their season last year all guns blazing, winning the first game of the season 6-0 win over Malabar United in the Federation Cup qualifiers. They suffered disappointment in the next game, getting knocked out of the tournament after losing to SESA Football Academy on penalties.
Sporting were given a bye into the Federation Cup final round as they were relegated from the top division the season before. The final round, however, didn't start very well with Sporting only earning one point in the first three games played. What Alex Alvares, Sporting's coach said to his players after those three games is only a mystery but whatever he said, certainly worked for the Goans. Then, the Flaming Orange, without flames, rose from the ashes and came back to win four games on a trot to finish second and thereby, qualify for I-League Division I.
With Goans attracting plenty of support this season, and with Ekendra Singh returning to the club that he once coached, fans can expect good things from the team this season. But may his team play to their fullest potential this season, there is no reason why 'the I-League underdogs' can't do well this season.
In: Milagrio Medeira, Prajot Naik, Warundeep Singh, Ogba Kalu Nnanna, Charanjit Singh, Gabriel Fernandes, Mohammed Ali, Victorino Fernandes, James Moga and Ashok Singh.

Out:

Ayeni Bedemi Daniel, Ashokan Guru, Thangjam Itomba Singh, Felix D'Souza, Elvino Fernandes, Bibiano Fernandes, Emmanuel Akwuegbu and Joshua Maguire.

New Signing Ogba Kalu Nnanna In Action

Sporting are one of the few clubs, who have retained most of their players from last season. In terms of signings, the Goans have signed ten players, so far.

Their most notable signing in the summer has been Ogba Kalu Nnanna from Dempo SC, who is extremely versatile and played an important role for Armando Colaco's men last season.

Kalu was often found playing as a defensive midfielder but slotted into the defence when the former Champions were found short at the back. His versatility and work ethic may just aid Sporting's chances of survival.

James Moga is 'the big buy' in attack. Bringing in the South Sudanese tall, veteran striker - who scored the first ever international goal for his country - to the club will certainly boost the forward line. Moga was the highest scorer in the Bangladesh League last season playing for Muktijodha Sangsad, the same club that Odafa Okolie once played for, before becoming a star in India.

Also, the signing of young Dawson Fernandes from Salgaocar has given them plenty of options. Dawson was sent to Portugal for training by the Goa FA and looks an exciting prospect.
Sporting de Club, Goa haven't lost many players this summer. However, from the ones who have departed, their veteran goalkeeper, Felix D'Souza will certainly be looked as their biggest loss.

Felix will be seen plying his trade with Churchill Brothers this season. Even though they have signed two goalkeepers in Milagrio Medeira and Ashok Singh, Felix bowing out has certainly left Sporting devoid of true quality and sheer inexperience in the goalkeeping section.

In terms of the players bowing out of the club this season, 24-year old defender Elvino Fernandes, who has moved to Vasco SC, will be another loss. Elvino was instrumental in Sporting success last season and with him leaving, the defence looks a bit weak.

Their two foreign signings of last season, Emmanuel Akwuegbu and Joshua Maguire have also left, not being offered new contracts.

James Moga is a very good striker but the problem is that he is the only good striker, rest of them are either inexperienced or have failed to make a name for themselves in the past. Over-dependence on him may be a major issue. In case of his injury, Sporting could be left with a poor strike force.

With Sporting Clube de Goa returning to the highest level of Indian football again, the players and the staff decided to celebrate the start of the pre–season in a Eucharistic manner – praying to God to bring them success - at the Don Bosco Hall, Goa for the upcoming season.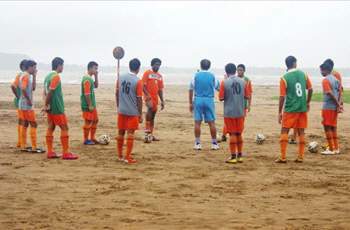 Pre-season Training On The Beach
With ten players coming into the squad, it was never going be easy for players to settle in but Ekendra, Alex Alvares (Assistant Coach), Pascoal Pereira (Technical Director) and Angelo Albuquerque (Team Manager), seemed to have found trick as Sporting looked sharp right from the offset. Ekendra's men exceeded expectation this time around; beating the giant Salgaocar SC 6-5 in penalties after the game was 1-1 after extra time.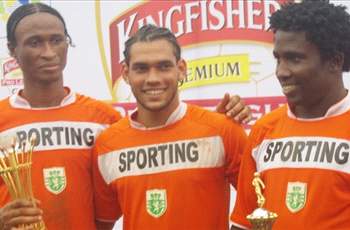 Keita, Adil And Kalu Ready To Win It

Then, they did what people thought was 'the impossible.' They beat Dempo SC to win the Super Cup, winning another penalty shoot-out. Flaming Oranje played two of their foreigners - Ogba Kalu Nnanna and Boubacar Keita - in the game. Last season's Sporting's player of the year, Keita stood tall in defence and the newly signed, Kalu dominated the midfield, distributing the passes superbly from the centre of the pack to lead their side to a victory. With the new players, surprisingly settling in well, with midfielder Adil Khan often grabbing the headlines for his influential performances, there are good things to come for the Goan side. However in a GFA Charity match, Dempo got the better of Sporting winning 2-1 thanks to a late goal by Anthony Pereira.
| | |
| --- | --- |
| | Boubacar Keita: Keita was the Player of the season last year for Sporting and will surely have a responsibility to command the defence like he did last year. Flaming Orange have always relied on their midfield and attack to win games for them and this term may not be any different. Thus, it makes Keita's role even more important. If a stoic defender like Keita has a good season, it may well result in Sporting having an excellent season. |
| | Gerard D'Mello: With Felix gone, Gerrard has finally been promoted to Sporting's number 1 after spending many years in Felix's shadow. Gerard has had a great pre-season. He was brilliant in the Super Cup and the Charity Shield, saving several penalties in the shootouts against Salgaocar and Dempo Sports Club. D'Mello must have a good season this year in order to see his club do well. |
| | James Moga: James was absent from Sporting's pre-season and hasn't trained with team until now. With the other strikers relatively inexperienced, a lot depends on him to pull the strings and get the goals for Sporting. |
| | Adil Khan: He may have started as a defender for his team but his ability to attack has seen him establish himself as one of the most important players of this Sporting side. His attacking instincts have certainly made him one of the most important players in the squad |
| | Kalu Nnanna: As Sporting rely heavily on midfield, Kalu, who is described as the 'star signing' for Sporting, is extremely important for team and will provide the necessary versatility, not only in midfield but also, in defence and in attack. His partnership with Adil has been great in pre-season and if Sporting are to do well this season, their central midfield combination must flourish. |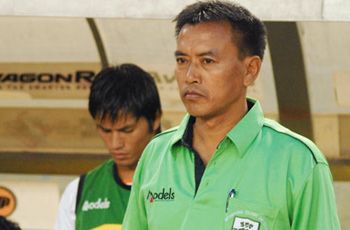 Ekendra Singh:


Alex Alvares was the first team coach last year and thus, the man who was responsible for club's promotion. However, he isn't the head coach now. The reason being, Alvares is still not an AFC A-licensed coach. This eventually led to Ekendra Singh being named as the chief coach of the senior side for coming season, with Alex Alvares as his deputy. Ekendra is an AFC 'A' license holder and has also coached Manipur in the Federation Cup 2008-2009. He has also coached a Manipur based football club, NISA.
Sporting are expected to line up in a conventional 4-4-2 manner, utilizing the wing positions. Samananda Singh, Boboi Singh, Rovan Pereira and Boubacar Keita are the key for the Goans in the defence. Prajot Naik and Fulgancio Cardozo, both signed from Vasco SC play as wing backs and are capable of playing on either side, right and left. Samananda is the preferred right back for Sporting and like Prajot and Cardozo, loves to come forward from the defence.
Freiman Peixoto and Bisheshwor Singh will be competing with Jovel Martins – who is already being touted as one of the finest young players in the country – for a place in the starting eleven on the left wing. Freiman is capable of also playing on the right and will certainly challenge Wilton Gomes for a spot. Wilton, currently not 100% fit, has been at Sporting Clube de Goa for eight years now and will be desperate for glory this season. Adil and Kalu are expected to start most games for Sporting in the centre of midfield. Adil is great going forward. His passing in the pre-season was immaculate and his vision was absolutely exemplary; he has already caught the eye of many. Bisheshwor is also capable of playing as a striker and so, will challenge Victorino Fernandes for a place in the starting line up. James Moga is expected to start most games for Sporting Clube de Goa.
As stated earlier, Sporting are expected to play a 4-4-2 formation with Kalu expected to sit in front of the defence and initiate attacks, allowing Adil to get forward and aid the strikers with his delivery and support. While attack/counter-attack, the two full backs are expected to often come forward with the two centre backs and Kalu, expected to stay behind and provide cover. Moga is set to play as a left striker, often staying in the box and looking for opportunities to finish and score, whereas, either Victorino or Bisheshwor are expected to play as right forward, often running through the channels.
Thus, Sporting look a decent side and on their day are capable of causing any team problems.
How Do You Think Sporting Clube de Goa Will Fare This Season?
Download the Goal.com Mobile app, and the world of football will be at your fingertips and in your pocket!