Sir Alex Ferguson called him United's best player against Barcelona in a pre-season friendly; his second half introduction in the second half changed the game against Manchester City in the Community Shield and got Manchester United fans to 'Believe' and sing 'Who needs Sneijder when we've got Cleverley'.
Well, we're not particularly sure what most footballing fans would say about that chant considering the optimism that it breeds, but the last couple of friendly games have surely highlighted the talent that hides in the red of the Manchester United youth.
Even though he has already spent an year playing in the top flight of English football, Thomas William "Tom" Cleverley may still be a name which perhaps is relatively unknown to most. So Goal.com thought, why not to introduce you to this Old Trafford's budding star.
Yes, we know what you're thinking, he is turning 22 shortly, and in fact a day before the new Premiership season starts so, West Brom watch out!
Full name:
Thomas William Cleverley
Date of birth:
12 August 1989 (age 21)
Birth Place:
Basingstoke, England
Height:
1.75 m (5 ft 9 in)
Position:
Winger, Central Midfielder
and Supporting Striker

He Is Also Called 'Chunks'!

Tom Cleverley is also known as 'Chunks'. No, he isn't stoutly built, he also doesn't have anything substantial about his body structure (like a chunk of muscle) nor he is a member of the famous modern alternative rock band 'Uncle Chunk' but his friends still call him Chunks. Confused?

He is called Chunks due to his childhood speech impediment. Cleverley once said 'swimming chunks' rather than 'trunks' and ever since, people have got stuck into him calling him chunks. Years after this incident took place, Tom revealed that he couldn't pronounce 'tr' sounds properly when he was younger; inadvertently said 'ch'. No trouble now, mind you. All fine for Mr. Thomas.

Bradford City:
As mentioned before, the 21-year old was born in Basingstoke, Hampshire, but it is interesting to see that he didn't grow up there, instead moved to Bradford, West Yorkshire at a very young age. He started playing football in Bradford and his skills got him to be a part of the youth set-up at Bradford City before joining Manchester United at the age of 15. He joined United in July 2005 as a trainee and immediately made an impact.
Manchester United (Cleverley A Red Devil):
Under-18:
Aged only 15, he started his Man United under-18 career. Having turned 16 during the 2005–2006 season, Cleverley was still relatively young as compared to the other members of the United under-18 side but his ability in training shone and was able to make remarkable nine appearances for the outfit. His good performances earned him a place on the bench in the reserve team's 4–1 away win over Everton on 21 February 2006. As the time passed, he improved as a player and among the others from the academy, aged 17, he became a mainstay of the under-18 United youth team.
Reserve Team:

Cleverley made his reserve team debut in a 0–0 away draw to Bolton Wanderers on February 15, 2007.

Injury:


Cleverley always had a history with niggles and injuries, and suffered a long-term injury casting a doubt on his footballing future, being ruled out for seven months only a month after making it to the reserve team.
Stunning Return To The Reserve Team:
A fighter he had always been and a fighter he was during his spell on the sidelines, returning stronger than ever in October 2007. He returned to action playing for the reserves in a 1–1 home draw with Liverpool. The 2007–08 season marked Cleverley's emergence as a regular in the Manchester United reserve team, making 21 appearances as the team went on to win both the Manchester Senior Cup and the Lancashire Senior Cup, in which he scored in the final against Liverpool.
Reserve Team Captaincy:
His consistent performances for the reserves earned him the captaincy of the team in the absence of regular captain Sam Hewson, as well as a nomination for the Denzil Haroun Reserve Player of the Year award – he lost out to the former United right-back, Richard Eckersley.
First Team Pre-season:
In recognition of his sterling work for the reserves, on 24 July 2008, Cleverley was called up to the Red Devils' first team for the remainder of their tour of South Africa and the match against Portsmouth in Nigeria. He made his first team debut against Kaizer Chiefs in the final of the 2008 Vodacom Challenge, coming on in place of Rodrigo Possebon at half-time, before he scored the third of United's four goals just after the hour mark.
It was inevitable that the quality was there, only for it to be nurtured and how could it miss Sir Alex's eagle eye, who knew that in a 19-year old named 'Tom', he had an absolute gem.
First Team Number: Cleverley
35
He returned to regular reserve team duty for the 2008–09 season but was given a first team squad number – 35 – when the first team squad list was announced on 15 August 2008, and was named on the bench for United's League Cup matches against Middlesbrough and Queens Park Rangers. Playing with the likes of Wayne Rooney, Cristiano Ronaldo, Carlos Tevez and his mentor Ji-Sung Park was a dream come true for the boy.
Leicester City:
His superb performances in the red of United Reserves impressed a lot of people and had suitors lined up when Sir Alex Ferguson decided that it was probably the right time for the young Englishman to go out on loan in January. Leicester City beat the rest to sign him as their number 7 on January 16, 2009.
Tom, Leicester's number 7:
His career in the third tier of English football wasn't as influential as he would have liked. He scored only two goals in 15 matches for Leicester and then, suffered another horrendous season-ending shoulder injury which brought Cleverley's loan spell came to a premature end. Although his loan had ended, Cleverley was presented with a medal on April 24 after Leicester secured their promotion as champions of League One.
Reserve Team Player Of The Year 2009 Nomination:
Towards the end of the season, along with James Chester and Corry Evans, Cleverley was once again nominated by Manchester United reserve team manager Ole Gunnar Solskjær for the Denzil Haroun Reserve Player of the Year award.
England Under-20 Call-Up: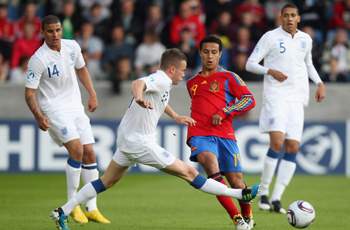 Cleverley was called up to Noel Blake's England Under-20 team for the first time on 12 March 2009. However, following a shoulder injury, he was forced to withdraw from the squad, and was replaced by Manchester City midfielder Adam Clayton. Cleverley eventually made his Under-20 debut on August 11, 2009 bagging two second-half goals.
England Under-21:
He made his England U-21 debut as substitute for Junior Stanislas in a 2–1 win away to Macedonia on 4 September 2009 and also was a prominent figure in England's recent Euro under-21 team.
Watford:
Same player, same style but a new season and a new club. On 18 August 2009, Cleverley signed for the Championship side, Watford on loan and played the same day in the Hornets' match away to Nottingham Forest. He started the match and was booked within four minutes of the start of the second half, but then sealed a 4–2 win with a goal in the second minute of injury time at the end of the game. Cleverley scored 11 goals in 33 appearances for Waford before a knee ligament injury in April 2010 ended his season prematurely. In spite of the injury, he went on to win the team's Player of the Season award.
'The Statement':
Tom Cleverley's statement in April 2010 saw him wanting to imitate Park. He said, "I think the type of player I have become this season is a bit like Ji-Sung Park. I think my game can benefit from learning a lot from him in the right or left midfield spot or just behind the front two. I provide lots of energy like Ji."
Turn Of Fortunes – Pre-season America 2010:
Tom Cleverley returned to Manchester United for the beginning of the 2010–11 season and travelled with the squad for their pre-season tour of North America in July 2010. After a great performance which was capped by a cheaky-lobbed goal, Sir Alex spoke of his intention to keep Thomas at Old Trafford for the remainder of the season. However, on August 31, 2010, Wigan Athletic confirmed they had agreed a season-long loan deal for Cleverley, with Manchester United retaining the option to recall the player from his loan spell in January. Sir Alex Ferguson later revealed that it was the arrival of Bebe which forced Cleverley to lose out his place in the squad.
Wigan Athletic: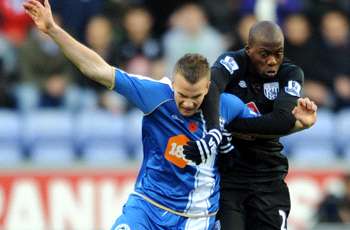 On September 11, 2010, Cleverley made his debut for Wigan which was also his Premier League debut, replacing Mauro Boselli in the 75th minute and assisting Antolin Alcaraz in a 1–1 home draw against Sunderland. In January 2011, Manchester United agreed to let the youngster stay on loan at Wigan until the end of the season. He helped Wigan in surviving relegation by bagging four priceless goals and assisting several others.
Manchester United First Team:
Like 2010, Tom Cleverley once again joined the Manchester United first team for their tour of the United States of America. If he hadn't impressed enough during the pre-season last year, he definitely staked his claim this time around. He was so good that he caught Sir Alex Ferguson's eye once again in particular, who remarked him as United's "best player" against Barcelona. He even scored in the 8-2 defeat against Marseille XI.
These statements were coupled with the legendary Scot suggesting that Cleverley could play a major role in the United's first team towards the start of the season. His influential performance against Man City in the Community Shield in a 3-2 win, recently, didn't do him any harm and he, in a way, underlined his own words of him being 'the Paul Scholes replacement'. (The Manchester United legend, Paul Scholes retired at the end of last season after playing for 17 years at the pinnacle of English Football).
Cleverley is a budding talent and one that has an awful lot offer. It's been a Manchester United tradition that when a legend bows down and leaves the club, then, another young star takes his place. Less than 48 hours after Scholes retired, to the world, a new star in Tom Cleverley was born.
Download the Goal.com Mobile app, and the world of football will be at your fingertips and in your pocket!