Several top Premiership clubs have been put on red alert as the Cameroon star Samuel Eto'o, who scored 21 goals in the recently concluded Serie A season, delivered a painful blow to his current club Inter Milan by declaring his intention to move to England.
Speaking to an Italian newspaper, he said, "I am currently considering my options. I have one month to decide as to whether I want to stay put or choose to move to the Premier League."
"I am now 30-years-old and it is very important for me to think about my future before I sign what could be my last contract. I have already shown that I have what it takes to play in Italy and I now have the idea of proving myself in England", he added.
Eto'o comments came shortly after his club team-mate Wesley Sneijder dropped a similar exit hint, which upset the club president Massimo Moratti.
The 30-year old, who is a distinguished forward known for his outstanding positional awareness and shooting technique has got the likes of Arsenal, Chelsea, Spurs, Liverpool and both the Manchester giants waiting in the wings for his signature. But which club would he sign for?
Goal.com looks at the possibilities in depth.
Tottenham Hotspur:
Do they need him?
Yes. For the record, the three Tottenham strikers - Peter Crouch, Jermain Defoe and Roman Pavlyuchenko – have only managed a total of 34 goals (in all competitions) this past season, which in any league is very poor. Thus, in order to qualify for the Champions League or even challenge for the title, the former Portsmouth manager needs to develop a strike pairing in which both the frontmen are as prolific enough as the other, therefore, buying Samuel Eto'o would be an ideal option.
Why he may join?
At Spurs, he will be guaranteed regular first team football.
Making Tottenham compete for the top honours in the England and the Europa League, it might offer him the perfect opportunity to prove himself, being the main drive behind his intention to play English football.
Why he may not join?
Tottenham may offer Eto'o a packed house every week but what they can't offer this season is Champions League football. Moreover, he might want to prove himself with a club that will not only guarantee him top four finish but also a challenge for domestic and European triumphs, unlike Spurs.
Also, Spurs have a wage cap of £80,000/week and may not pay in-excess of £100,000/week as salary to the most decorated African player.
Arsenal: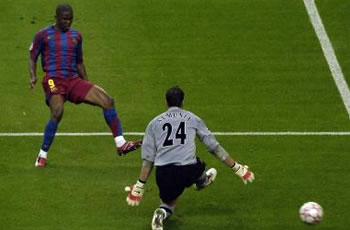 Do they need him?
Yes. Arsene Wenger has been the most successful with his 4-4-2 formation which he often employed during his early years at Arsenal; his invincible side of 2003-2004 was the greatest example such a setup. Although the current Barcelona like formation looks all pretty on paper but often, Arsenal have seem to lack a presence upfront. Thus, in order to win trophies, Wenger might go back to his tried and tested 4-4-2 formation.
Thus, signing Samuel Eto'o, who will perfectly complement Robin Van Persie – who (at times) has been criticised for going either right or left wing than staying central, upfront would be a good option.
Also, he will bring a much needed winning mentality to the club that Cesc Fabregas has often talked about.
Why he may join?
Arsenal are playing Champions League football and he may well feel that he is tailor made for Gunners to lead them to glory.
Why he may not join?
With Fabregas being the highest paid player at Arsenal earning £110,000/week, as per Arsene Wenger's policy, Arsenal may not be able to pay his desired salary like Chelsea or Manchester City.
Arsene Wenger has spoken positively of his formation in the recent past and may not change it. Thus, considering Van Persie's form this past season, Eto'o may not get regular starting opportunities.
Liverpool: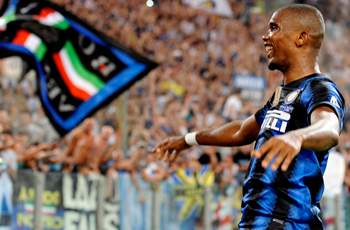 Do they need him?
Yes. Kenny Dalglish is rebuilding the Reds by landing some star names in Andy Carroll and Luis Suarez. But you have to understand that in spite of performing heroics in the past season, both Carroll and Suarez are relatively inexperienced. Thus, adding experience to the forward line would come in handy.
Also, Eto'o will make Andy Carroll look like a better player by making his quick trademark runs into the channels and latching on to the second ball. Suarez will also benefit from his presence as it will enable Liverpool to play more ground football threading in through balls which will help the Merseysider's cause.
Why he may join?
The biggest influence for Eto'o to join the Reds could be the current Liverpool manager – Kenny Dalglish, who has won everything possible in English football including a title with Blackburn Rovers as manager.
The owners and their vision for 'Project Liverpool' may attract the former Barcelona star.
Regular starting opportunity will be another attraction.
Why he may not join?
Unlike the other five teams, Liverpool are not competing in Europe. Thus, that may drive him to another club.


Manchester City: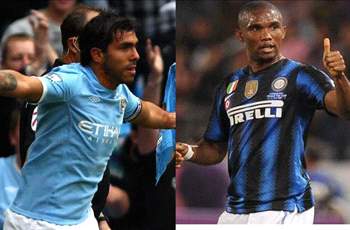 Do they need him?
Yes. With Carlos Tevez, eager to leave Manchester, Inter Milan touted as a possible destination, City need someone like Samuel Eto'o - a striker who can do a similar job as Tevez and guarantee them 25 goals/season - to be the mainstay of the Manchester City attack. Mario Balotelli has ample talent but his problems off the pitch make more headlines than on it. Edin Dzeko hasn't found his touch in English football so far, thus, bringing in Eto'o and pairing him upfront with the two mentioned above may just prove to be a masterstroke by Roberto Mancini.
Why he may join?
Manchester City are playing in the Champions League.
The owners have a great vision and are ready to put in outrageous amount of money in the club in order for the club to succeed.
City can pay him his desired salary.
Regular first team place.
Mancini knows Italian football in-and-out. Thus, with Eto'o coming in from the Italian league may find it easier to play under him, thereby, settling in fast.
Why he may not join City?
City don't have a strong history like their neighbours in Manchester United, Liverpool or Arsenal. Thus, the striker may fancy a move to one these destinations instead of the Eastlands.
Chelsea: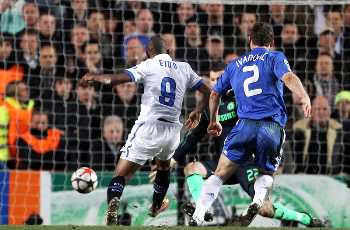 Do they need him?
Not really. Chelsea already have Didier Drogba, Nicolas Anelka and Fernando Torres as their three strikers. Although Torres has been out of form this past season but most people are aware of his quality and expect him to comeback. Drogba and Anelka, called 'aging' by some have done well in the last campaign.
In terms of age, Eto'o is 30, which only two and three years younger to Anelka and Drogba, respectively. So, that won't make much difference. Also, the Blues have young Daniel Sturridge coming back from his successful loan spell at Bolton. Thus, Eto'o would be nothing but a surplus requirement at Chelsea.
Why he may want to join?
As revealed by the Eto'o, Jose Mourinho explained him the Chelsea game and thus, he understands it better. Therefore, settling in shouldn't be a problem for him.
Also, he would relish pairing up with his African colleague in Drogba.
Why he may not join?
Hey may not play regularly like he would do at Tottenham, Liverpool, Arsenal or Manchester City and thus, he may not join Chelsea.
Manchester United: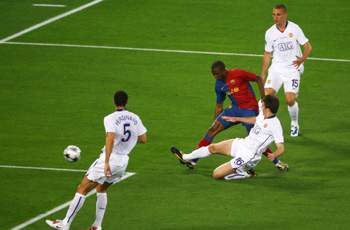 Do they need him?
Not really. Manchester United already have an impressive strike force of Wayne Rooney, Dimitar Berbatov, Javier Hernandez, Danny Welbeck, Federico Macheda and Michael Owen – all of whom (except maybe Berbatov) may not move away from Old Trafford. Thus, signing another striker, with Rooney and Chicharito partnership upfront doing wonders, is unnecessary. However, given his class, Eto'o may not be the worst option.
Why he may join?
Almost every player dreams of playing under a great manager and by joining United, he can do that by playing under Sir Alex Ferguson.
Manchester United is the most decorated club in English football having already won 19 titles and he may want to be a part of it.
Why he may not join?
No regular starting place guaranteed. Thus, he may not get sufficient opportunities to 'prove' himself.
United may not be able to match the wages that City may offer.
What Do YOU Think? Which Premier League club should Eto'o join and why?

Our

provides the best breaking news online and our

football fan community is unmatched worldwide. Never miss a thing again!