When Didier Deschamps lifted aloft the World Cup trophy on July 12, 1998, it was a moment tinged with regret for Laurent Blanc, who missed the opportunity to take part in France's 3-0 victory over Brazil at the Stade de France because of a moment that is now considered one of football's most infamous episodes.
Blanc will come head-to-head with the man who denied him what would have been the crowning moment of his career, Croatia coach Slaven Bilic, when his France side meet the Vatreni on Tuesday night.
On July 8, 1998 in Saint-Denis, the Croats and the French contested a memorable semi-final. Davor Suker had put the visitors into the lead moments after half-time, but an unlikely brace from Lilian Thuram flipped the fixture on its head. Then came the game's major talking point.
With 14 minutes remaining, les Bleus had a free kick out on the left hand side. As Zinedine Zidane whipped in a right-footed delivery, referee Jose Maria Garcia Aranda stopped proceedings to deal with a seemingly innocuous scuffle in the box. Bilic had collapsed holding his face, fooling the referee into thinking that Blanc had taken a swipe at him. Replays showed differently.
Both players had a good handful of the other's shirt, prompting 'Le President' to offer little more than a hand-off to the Croatian defender, whose reaction was disproportionate almost to the extent of Rivaldo's four years later to get Hakan Unsal dismissed after the Turk had hit him on the thigh with the ball.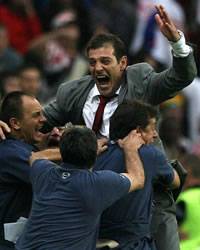 "I'm sorry that
Laurent missed the
final, genuinely, but
the one to blame is
him."
Slaven Bilic
It would be the only red card of Blanc's career, denying one of France's most respected players the opportunity to play in the world's biggest match as video evidence failed to persuade typically stubborn FIFA to reverse the decision.
Thirteen years later, Bilic, who is widely regarded as an amiable and honest figure away from the park, remains largely unrepentant for his actions that day, even if he continues to be reviled in France.
"I have not changed my version [of events]," he told
Le Parisien
earlier this week. "As on all corners, I was marking Laurent Blanc. Nothing had happened between us during the whole game. Then, out of nowhere, he hit me. It wasn't like Mike Tyson, but I was struck.
"I panicked and collapsed. Why did I panic? Because only one thing mattered; not to get a yellow card because I would have been suspended since taking a booking against Romania in the previous round.
"I'm sorry that Laurent missed the final, genuinely, but the one to blame is him."
Probed as to why he clutched his face as opposed to the point of contact, the 42-year-old frankly confessed, "True, but we don't care where he hits me. We see red cards for less. It was a reflex, and I'm sure it was on his part too."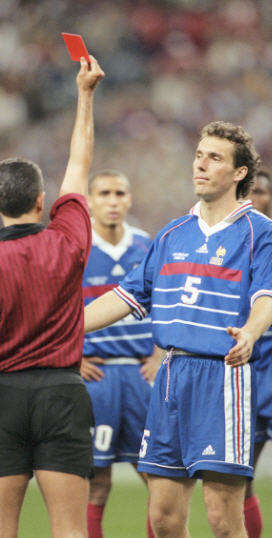 "It is entirely my
fault."
Laurent Blanc
Blanc was typically measured in the aftermath of the event, with his disbelieving shrug as referee Garcia Aranda produced the red card typical of his level-headed and thoughtful approach to the game.
"It is entirely my fault," he recently told
L'Equipe
, refusing to condemn his Croatian counterpart, whom he has yet to cross swords with in a coaching capacity.
The French public will not be so quick to forgive the polyglot qualified lawyer, who plays guitar for rock band Rawbau and is famous for chain smoking. With Franck Ribery and Patrice Evra also set for frosty receptions in Paris, there could be quite a contest to become pantomime villain of the night.
"With the greatest respect to women," Bilic once said, "football is the most beautiful thing in the world."
For the host nation on that balmy July evening 13 years ago, it certainly was, but a touch of perfection had been robbed from them a matter of days earlier, when one idiosyncratic Croatian's gross over-reaction prompted the absence of a true legend of the French game on les Bleus' biggest day.
The France coach may have exonerated Bilic from a large portion of blame, but history will not be so kind to the Croatian, whose playing career will be forever remembered by this infamous incident.
Follow Goal.com on

. Get the latest football news direct... Check out Goal.com's

page; be part of the best football fan community in the world!