Name:
Bader Al Mutwa
Age:
25
Country:
Kuwait
Club:
Al Qadisiya
Position:
Support Striker
Strengths:
Distribution, Technique
Once a prodigy of Gulf football, Bader Al Mutwa hasn't quite lived up to the hype that surrounded him during his teenage years, after making his international debut at the tender age of 18.
Having failed to complete a move to Europe he has continued on with club side Al-Qadisiya, for whom he has been prolific, helping them to a league title in 2009 and into the AFC Cup final this season.
Despite a failed attempt to earn a contract with Spanish outfit Malaga, Al Mutwa will be the man Kuwait look to for goals at the 2011 Asian Cup, as they attempt to build on their notable victory at this year's Gulf Cup.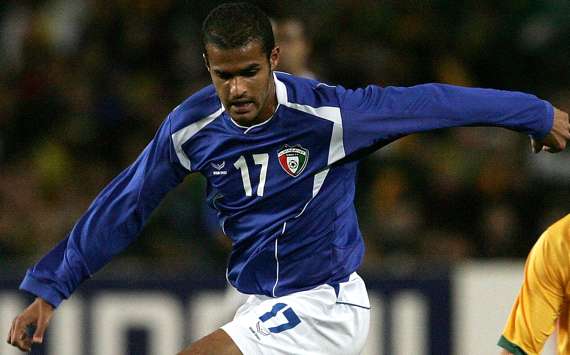 The 25 year-old scored twice in four games and already has bagged six goals this season in the Kuwait Premier League, while he has an excellent overall appearances to goals ratio for his country.
Goal scoring isn't the only thing one of this this year's AFC Player of the Year nominees has going for him though; Al Mutwa is a sublime playmaker and most dangerous when he plays just behind the strikers, where he is able to best utilize his passing ability and has room to run at defenders.
Capable of gliding past opponents with ease, Al Mutwa is an aesthetically pleasing player who is capable of creating and scoring in equal measure.
DID YOU KNOW?

Al Mutwa was accidentally handed the prize for 3rd at the 2006 AFC Player of the Year Awards, despite coming second.

Boasting an intelligence and composure on the pitch that serves him well on approach to goal, he is able to pick out difficult passes and split open defences, while his slightly unorthodox finishing is a testament to his creativity.
What makes Al Mutwa particularly elusive is his agility and athleticism, allowing him to change direction at great pace with the ball and create space for himself.
His wonderful technique means he has an effortlessness about him on the pitch, though it shouldn't lull defences into a full state of security; Al Mutawa can change the direction of game in an instant by virtue of his distribution and pace.
A prodigiously talented footballer who has yet to take the world by storm, the 2011 Asian Cup presents the perfect opportunity for the attacker to showcase his talents to a sizeable audience.