Making his first appearance in the long history of the Santosh Trophy, Goa's young Cavin Lobo has been in amazing form having scored three goals in as many matches besides giving the opposition teams a lot to worry about.
Goal.com
got in touch with the Cavin to get his views on what he thinks of his maiden run in the 64th Santosh Trophy. The shy Goan insisted that the credit has to be given to the entire team for the good showing.
"It was a good start for the whole team. All the segments were functioning well so the credit goes to each and every member of the team," he said, and on being asked which according to him was his best goal scored by him, "Against Karnataka, because I scored the goal and our team won. I was trying to score from the time I came in and God gave me the gift of being the goal scorer."
Cavin then shifted his attention towards the 'derby' of the Santosh Trophy between Goa and West Bengal, to be played at Kolkata's Salt Lake stadium at 4 p.m., on Friday.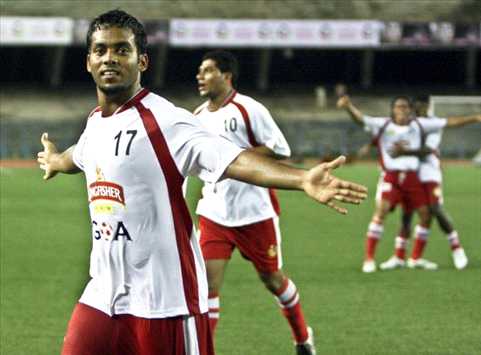 I believe I fly, I believe I can touch the sky
"We are looking forward to take the trophy back home. There is no doubt that we will be playing under pressure against the hosts who will have the home support, but a win against Bengal will be a morale booster" said Lobo in an optimistic tone.
Every footballer has a dream to play for his country after shining at the state level, and so does Cavin Lobo.
"It's a long pending dream that will come true if I play for India. This is my first appearance in the Santosh Trophy, so a victory will definitely be very special for me and the team," he concluded.