Air India Football Club coach, Santosh Kashyap spoke to
Goal.com
and revealed that the Pilots have completed the deal for Lamine Tamba and Kali Alaudeen, and are on the verge of signing Manandeep Singh.
These signings come as welcome news for the strapped club, who in spite of playing well the last season didn't quite seem to have the cutting edge when it came to scoring goals and grinding out results. Lack of this particular attribute saw the club from Mumbai drop several points and survive relegation from the skin of their teeth.
Snapping up the Senegalese, who was available for free after being released by Pune FC at the end of last season, would introduce some steel at the back. Speaking on the acquisition of the 25-year old former Pune FC defender, Kashyap believed that the defender would add value to the Air India squad.
"Tamba is an experienced defender and has a know-how of the Indian conditions. He has played for top clubs like Mahindra United and Pune FC and done well for them in the past. He will definitely add value to our squad," Kashyap said.
Further speaking on his signings, the former Mahindra United youth coach disclosed that the 18-year old, Manandeep Singh, who plied his trade for the Indian Arrows, is close to joining Air India.
"The striker has agreed terms with us and he should be here in the next couple of days to sign," he mentioned.
With Manjit Singh not yet having made his mind up to join the Mumbai club, Manandeep joining the club is certainly a good news for the club supporters.
What this also means is that the former Indian Arrows attacker may once again get great amount of first team playing opportunities.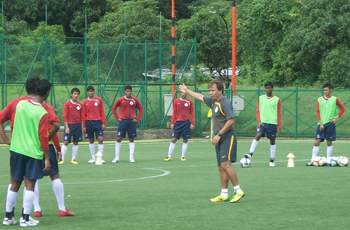 In contrast to signing a young player in attack, the Mumbaikars have once again gone out and signed another experienced defender, 27-year old former Mahindra United defender, Kali Alaudeen from Salgaocar. Just like Tamba, Kali also brings the much required steel to the team and an assurance at the back which was missing last season in Air India ranks.
Kashyap said, "He has tremendous potential and he is a good signing for us. He has recovered from his injuries and is training now."
However, it may come as a surprise to some that Air India are once again pressing for major signings in the defensive and not in the attacking department, but it all points to Air India getting stronger. The Pilots are a club which have a massive financial cloud hovering above them and thus, are doing their bit in order to find the right kind of talent by organizing talent camps and trials for the foreign players.
Download the Goal.com Mobile app, and the world of football will be at your fingertips and in your pocket!