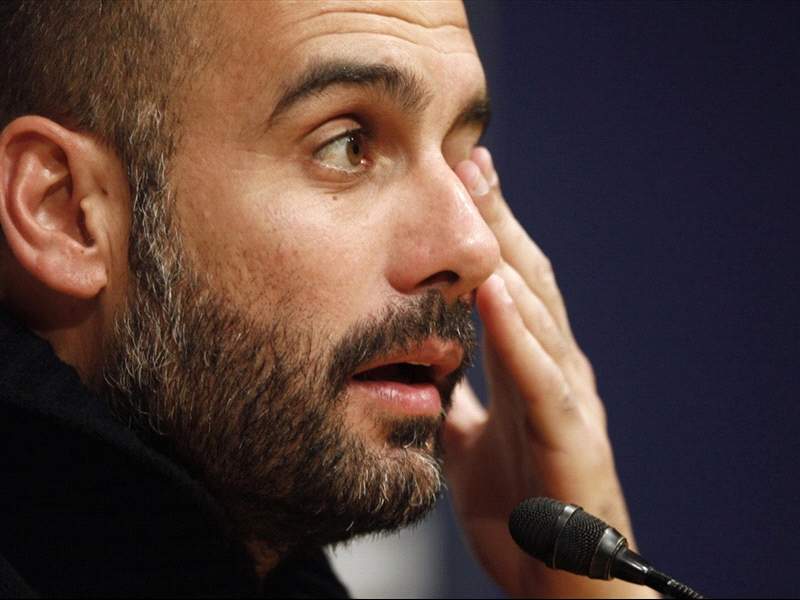 Barcelona
coach
Pep Guardiola
is confident regarding his side's chances of defeating
Chelsea
in their Champions League semi-final second-leg match at Camp Nou on Tuesday.
The Catalan club must overcome a one-goal deficit to reach the tournament decider after suffering a 1-0 defeat at Stamford Bridge last week.
In London, Pep Guardiola's side were unable to beat goalkeeper Petr Cech despite enjoying the majority of the possession and having several chances to score, but Guardiola believes that his side will go through.
"We begin with a 1-0 disadvantage and we have 90 minutes to turn it around," he said at Monday's pre-match press conference.
"You have to win over the fans every day, but we know that they are with us. I have no doubt that we will be in Munich, I have been thinking this since the start of the season.
"It is possible that we will have to score three goals. This will be a match similar to the one against Levante and Madrid, because Chelsea are very strong physically and very good on the counter.
"We will have to find a good balance. We will not have many chances to score and we will have to make the few we will have count."
Questioned about the challenge that Tuesday's match will pose to him, Guardiola noted that he is used to such situations.
"I do not know if this will be the biggest challenge since I have been a coach, but I always look at these matches with optimism because of the faith I have in these players," he added.
"We have to be careful with Chelsea's strong points. They have been playing like this for a long time.
"We will have to create chances and score goals. But the hardest thing is to know how to attack against them.
"When we lose the ball, we will have to be covered so that they will not hurt us [on the counterattack]."
Barca head into the game on the back of a disappointing 2-1 home defeat against Real Madrid, but Guardiola believes the players are ready to bounce back from the loss.
"I have no doubt that the players will be fine," he explained. "If we create the same chances that we did in London, it will be very hard for us not to score again."
The 41-year-old coach then took a swipe at the media for the criticism targeted at his side and particularly at youngster Cristian Tello following the defeat to Madrid.
"If you have to attack me, do not attack Tello," Guardiola said. "You were not nice. Look at the match.
"He played brilliantly and was behind all our chances.
"I have heard most of your criticism and all of you unanimously say that I was wrong, but we had a good match and Madrid had few counterattacks, although it is true that we did not have many chances."
The Barca boss also dismissed the notion that his contract renewal depends on the outcome of Tuesday's match.
"My renewal does not depend on whether or not we reach the final," he insisted. "Now it is not the time to talk about that."