Bibek Bhowmick has been with ONGC from the start, and infact is credited with organizing the football club.
After getting relegated in the 2010-11 season, not many gave ONGC a chance of returning to the top flight on their first try, but Bhowmick made the best use if the limited resources at his disposal to win a somewhat surprising promotion.
Under his tutelage, Subrata Bhattacharya, has also flourished as the coach of the Mumbai based side.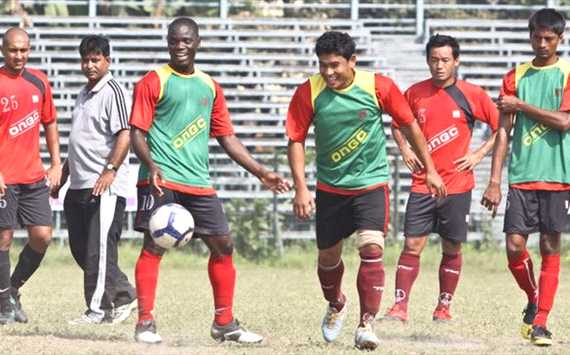 The ONGC manager isn't satisfied with the business done over the summer, as he felt that red-tapism associated with a government funded club, stopped them from signing several players who would have given the club a better chance to survive this I-League season.
"Many players joined other clubs since we could not give them confirmation. Since we cannot give them cash in advance, as a due process has to be followed. Formalities hold us back, first a selection by "A" committee (within ONGC) is held, then dates for trials do not match. We lose out on players. So we have to come up with a second option. So we look for young players, who then go on to do great things at other clubs in the future."
"To get good results, we need a good squad to rotate players. Not very satisfied, but I am happy we have bought young boys who will get a chance to flourish," he added.
As stated by Bhowmick, the squad is full of players who hope to make a name for themselves over the coming season, and experience is in short supply.
Of the youngsters that have joined the team, striker Oneyama Eke, one of their foreign signings, will have to share a big chunk of the scoring burden for the team, while players like midfielder David Lalrinuamana, F. Lalmuan Puia and Surabuddin Mollik will be looking to leave a mark on the domestic circuit, after being handed a chance by the Mumbai-based club to show off their wares in the I-League.
Bibek Bhowmick wasn't too pleased with the side's preparation for the Federation Cup, and said, "We are not too well prepared, as most players joined in late and we only had a very small pre-season. I think we are lacking in endurance and are only close to 80% of our potential and the picture is not very optimistic."
"The problem is the acute shortage of grounds in Mumbai. We practiced at the Fr. Agnel's ground in Panvel, which though good for practice, is small in size, and we cannot play proper matches on it," he continued.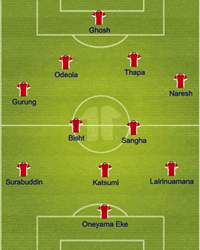 Clarifying about the tactics one can expect ONGC to employ this season, the ONGC manager explained, "Tactics depends upon the quality of the players, for example, India played direct football before but now under Wim Koevermans, players play on the ground. They have outsmarted higher ranked sides this way. We consider all teams better, and I go according to the opposition's plan. Maybe we could line-up with 4 defenders, 5 midfielders,1 forward, or a 4-4-2 else a 3-5-2 if trailing. Players will also be given a job of zonal marking, but we need to allow them to play their natural game."
Goal.com View –
As hinted at by Bhowmick, a 4-5-1 is the most likely formation to be employed by ONGC, not only to help shore up a rather leaky defense, but also due to the lack of fire-power upfront.
As stated above, Eke shall have a major part to play upfront, and Katsumi Yusa could be expected to provide support to him from midfield.
Sandeep Sangha and Jatin Bisht are some of the few players in the side with some experience of top flight football, and can be expected to add solidity to the midfield.
Kamal Thapa and Captain A. Naresh will have to hold the defense together, with Prosenjit Ghosh likely to get the nod in between the sticks.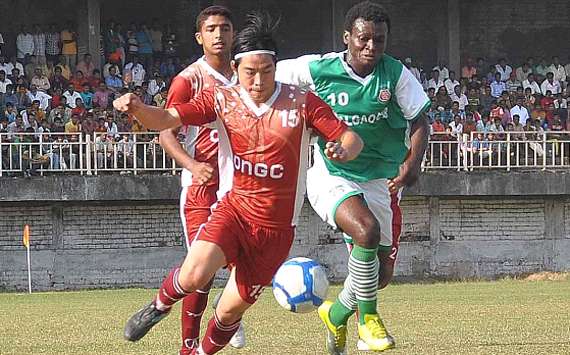 Bhowmick initially refuses to be drawn onto the subject of who will be the key players of the side and stressed, "Well there is no one particular player we could point out. However if you see, people generally call out for players with attacking talent like Odafa Okolie, Ranty Martins amongst others."
"We have some youngsters like midfielders David Lalrinuamana, F. Lalmuan Puia and Surabuddin Mollik, who have joined the team this season, and who should have a bright future ahead in the game. Katsumi Yusa is another great player, who has been with us for sometime, while Bisht shall add experience."
Goal.com View – Match winners are in short supply at ONGC, and hence their new foreign recuit, Oneyama Eke will definitely be a key player for them, as they shall hope that the African striker can propel them to safety in the league and a decent showing in the Federation Cup.
As stated above, Katsumi Yusa was one of the mainstay's of the Mumbai-based side in their last stint in the top division, and will continue to play a vital part this season, as his link-up play and ability to get goals from midfield are an important part of ONGC's gameplan.
At the back, keeper Prosenjit Ghosh shall be pushed hard by upcoming custodian Rehnesh TP, which might be a good thing for the club's fortunes, as there will be no chance of complacency creeping in for Ghosh.
FEDERATION CUP HOPES AND GROUP RIVALS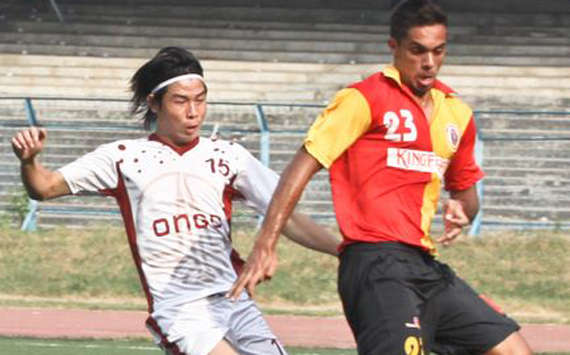 Bhowmick is very realistic and honest about his side's chances in the coming Federation Cup and hopes that his players learn from the experience they shall gain against clubs like East Bengal, Sporting Clube de Goa and Kalighat MS, who made the main draw via the qualifiers.
He told Goal.com, "I have told the boys that we need to learn lots from them. It is not only about the money other teams have spent but also the experience and understanding in their squad. Even Kalighat have done great and are a changed team, so we will give them full respect.
"Though we are not fully prepared, but our boys know the situation and we will put up a good fight. The boys will try and get to optimum condition by then. We cannot do anything if they do not come up to the same fitness level, even if they are Indian Messi or Rooney! We expect a good fight and hope to enjoy the football," he concluded.
Goal.com View – The newly promoted I-League side have not had a great pre-season. With no household names in the squad, it was always going to be a tall order for ONGC to progress, but with the side not even at their own optimum levels heading into the Federation Cup, not much can be expected from them.
Follow Ayush Srivastava on

How do you stay up with football when on the move? With http://m.goal.com –your best source for mobile coverage of the beautiful game.