With Lionel Messi having already embraced Kolkata last Friday, the city of joy, along with Pune, is all set to co-host another premier footballing event, the 33rd season of the Federation Cup.
The final group round quarterfinals of the Federation Cup kick-off on September 17 and with the top 16 clubs (divided into four groups) in India being chosen to participate in the round. A galaxy of Indian football stars represent their respective football clubs fighting it out to bring home the first major trophy of the season and land a chance to participate in the AFC Cup next year.
Of all the teams set to take part in the final round, two participating clubs, apart from fourteen I-League clubs, will be the ones which will have qualified on the base of their performances in the tournament qualifiers which commence from September 8 in Kolkata.
As for the qualifying round for the final two places in the final group stage, seven teams - Mohammedan SC, Vasco S.C, Ar-Hima, Southern Samity, United Sikkim, Royal Wahingdoh and ONGC FC - have been divided into two groups and will thus, battle it out to earn their right to be amongst India's elite. One team from each group will qualify. All the teams playing the qualifying round are either the relegated teams from I-League last year or teams which had reached the final qualifying round of the I-League division II but were unable to qualify for the premier football league in India.
| | |
| --- | --- |
| Group A | Group B |
| Mohammedan SC | Southern Samity |
| Vasco Sports Club | United Sikkim |
| Ar-Hima | Royal Wahingdoh |
| - | ONGC FC |
Confused why Group A has three teams whereas group B has only two?
Group A should have also had four teams competing for a place in the final 16 but for sad disbandment of JCT Football Club, following their relegation into the second tier of Indian football last season, will now only see seven teams take part in the qualifiers instead of eight.
Let's have a look at both the groups taking part in the qualifying round.
Group A:
Favourites: Mohammedan Sporting Club, Kolkata.
Underdogs: Ar-Hima, Shillong.
| | | |
| --- | --- | --- |
| Clubs | Federation Cup Achievements | I-League Division II Final Round (2010/2011) |
| Mohammedan SC | Winners (1983,1984), Finalists (1990, 2003) | Seventh |
| Vasco Sports Club | Quarterfinalists (Mid 1990s) | Third |
| Ar-Hima | Debut Season | Fourth |
Group A looks set to be contested keenly with all the three teams ready to rise to the challenge and take part in qualification for the quarterfinal group stage. Two time winners of the tournament, Mohammedan Sporting Club seems to have got stronger this season having signed a number of new players including the likes of Suman Dutta from Southern Samity and Surabuddin Mullick from Mohun Bagan.
On the other hand, Vasco SC has lost three of their stars – Koko Sakibo, Joy Ferrao and Basil Rego – from last season, who helped them finish third in the qualifying round, to other I-League clubs and look to have only gone weaker as compared to the other teams in the group. With Ar-Hima captain and star player, Eugeneson Lyngdoh making a move to cross town rivals Shillong Lajong, the club from Meghalaya, at least once this summer, would have looked to have been extremely weakened but with several signings - including that of former ONGC FC right back, Robin Gurung - the boys from Meghalaya look formidable again and would be gunning for qualification from the group.
Group B:
Favourites: United Sikkim, Sikkim
Underdogs: Southern Samity, Kolkata
| | | |
| --- | --- | --- |
| Clubs | Federation Cup Achievements | I-League Division II Final Round (2010/2011) |
| ONGC FC | - | - (Relegated from I-League Div. I) |
| United Sikkim | Debut Season | Fifth |
| Southern Samity | - | Eighth |
| Royal Wahingdoh | Debut Season | Sixth |
Seeing the Group B teams, ONGC FC - the club that got relegated to the I-League second division last year - along with United Sikkim, immediately catches your eye. As mentioned above, ONGC have lost Robin to Ar-Hima but to be frank, that is not the biggest loss to Mumbai-based club.
N.D.Opara, who has been in decent form over the last two years for ONGC and Air India respectively, made a move to Churchill Brothers. From the other players bowing out of the club, they have also lost Shahbas Shaleel to Viva Kerala and Gour Naskar to Southern Samity. Naskar could come to haunt his former club as he will be seen plying his trade against ONGC in both, league and the Federation Cup this season.
One of the main attractions of Group B is United Sikkim Football Club, which is owned by the Indian Football legend Bhaichung Bhutia, musician Shankar Mahadevan and Fidelis Group from Dubai. United Sikkim have a strong line-up and have had an excellent pre-season upsetting East Bengal in one of their games. They also have International players in Sushil Kumar Singh, Renedy Singh, N.S. Manju and former Manchester United trialist and Duisburg midfielder, Quinton Jacobs. Couple them with Bhaichung and the squad certainly looks one to reckon with.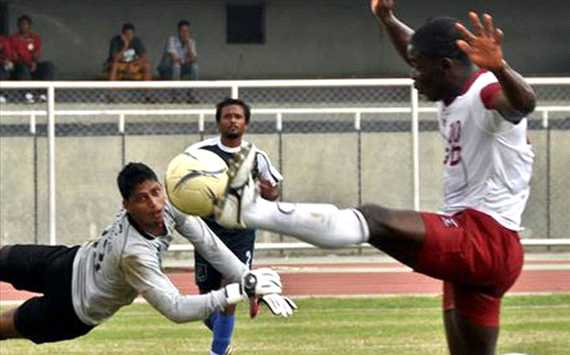 Southern Samity are a team in this group which may surprise a few people with the quality that they possess. Apart from signing Naskar in the summer transfer window, the aspiring Kolkata Club have also completed important deals for HAL's defender, Deepak K. and Habib Biswas from Air India. These signings have made Samity strong defensively, a department that they were found short in, in Division II last year, conceding 21 goals in 12 games.
Royal Wahingdoh Football Club (RWFC) from Shillong is often referred to as 'young'. RWFC are the reigning Shillong champions and did win all their games in the initial group stages of the I-League division II last year. However, their poor performances in the final group saw them missing out on I-League qualification. This is their debut season playing the Federation Cup and under Carlton Chapman, they will certainly look to make a mark on national football. The club hasn't made any big name signings but is backing the youth to make an impact this season, both in the league as well as in the Cup.
The qualification round starting from Thursday looks to be a treat on offer for the football fans in Kolkata, who after watching the best in the world in Lionel Messi play, will get to witness the best that the country has to offer in the next three weeks.
Download the Goal.com Mobile app, and the world of football will be at your fingertips and in your pocket!