On March 6, 2015 Real Madrid celebrated another landmark as they ushered in their 114th year.
With over a century of football, history, triumphs, records, controversies, dramas and star players, there has certainly been no shortage of highlights to choose from to commemorate the club's 113th anniversary.
With that in mind,
Goal
compiles 113 interesting facts you may or may not know about Real Madrid.
1.
The first direct incarnation of the club was known as Football Club Sky formed in 1895. In 1900, the club split into New Foot-ball de Madrid and Club Espanol de Madrid. The latter club's president Julian Palacios eventually led a breakaway to help create Sociedad Madrid FC on March 6, 1902.
2.
Madrid CF's first two official club presidents were both Catalans. Joan Padros Rubio presided over the board from 1902 to 1904 and was succeeded by his brother Carles Padros Rubio from 1904 to 1908.
3.
Three years after Madrid FC was formed, they won their first official title after defeating Athletic Club to lift the Copa del Rey in April 1905.
4.
Madrid legend Alfredo Di Stefano became the first player to win the Pichichi award four times in a row from 1956 to 1959. He has five wins in total.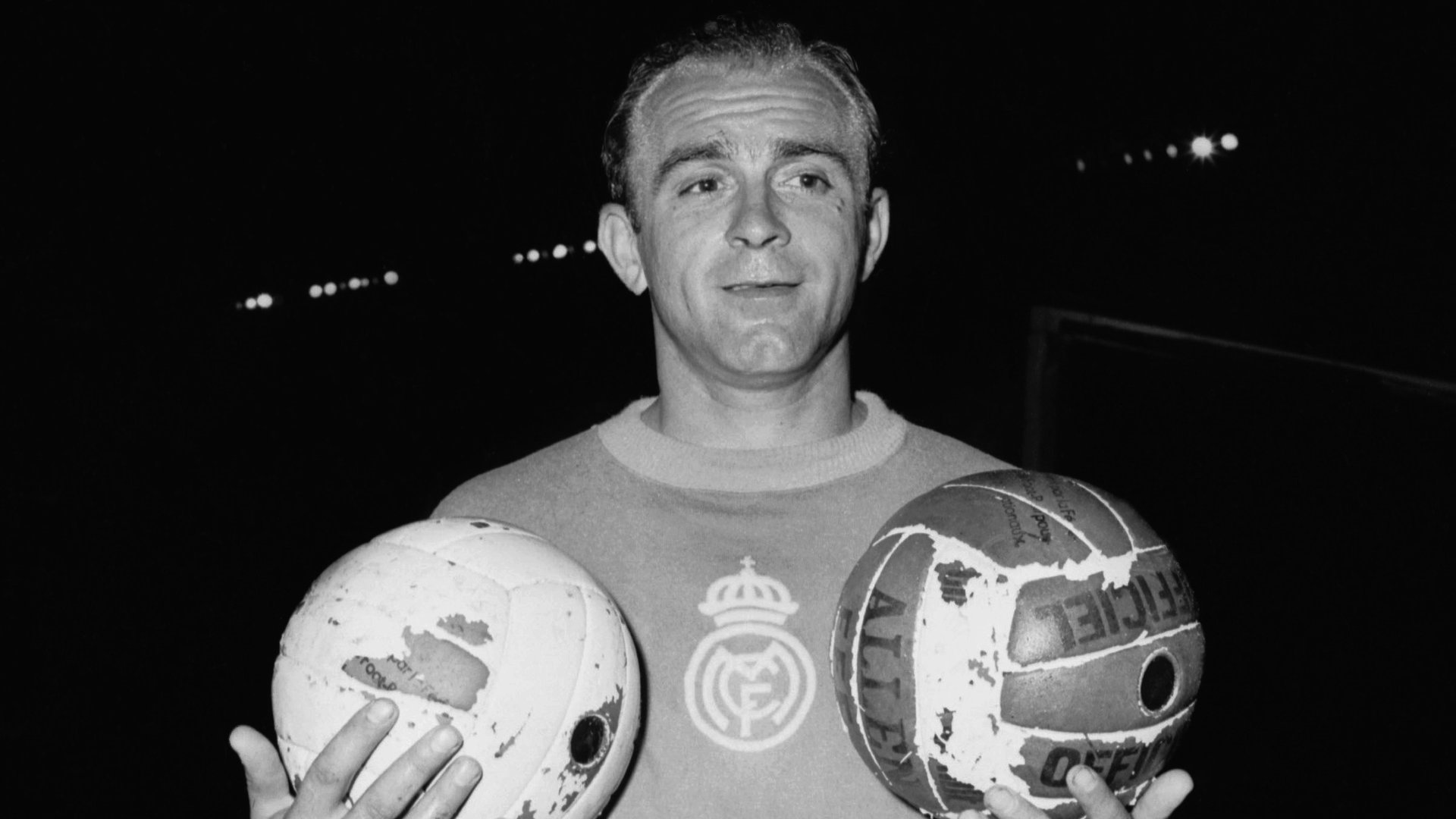 Madrid's first idol | Di Stefano changed the history of the Spanish side

5. Although an attacking midfielder, Zinedine Zidane wore the No. 5 shirt in his five seasons as a Madrid player.

6. Madrid have never won the treble. But they have achieved the double (either La Liga plus Copa del Rey or La Liga and the European Cup) six times in the past.

7. Madrid's all-time top scorer is their iconic former No. 7 Raul with 323 competitive goals, 228 of them in the league, which is also a club record. But Cristiano Ronaldo, who inherited the shirt from Raul in 2010, is closing in on his former team-mate. The Portuguese currently has 291 goals for the club.

8. Real's biggest defeat in La Liga was against Espanyol when they lost 8-1 in 1929-30.

9. The club's largest win in the European Cup was a 9-0 victory over Danish side Boldklubben 1909 in 1961-62.

10. Madrid have won the European Cup/Champions League more than any other team, finally claiming La Decima by beating city rivals Atletico in Lisbon last May.

11. The club's biggest victory in any competition was against Barcelona as Los Blancos thrashed the Catalans 11-1 in a Copa del Rey (known then as Copa del Generalisimo) semi-final back in 1942-43.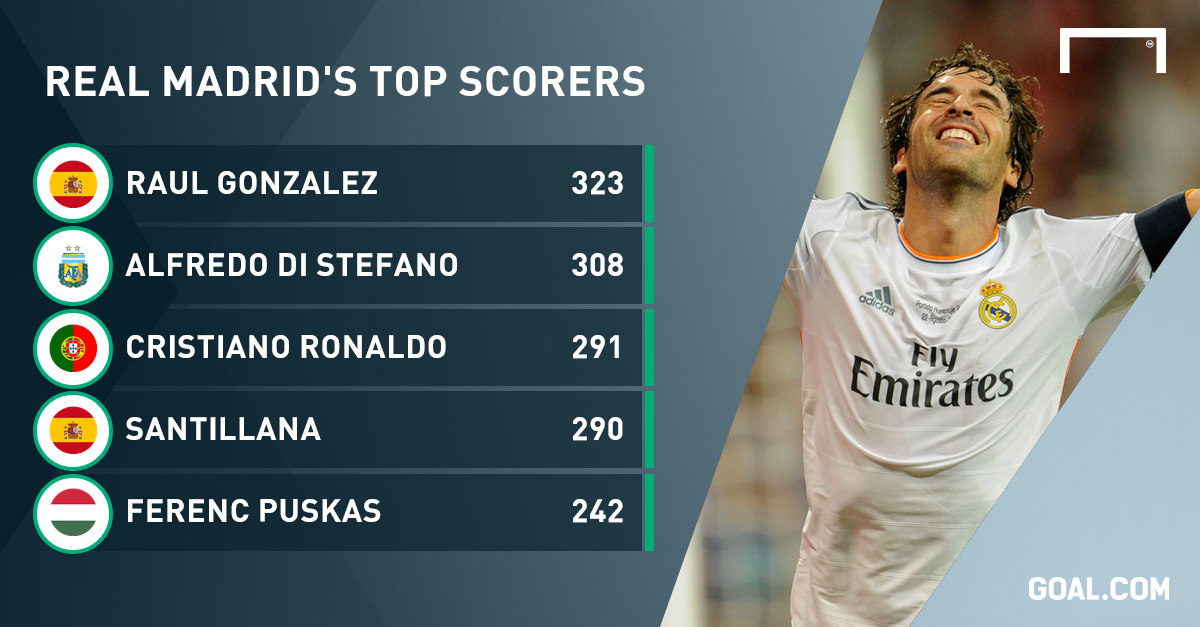 12. Ferenc Puskas scored a total of 12 goals in the 1959-60 European Cup campaign, the most goals a Madrid player has scored in a single season in the old format of the competition. Cristiano Ronaldo set a new Champions League record for all teams in 2013-14 with 17 strikes en route to the trophy.

13. The first ever Clasico was played on May 13, 1902. Barcelona defeated Madrid 3-1 in a friendly tournament.

14. Between 1961 and 1980, Los Blancos were so dominant in Spain that they won 14 La Liga titles in 20 seasons. Between 1961 and 1990, Madrid won 19.

15. Miguel Munoz is the club's longest-serving coach, totalling 15 years and 604 competitive matches. He won 14 titles during that span.

16. January signing Martin Odegaard will become the youngest player ever to feature in the Champions League if he features for Los Blancos in their second-round clash against Schalke next week.

17. On December 17, 1922, Real Madrid saw Juan Monjardin become their first Spanish international when he played in a match against Portugal.

18. Madrid's longest-standing player is club captain Iker Casillas, who has won 18 trophies for the club. Paco Gento holds the Real record with 23 titles for the Spanish side.

19. The first-ever competitive Clasico was on March 26, 1916 in the semi-final first leg of the Copa del Rey, which Barcelona won 2-1. Madrid eventually won on aggregate and they have lifted the Copa on 19 occasions.

20. Fifa named Real Madrid the 'Best Club of the 20th Century'.

21. Madrid FC's first game after its formation was a match between the club's members. One team wore blue and the other red. They eventually adopted their all-white shirts from London-based club Corinthians FC in 1902.

22. The club's 22-match winning streak at the end of 2014 was a new Spanish record. It ended with a 2-1 defeat at Valencia on January 4.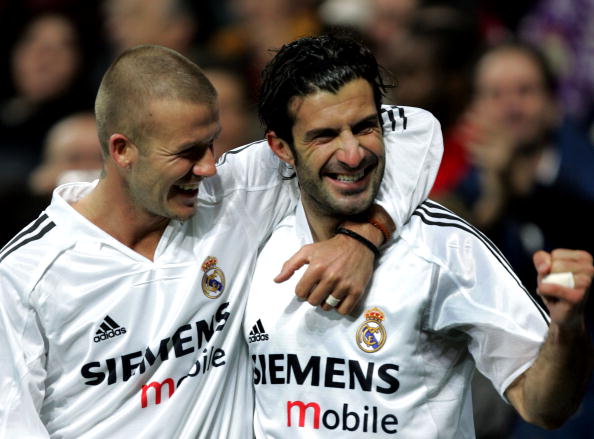 Galacticos | David Beckham and Luis Figo together at Real
23.
David Beckham (who wore the No. 23) won just two trophies in his four-year spell at Madrid, claiming the Spanish Supercopa right at the beginning of his time at the capital club, and adding La Liga in his very last game for Los Blancos.

24. Raul's final competitive game in the famous white shirt was on April 24, 2010 in the 2-1 La Liga win at Real Zaragoza.

25. Striker Karim Benzema has scored two goals or more on 25 occasions for Real Madrid.

26. Real Madrid players have won the Pichichi award a total of 26 times, a record in the league. The club's first La Liga top scorer was Manuel Olivares in 1932-33 when he netted 16 goals in 14 games. The last was Cristiano in 2013-14.

27. Raul was born on June 27, 1977 and started out in the youth team at Atletico. However, he ended up without a club as Atletico closed down their youth system due to huge debts in 1992 and their city rivals took full advantage. Two years later, he was already appearing in Madrid's first team.

28. Angel Di Maria was the first player to score a goal for Madrid in a red shirt, the team's away kit in 2011-12. A red-coloured shirt had only been used on three previous occasions, but Los Blancos had never managed to score.

29. Madrid received their 'Real' (royal) title on June 29, 1920 from King Alfonso XIII.

30. Vicente del Bosque spent 30 years in total at Real Madrid (first team and reserve team). He won nine trophies as a player and seven as a coach.

31. Cristiano Ronaldo scored 31 goals in the Primera Division last term to claim his second Pichichi prize. Alfredo Di Stefano holds the Madrid record with five, while Hugo Sanchez also won five (including one at Atletico) and Ferenc Puskas has four (all with Real). Athletic Club legend Telmo Zarra leads overall with six.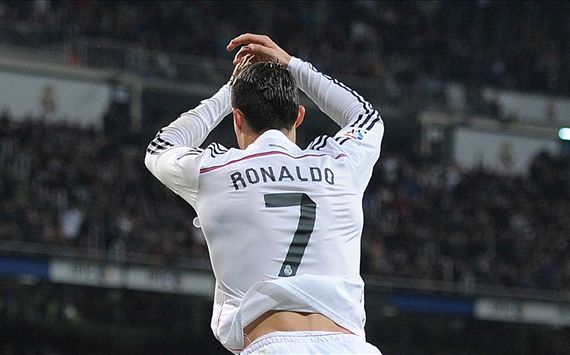 A star is born | Cristiano Ronaldo is on course to become Madrid's all-time top goalscorer

32. Madrid went unbeaten on their way to their first league title in 1932, winning 10 games and drawing eight in an 18-round campaign, finishing three points ahead of runners-up Athletic Bilbao.

33. Real are now chasing their 33rd Liga title, having won a record 32 so far - the last of which came under Jose Mourinho in 2011-12.

34. Zinedine Zidane retired after the 2006 World Cup at the age of 34, having spent the last five seasons of his career at Real Madrid. The attacking midfielder is best remembered for scoring the stunning volley which gave Los Blancos their ninth Champions League title in 2002. He is now coach of Madrid's B team, Castilla, having worked as an assistant to Carlo Ancelotti in 2013-14.

35. Santiago Bernabeu was Madrid's club president for almost 35 years from September 1943 to June 1978. During his tenure, Los Blancos won six European Cups, 16 La Liga titles, 6 Copas del Rey, and one Intercontinental Cup. He is also credited with revolutionising Real, starting with the signing of Alfredo Di Stefano.

36. Santillana, who is the club's fourth-highest all-time top goalscorer, retired from football in 1988 at the age of 36.

37. Madrid's first-ever European Cup match was a 2-0 win over Servette on September 8, 1955.

38. Hugo Sanchez scored 38 goals in La Liga in 1989-90 to tie a Pichichi record set by Athletic Bilbao great Telmo Zarra in 1951 and which stood until the 2010-11 season.

39. Ferenc Puskas was almost 39 when he played his last season for Real in the 1965-66 campaign.

40. Cristiano Ronaldo set a new La Liga record in 2010-11 by netting 40 goals in a single season, beating the long-standing mark held by both Telmo Zarra and Hugo Sanchez.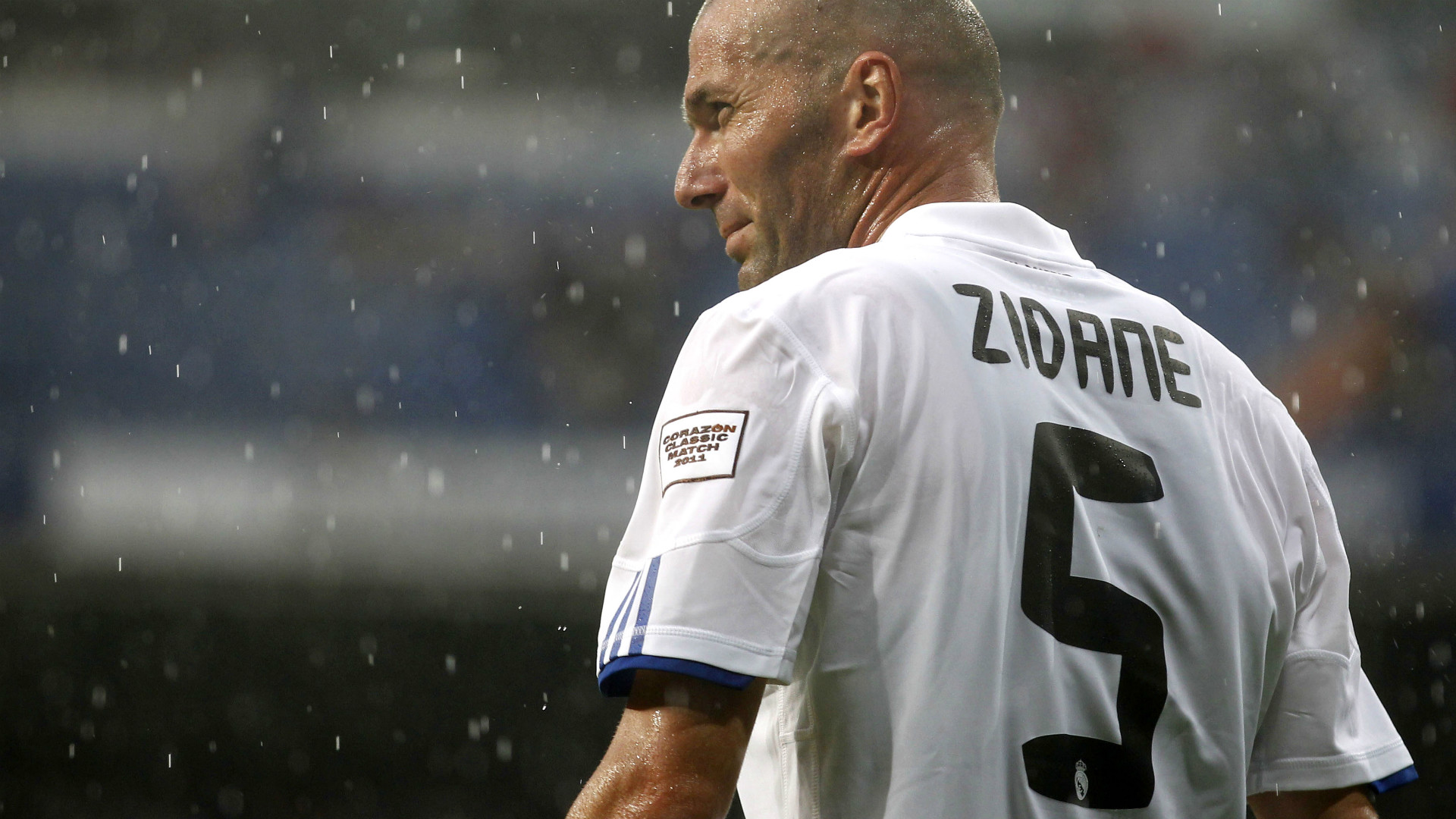 Five-star performer | Zidane during his time as a Real player

41. Marca, who award the Pichichi prize, claimed it was 41 goals, including a free-kick which had deflected off Pepe against Real Sociedad. Officially, the goal was awarded to the defender, but the paper stand by their total to this day.

42. Paul Clement, the club's current assistant coach, is 42 years old and previously worked with Carlo Ancelotti at Chelsea and Paris Saint-Germain. He has admitted he is in dreamland as he puts players like Cristiano Ronaldo through their paces on a daily basis.

43. Real Madrid won the inaugural European Cup on June 13, 1956 by beating Stade Reims 4-3 in the final.

44. The exact time on the clock was 44 minutes and 36 seconds when Zinedine Zidane scored his left-footed volley for Madrid in the 2002 Champions League final against Bayer Leverkusen at Hampden Park.

45. Ronaldo joined Real Madrid from Inter for €45m in the summer of 2002, fresh from his heroics for Brazil in the World Cup in Japan-Korea.

46. Cristiano Ronaldo's 46 goals in La Liga in 2011-12 is the highest by any Madrid player in the Primera Division, but he missed out on the Pichichi prize that season as Lionel Messi struck 50 times for Barcelona.

47. Carlo Ancelotti is the 47th different coach to have taken charge of Real Madrid. Their first was Arthur Johnson.

48. The first Real Madrid office was a boutique called 'Al Capricho', and it was at No. 48 in Calle Alcala.

49. Raul's last competitive goal for Real Madrid came in the 49th minute in a 2-1 victory over Real Zaragoza.

50. Real Madrid legend Emilio Butragueno holds the Liga record of successive games unbeaten. He did not lose for 50 consecutive league matches in the 1980s.

51. Los Blancos were the first-ever club champions of the world when they defeated Penarol 5-1 at the Santiago Bernabeu in the inaugural Intercontinental Cup back in 1960.

52. One of Madrid's nicknames, Los Merengues - in reference to their all-white kit resembling a cake made entirely of egg white - was first coined in the magazine España Sportiva on January 3, 1917.

53. Despite spending much of his time on the bench, Isco made more appearances (53) than any other Madrid player in 2013-14.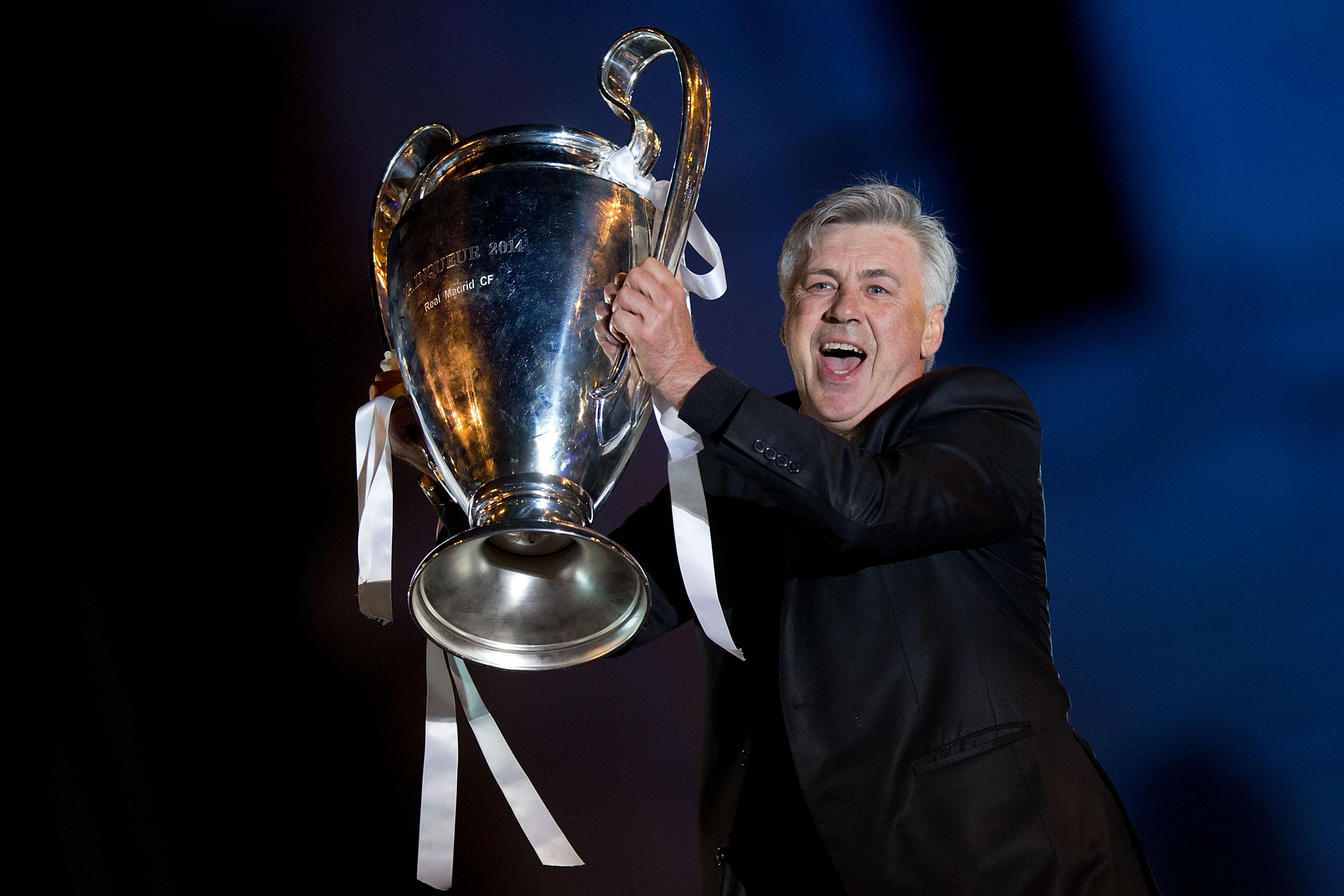 Inspiration | Ancelotti led Madrid to La Decima last season

54. The 1953-54 season was the first in an ambitious new project which saw Madrid bring in expensive signings from overseas. Alfredo Di Stefano arrived that year and hit 27 goals to win the Pichichi prize. Real won La Liga and a period of domination at home and in Europe followed.

55. Cristiano Ronaldo needed only 55 games to hit a club-record 60 goals in all competitions over a single season in 2011-12.

56. Madrid won the first five European Cups, claiming the continental crown in 1955-56, 1956-57, 1957-58, 1958-59 and 1959-60.

57. Luis Figo scored 57 goals in 239 games in all competitions during his five-season spell at Real Madrid. He had previously netted 45 in 249 for Barcelona.

58. When Madrid beat AC Milan 3-2 to win their third European Cup in 1958, they were presented with their winners' medals by a 21-year-old Warren Beatty.

59. Enrique Mateos scored after exactly a minute in the 1959 final against Stade Reims and that remained the fastest goal in a European Cup showpiece until Paolo Maldini netted with 52 seconds on the clock for AC Milan against Liverpool in 2005.

60. Luis Figo infamously joined Madrid from Barcelona for €60 million in the summer of 2000. He became the 15th player to switch directly from Barca to Los Blancos. The first was Alfonso Albeniz.

61. Despite winning the previous five European Cups, Madrid did not particpate in the 1960-61 edition as Barcelona took part instead as Spanish champions. The Catalans reached the final and lost to Benfica.

62. The following season, Madrid went all the way to the European Cup final but lost 5-3 to Eusebio's brilliant Benfica side. Ferenc Puskas scored a hat-trick for Real, but the Spanish's side's 100 per cent record in the competition was gone - after going all the way in six tournaments!

63. Real Madrid were the first club in the Spanish top flight to win back-to-back league titles, successfully defending the crown they won in 1931-32 the following season.

64. Brazilian great Ronaldo made his Madrid bow as a 64th-minute substitute against Alaves in October 2002. He scored twice on his debut in the 5-2 win.

65. Madrid won the European Cup for a sixth time in 1965-66, but had to wait 32 years to win it "in colour" as it was not until 1998 that they claimed La Septima - their seventh title in the continent's premier club competition. By then, of course, it was known as the Champions League.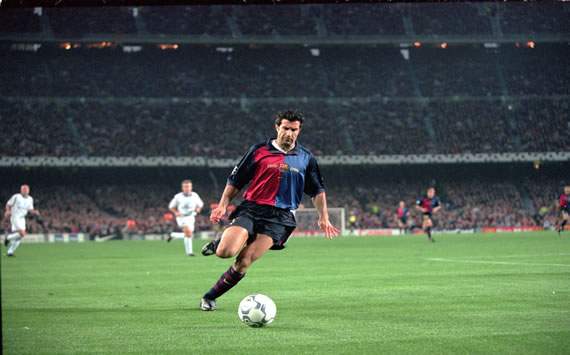 Making a statement
| Figo was a star at Barca when he signed for Madrid

66. The Madrid side that won the 1966 European Cup was known as the Ye-Ye team. This was because they had a young all-Spanish generation of players starring the likes of Amancio Amaro, Pachin, Pirri and Manuel Sanchis. The name Ye-Ye comes from the catchy chorus of the Beatles song 'She Loves You' (yeah yeah yeah) - and the team earned the nickname after four players famously posed for Marca wearing Beatles wigs.

67. Club chief Florentino Perez is 67 years old but turns 68 on March 8, his birthday just two days after the anniversary of the club itself. Perez is the only man apart from Adolfo Melendez to have served two separate stints as the Blancos' president.

68. Legendary left-back Roberto Carlos scored 68 goals in 527 appearances for the Spanish side between 1996 and 2007 and the Brazilian is one of the most popular players to have graced the Bernabeu in recent times.

69. Amancio Amaro won the 1969 Pichichi prize by scoring just 14 goals.

70. Fernando Morientes is the last Madrid player to score five goals in a single La Liga game. He bagged his quintuple in the 7-0 win over Las Palmas in February 2002.

71. Raul's record of 71 Champions League goals was recently surpassed by both Lionel Messi and Cristiano Ronaldo, but his 66 strikes in the competition for Real remains the highest total in the club's colours.

72. Jose Mourinho ended his Madrid reign with a win percentage of just under 72 per cent. The Portuguese won 128 of his 178 games to record a 71.91% ratio in his three seasons in charge. Carlo Ancelotti, meanwhile, has a 77.23% return so far.

73. Madrid's 7-3 win over Eintracht Frankfurt in the 1959-60 European Cup final is the highest-scoring final in the competition's history. The victory gave Real their fifth consecutive continental crown and they were thus allowed to keep the trophy.

74. Zinedine Zidane was signed by Madrid from Juventus for €74m, at the time the most expensive transfer in history.

75. Angel Di Maria was sold by Real to Manchester United for €75m last summer, the highest fee ever received for a player by the Spanish side.

76. Over the years Madrid have become famous for their comebacks in European competition, but the tradition started as they overturned a 4-1 first-leg deficit against Derby County in 1975-1976 by winning the return match 5-1 at the Santiago Bernabeu. Real ultimately lost to eventual champions Bayern Munich in the semi-finals.

77. Jose Mourinho's 77 wins in his first 100 games as Real coach was the highest in the club's history over that amount of matches, but was bettered earlier this month by Carlo Ancelotti after the Italian led Madrid to a 78th win in his 100th fixture in charge.

78. Los Blancos have won 78 major titles overall in the following competitions: La Liga, Copa del Rey, Spanish Supercopa, European Cup/Champions League, Uefa Cup, Uefa Super Cup, Intercontinental Cup and Club World Cup.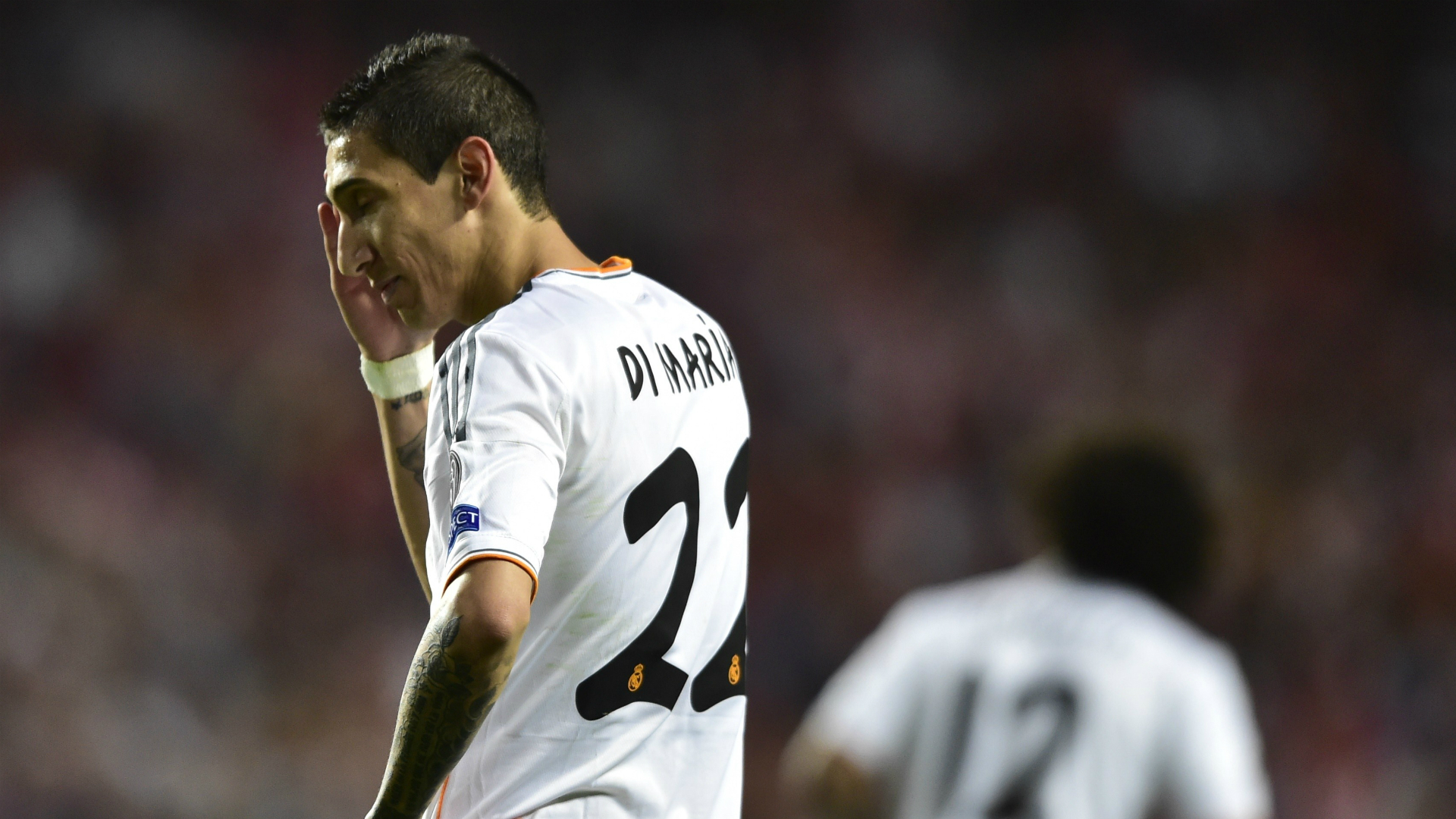 Unhappy ending
| Madrid fans were sad to see Di Maria leave the club

79. In 2010, Real Madrid became the first club in any sport to generate a revenue of over €400m in a single year, according to Deloitte. In 2012, they then became the first to bring in over €500m and still lead the Deloitte rankings.

80. Bizarrely, Madrid played the 1979-1980 Copa del Rey final against their youth team after Castilla punched above their weight in the cup competition that season. Nevertheless, the senior side ran out 6-1 winners in the final played at the Bernabeu.

81. Real lost the European Cup final 1-0 to Liverpool at the Parc des Princes in 1981. They would have to wait 17 more years for another appearance in the final.

82. The Santiago Bernabeu was the venue for the 1982 World Cup final as Italy beat West Germany 3-1 to claim the trophy. The Spain squad, featuring five Madrid players, was eliminated in the second group stage and came 12th overall but had lost to Northern Ireland and only drawn with Honduras in a forgettable campaign.

83. In the 1982-83 season under coach Alfredo Di Stefano, Madrid completed a 'bridesmaid's treble' when they finished runners-up in La Liga, the Copa del Rey and European Cup Winners' Cup.

84. This is the 84th season of La Liga and Real Madrid have played in every single one of them.

85. In the 1984-85 campaign, Madrid went nine games without a victory in the league, the club's worst winless run.

86. Between 1985-86 and 1989-90, the famous 'Quinta del Buitre' (a nickname given to the five homegrown players spearheaded by Emilio Butragueno), led Madrid to five consecutive Liga titles - equalling a feat achieved between 1961 and 1965. No other club has managed to win five league titles in a row.

87. During the 1987-88 season, Madrid won a club record 18 out of 19 league games at home. They would go on to repeat the feat in 2009-10.

88. Alfredo Di Stefano, considered by many to be the club's greatest player, passed away in 2014 at the age of 88. He scored 308 goals in 396 official games between 1953 and 1964 and was described by the club's website as "the best player of all time" when he died on July 7 last year.

89. Miguel Munoz has the honour of scoring Madrid's maiden goal in the European Cup. Alfredo Di Stefano was the scorer of the club's first goal in a European Cup final, after his side had gone 2-0 down against Stade Reims in the 1956 showpiece.

90. Xabi Alonso is the most expensive Spanish player that Madrid have signed. He cost the club close to €35m when he joined from Liverpool in 2009.

91. Florentino Perez claims Gareth Bale cost Real €91m when he signed from Tottenham in the summer of 2013, but Spurs say the Spanish side paid €100m for the Welsh winger. The latter figure makes Bale the most expensive player in the history of the game.

92. Madrid have a slight edge in the Clasico, with 92 wins in official matches to Barcelona's 88 victories.

93. Sergio Ramos rose to head home the equaliser deep in the 93rd minute of the Champions League final in Lisbon last season. The defender latched onto a Luka Modric corner with the clock on 92:48 and Madrid went on to win 4-1 after extra time. It is one of the most important - and timely - goals in the club's entire history and ended their long pursuit of La Decima.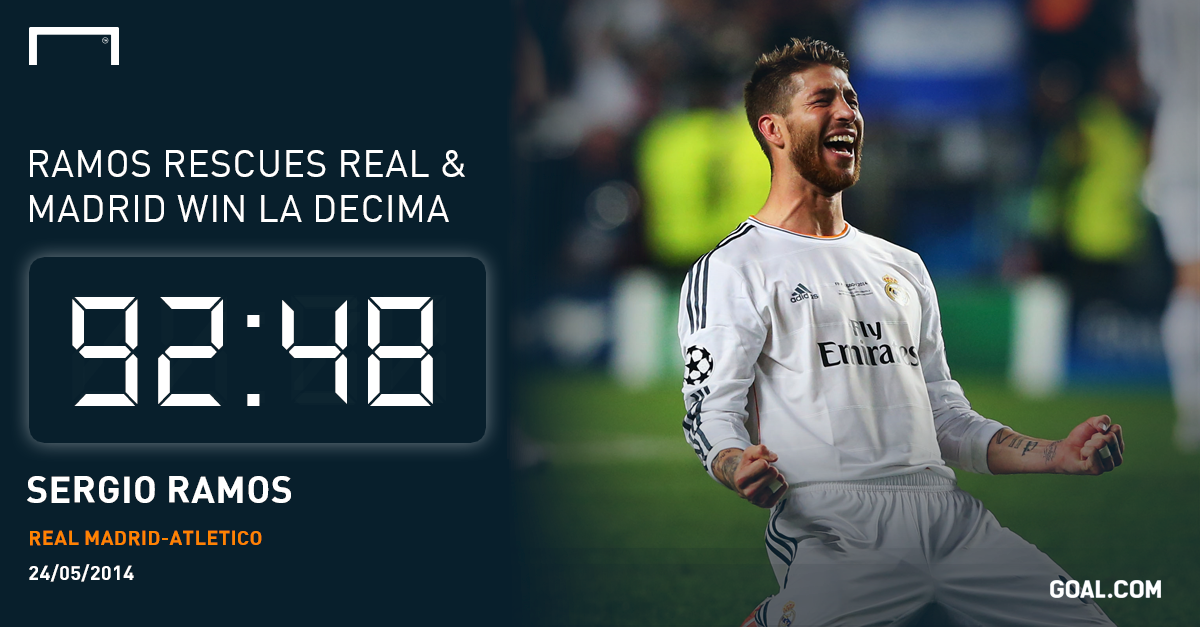 94. Madrid paid Manchester United a record €94m for Cristiano Ronaldo in 2009.

95. Alfredo Di Stefano currently holds the record for making the most consecutive La Liga appearances for Madrid. He played 171 league games in a row spanning five years and 148 days.

96. Manuel Pellegrini set a new points record of 96 for Real Madrid in 2009-10, but it was not enough to win La Liga, nor to save him his job. That mark was later eclipsed by Jose Mourinho's side anyway.

97. In the 1997-98 season, Madrid kept a club record seven consecutive clean sheets in La Liga.

98. Ferenc Puskas and Santillana are Madrid's joint-top scorers in Copa del Rey matches with 49 goals each.

99. On September 1999, Iker Casillas made his first-team debut as a substitute for Bodo Illgner in the 2-2 draw against Athletic Club at San Mames.

100. On their 100th anniversary, Madrid famously lost the Copa del Rey final at home to Deportivo La Coruna.

101. Arthur Johnson scored Madrid's first-ever goal on May 13, 1902 in a 3-1 defeat to Barcelona. Jaime Lazcano converted the club's first-ever Liga goal. The 1,000th club goal was netted by Pahino, Gento scored the 2,000th, Juanito the 3,000th, Ivan Zamorano the 4,000th and Guti grabbed number 5,000.

102. Apart from Madrid's first-ever goal, the club won all of their matches when they netted their landmark goals above.

103. Real are back in Champions League action against Schalke on March 10 (10-3) and a win will see Los Blancos set a new competition record of 11 straight victories.

104. Despite a glorious era as the club president from 1943 to 1978, Santiago Bernabeu had only eight games under his belt as a Madrid coach, winning five matches and losing the other three.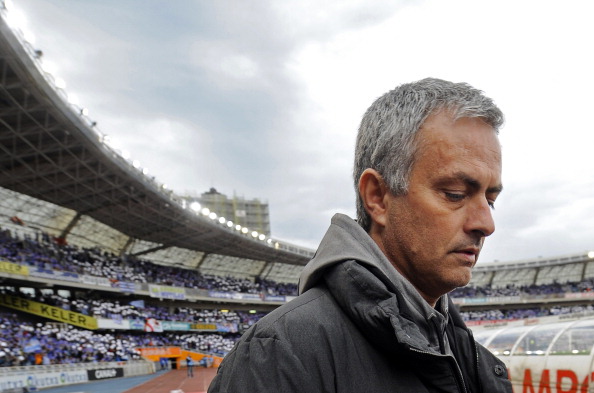 It wasn't all bad
| Mourinho's Madrid set a new points record in 2011-12

105. Cristiano Ronaldo took just 105 games in all competitions to reach a century of goals for Madrid.

106. Luis Molowny was appointed Madrid coach on four separate occasions (either permanently or as caretaker), more than any other coach at the club.

107. Madrid set s Spanish record with a haul of 107 goals under John Toshack in 1989-90, but that record was beaten as Jose Mourinho's men hit 121 in 2011-12.

108. Alfredo Di Stefano's first stint as Madrid coach lasted 108 competitive matches from April 1982 to April 1984. He won 63 games, drew 23 and lost 22.

109. Di Stefano returned to the Madrid hotseat from November 1990 to March 1991 and picked up his only silverware as coach when he won the Spanish Supercopa.

110. In the year of their 110th anniversary, Madrid denied Barcelona a fourth straight title in La Liga and set a new record as they racked up 100 points under Jose Mourinho.

111. Goalkeeper Iker Casillas is closing in on Real's record appearance holder Raul. The striker played 741 times for Madrid, but the current club captain has featured 711 times for Los Blancos and is still only 33.

112. Real's biggest victory in La Liga was an 11-2 win over Elche on February 7, 1960.

113. Madrid have scored 113 goals in all competitions so far this term. Their highest total came in 2013-14, when they netted 160.