Brazil's football federation (CBF) went back to the future on Tuesday with confirmation that former coach Dunga has returned to the post.
The Selecao were left reeling by World Cup disappointment that included a 7-1 semi-final defeat to Germany and resulted in the departure of Luiz Felipe Scolari and his technical staff.
CBF president Jose Maria Marin has now turned his attention to the future with the appointment of Gilmar Rinaldi as General Coordinator of all levels of the Brazilian national team and, with Copa America 2015 and a fresh round of World Cup qualifying just on the horizon, 50-year-old Dunga is now back.
The 1994 World Cup-winning captain returns desperate to make up for the disappointment of his quarter-final exit in South Africa four years ago. Below are the highlights of his first stint.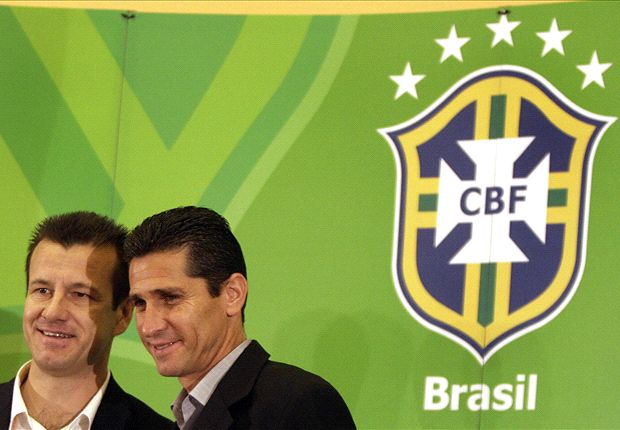 Dunga was handed the Brazil job in 2006 after Carlos Alberto Parreira's side were eliminated 1-0 by France in the quarter-finals of the World Cup for what would be his first role as a head coach. "The appointment of Dunga satisfies the desire of Brazilian fans who want to see a vibrant coach," said then CBF president Ricardo Teixeira. Dunga was intent on getting Brazil back to winning ways and upon his appointment vowed to impose the same qualities he displayed in 91 caps for his country. I want to bring the same determination I had as a player," he told the media. "Motivation and will to win are fundamental for anyone who wants to wear the shirt of the Brazilian national team."
OSLO DRAW IN DUGOUT DEBUT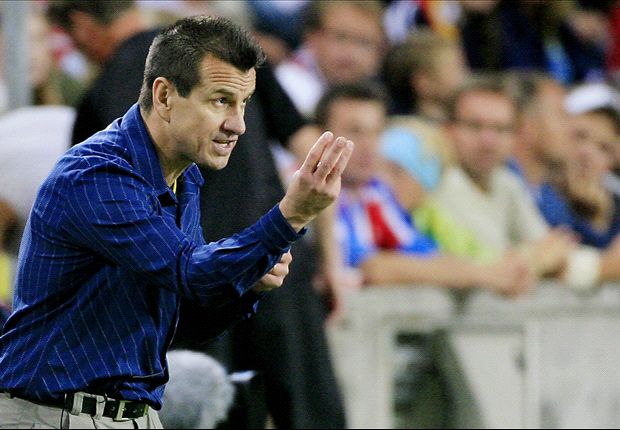 He made his debut in the dugout in a friendly against Norway in Oslo, earning a 1-1 draw at the Ullevaal Stadion. Dunga fielded a somewhat experimental side that took the field without the likes of Ronaldinho, Kaka and Ronaldo, and went behind five minutes after half-time when Morten Gamst Pedersen's inswinging free kick bounced through a crowded penalty area and into the far corner of Gomes' net. Daniel Carvalho's low drive five minutes later earned the Selecao a draw. That result was quickly followed up by an impressive 3-0 victory over Argentina in which Kaka robbed Lionel Messi in midfield before racing the length of the pitch to slide in the third.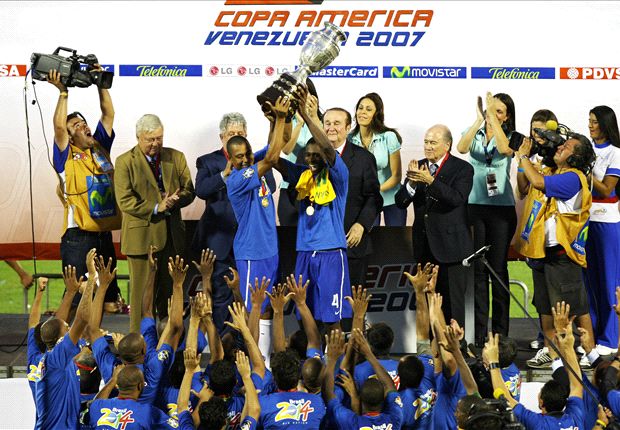 A reshuffle of the Conmebol calendar meant Copa America 2007 featured some of the continent's biggest stars. With World Cup qualification yet to begin, there was less of a trend of young and experimental sides in Venezuela. However, a number of Brazil's biggest names were still rested and Dunga went into his first bout of competitive matches without the likes of Dida, Roberto Carlos, Kaka, Adriano, Ronaldo and Ronaldinho. The Selecao got off to a poor start, going down 2-0 to Mexico, but Dunga's charges regrouped and romped to the title as the world got the first real glimpse of how effective his ruthless and dynamic counter-attacking style could be when his side destroyed Argentina 3-0 in the final. Robinho was the star of the show, ending the tournament as top-scorer with six goals.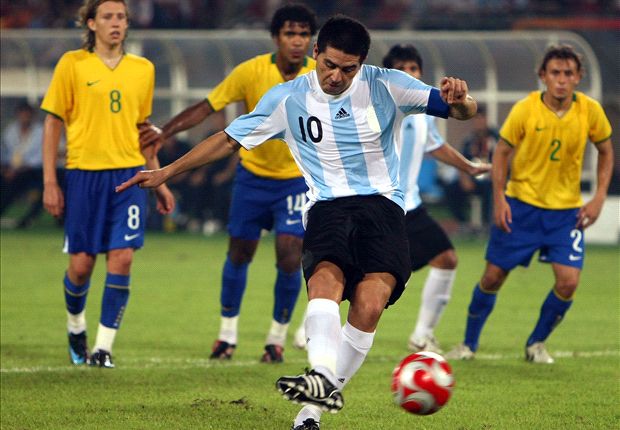 With one piece of silverware already in the bag, Dunga set his sights on becoming the first coach to lead Brazil to a football Olympic gold when he took the Under-23 side to Beijing the following year. Qualification had begun with just two wins in six outings, but with 12 yet to play there was still confidence that Brazil would have little trouble qualifying for South Africa 2010. Ronaldinho was selected as one of the permitted over-age players and captained the side in China, but the Selecao's wait for gold would not end in Asia after Argentina got revenge for their Copa America defeat with a Juan Roman Riquelme penalty sealing a 3-0 win for a star-studded side that also included Javier Mascherano, Angel Di Maria, Sergio Aguero and Lionel Messi.
COMEBACK SEALS CONFEDS TITLE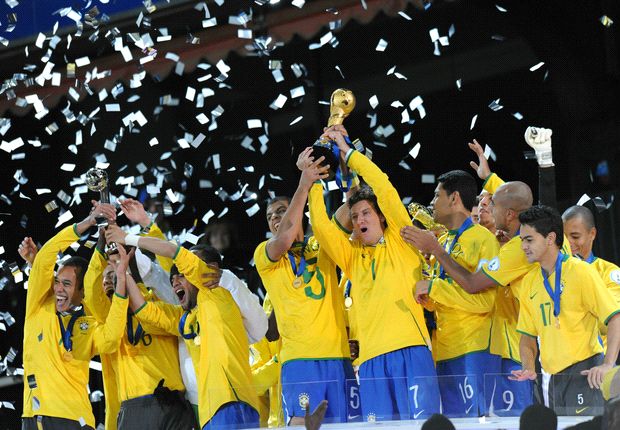 Next up for Dunga's Selecao was the Confederations Cup in 2009. Dunga had no plans to take the tournament lightly and picked a full-strength squad for the World Cup dress rehearsal in South Africa. Ronaldinho was controversially left out of the squad after falling behind in the pecking order at AC Milan and the decision paid off as Brazil claimed the title with Kaka leading the midfield. After victories over Egypt, United States, Italy and a narrow 1-0 defeat of hosts South Africa, the Selecao surprisingly faced USA for the second time in the competition after the Americans scored a shock 2-0 win over Spain. And the North Americans looked set for another upset after first-half goals from Clint Dempsey and Landon Donovan had them two up at the break. But Dunga read the riot act at half-time and Brazil roared back to win 3-2, captain Lucio heading an 84th-minute winner to claim Brazil's third Confeds title.
DUNGA DASHES THROUGH MARATHON QUALIFICATION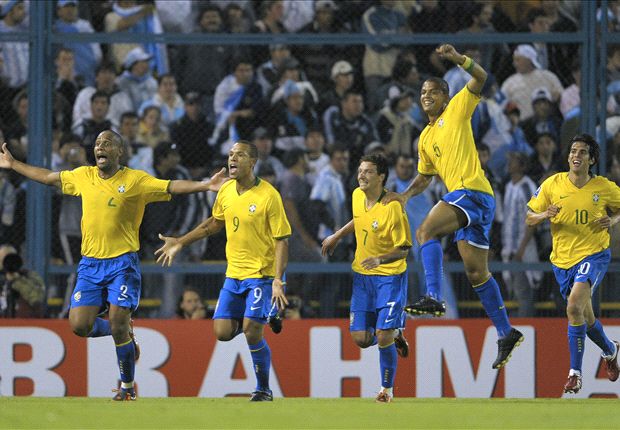 Brazil eventually breezed through World Cup qualification, topping Conmebol's 10-team table with just two defeats in 18 games and a goal difference better than twice that of the next best. A 3-1 victory over Diego Maradona's Argentina was the highlight of a campaign in which Dunga forged a collective that was big, strong and imposing. With Gilberto Silva and Felipe Melo protecting the back four, they would line up in something like a lop-sided 4-3-3, with Robinho high on the left supporting the striker Luis Fabiano. Kaka would play just behind, tasked with collecting the ball from those behind and racing forward in transition. The third midfielder would largely provide cover for an onrushing Maicon, who would have the flank mostly to himself in a side that was extremely effective at soaking up pressure and hitting their opponents on the break and at great pace. The hard work was done.
DUTCH DEFEAT ENDS SOUTH AFRICAN DREAM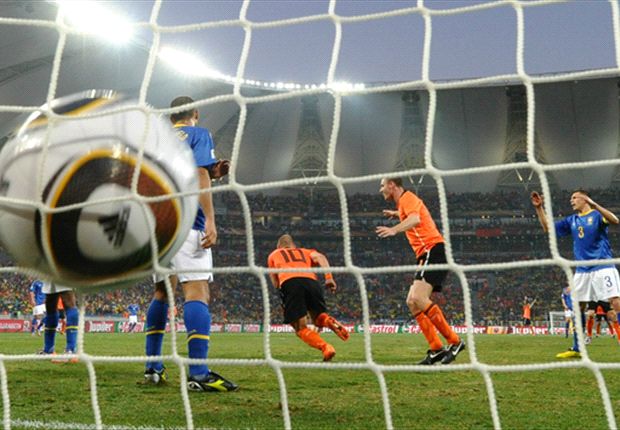 Brazil arrived in South Africa as major contenders and saw off North Korea and Cote d'Ivoire before a draw with Portugal cemented their place in the knockout stage as group winners. A successful and largely comfortable group campaign was quickly followed up by a convincing 3-0 victory over Marcelo Bielsa's exciting Chile, who had finished just a point behind the Selecao in qualification. Confidence was high heading into a quarter-final against Netherlands in Johannesburg and all was going to plan as Robinho gave Dunga's side an early lead. But the Dutch equalised eight minutes after the break when Julio Cesar came to punch clear a Wesley Sneijder cross but instead collided into Felipe Melo, who flicked the ball into his own net. Fifteen minutes later Sneijder headed in a second. Felipe Melo was then sent off with 17 minutes left and Dunga's dream was over.