EXCLUSIVE
By Steve Thompson
Former Fulham and QPR defender Zesh Rehman has had a curious footballing career, where he's played in all four of England's top divisions, before captaining Pakistan and plying his trade in Thailand and nowadays Hong Kong.
It's been quite the journey for the Birmingham-born defender, who is still only 28-years-old, suggesting there's a few more chapters left to write.
So
Goal.com
caught up with Rehman, who recently ended a one-year stint in Thailand with Muang Thong United, to discuss his career to date.
Goal.com:
As the first British-Asian to play in the top four of England's pro leagues (Premier League, Championship, League One and League Two), could you tell our readers what you would consider to be your most memorable moments?
Zesh Rehman:
My most memorable moment has to be my Premier League debut at Anfield, it's a ground with so much history and an electric atmosphere, which I will always remember.
My favourite memory from playing in the Championship with QPR was a 2-0 victory away at Burnley in 2007. The game was dedicated to my team-mate Ray Jones, who tragically died earlier in the season.
In League One, it was my football league debut for Brighton, we beat Rushden & Diamonds and I capped my debut with a goal. Finally, the most memorable moments from two years in League Two (with Bradford Ciy FC), was becoming the club's first Asian Captain in its 107-year-history.
"At times at grass roots level I had to combat racism quite often, but always blocked it out and focussed on my game. A certain level of resilience and mental toughness is required"





- Rehman on his junior career in the UK

Goal.com:
What was the toughest challenge as a British-Asian in carving out a career as a pro-footballer?
ZR:
The toughest part was the constant stereotypes, such as 'scared of the weather', 'wrong diet', 'not strong enough' and assuming I liked cricket more.
At times at grass roots level I had to combat racism quite often, but always blocked it out and focussed on my game. A certain level of resilience and mental toughness is required. Racism is basically a lack of education and it's important to know the source it's coming from - that way it's easier to deal with.
Goal.com:
Who is your all-time favourite player?
ZR:
My favourite player was Eric Cantona, he had a presence and confidence about him which made him stand out. I copied his collar up style many times in my school and Sunday league days.
Goal.com:
Who would you say are the best players (goalkeeper, defender, midfielder, winger and forward/striker) in the EPL right now?
ZR:
The best goalkeeper (was) Edwin Van Der Sar, who I was fortunate enough to play with at Fulham, but now I would have to say Joe Hart - his performances belie his age.
The defender would have to be John Terry, despite his recent off-field problems, on the pitch he is a leader and solid centre back.
The winger I like the most is Ryan Giggs, who is still producing the goods (at the age of 38). The midfielder and, in my opinion, the complete player, has to be Steven Gerrard. The striker has to be Van Persie, he has matured this season and is in excellent form.

Goal:
Who were your toughest opponents in the EPL?
ZR:
Thierry Henry, Alan Shearer and Didier Drogba. They all have different styles but all pose problems for defenders. I thought I did well against all of them.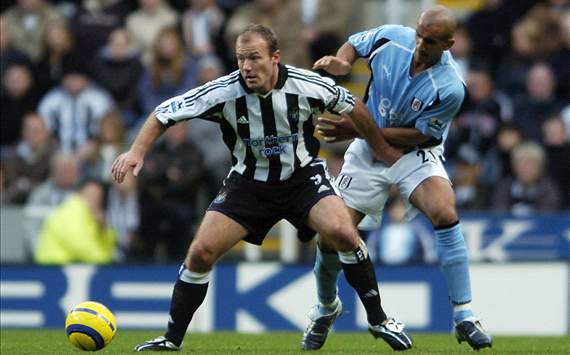 Zesh challenges | Henry, Drogba and Shearer were his toughest opponents

Goal.com:
How did it feel to become captain of Pakistan?
ZR:
It's an honour to lead a national team, regardless of the team's world ranking. I have been fortunate enough to play in a good number of internationals in different countries.
Goal.com:
How is football developing in Pakistan?
ZR:
Football in the country is developing slowly. The infrastructure and development of the coaches and local players needs to improve. Once the local league introduces foreign players, it will raise the level of the local boys. There is lots of potential for the future, the federation just needs the right guidance and I'm hopeful of doing that for them.
Goal.com:
Could you tell our readers about your foundation and what it is up to?
ZR:
The foundation is a charity to inspire children from all backgrounds and ethnicities to aspire to enter the football industry as coaches, groundsmen, physios, kit men and so on to basically achieve some qualifications to look back on and feel proud of. We have programs all over the UK and currently are working with Crystal Palace and Liverpool.
Goal.com:
After spending one season in the Thai Premier League (with Muang Thong), what are your overall impressions with Thai football?
ZR:
I loved my year in Thailand, the people were great, passionate fans, good standard of players and more clubs raising the bar in terms of professionalism. I think it's the best league in South-East Asia and will only get better.
Goal.com:
Did any particular teams and players stand out during your spell in the kingdom?
ZR:
I liked the quality of all my team-mates who play for the Thai National team (Teeratep Winothai [now Bangkok Glass], Teerasil Dangda and Datsakorn Thonglao). It's hard to gauge how good they really are until they play in leagues outside of Thailand because that's when they will get tested. Their level is good, though, as reflected in the results of the national team against good opposition, such as Australia and Oman.
Goal.com:
Which foreign players impressed you most during your time in the kingdom?
ZR:
No one really stood out, if I'm totally honest. The foreign players help to improve the level of the local players, though, for sure.
"I really enjoyed it because of his vast experience you can only learn from someone like that. He was great"






- Rehman on linking up with Robbie Fowler at Muang Thong United

Goal.com:
What was it like teaming up with Robbie Fowler?
ZR:
I really enjoyed it because of his vast experience you can only learn from someone like that. He was great.
Goal.com:
What did you enjoy most about playing in Thailand?
ZR:
I enjoyed playing in front of the Muang Thong fans at the Yamaha Stadium most, as they would sing and dance throughout the whole game. I also enjoyed travelling all over the country (to play TPL games).
Goal.com:
What were the biggest challenges about playing (and living) in Thailand?
ZR:
Initially, the language was a barrier, but I overcame that by learning it through my team-mates. The weather was unbearable at first, but after a few months, I got used to it. If you go with an open mind and embrace the culture everything is easier to handle.
Goal.com:
What did you enjoy most about living in Thailand?
ZR:
I enjoyed the hustle-and-bustle of Bangkok and the shopping centres. The cost of living is cheaper than Europe and it has some great beaches.
Goal.com:
Would you return to Thai Premier League (TPL), should the opportunity arise?
ZR:
If the opportunity arose and I felt it was right, I would return to The TPL because the league will only improve.
Goal.com:
Why did you decide to opt to continue your career in Hong Kong?
ZR:
I wanted to continue playing in the (AFC) cup and experience a new country and league. Asia has lots of leagues and I want to sample as many as possible while I'm still young. The club plays a good style of football, has an excellent coach and very good staff, who have helped me to settle in quickly.
Goal.com:
Thanks very much for your time!
ZR:
You're welcome.