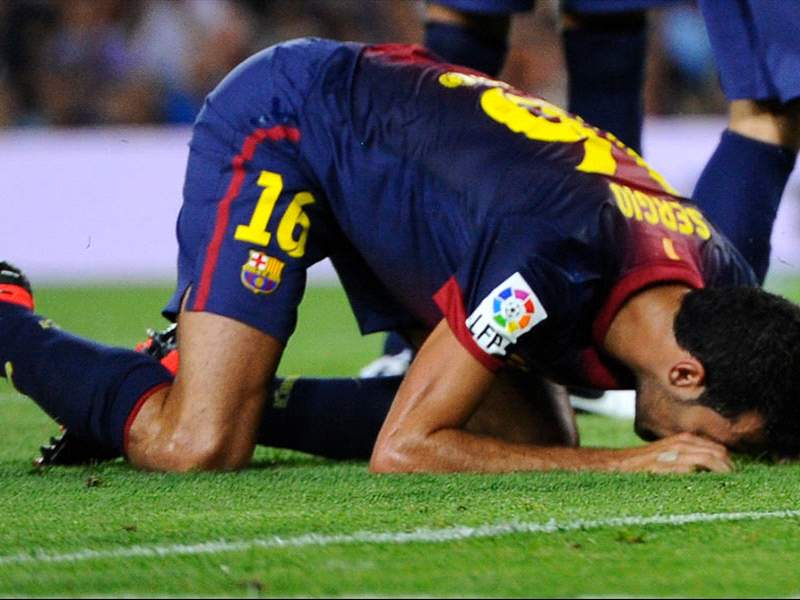 Barcelona
midfielder
Sergio Busquets
has moved to defend both himself and team-mate
Neymar
from accusations of diving, claiming "it's not play-acting, it's being smart."
The Spain international has been embroiled in scenes of theatricality on the pitch in the past, notably against both Real Madrid and Inter in recent seasons, while his Brazilian team-mate was slammed by Celtic boss Neil Lennon for his part in the dismissal of Scott Brown during the Blaugrana's recent win in Glasgow.
However, Busquets insists it is unjust to label players as 'divers', telling
Cadena COPE
's 'El Partido de las 12': "Play-acting? It's not play-acting, it's being smart.
"It's a debate we shouldn't be having, because that's not the real issue. It's all too easy to label people."
Neymar has put in some exemplary performances in recent games for Barcelona - most notably against Celtic and the Liga win over Valladolid - and Busquets admits he has been taken aback by how quickly the 21-year-old has adjusted to life in Calaunya following his €57 million move from Santos.
"We've been surprised by how quickly he's adapted, because it wasn't easy, bearing in mind his age and it's a new country and a different playing philosophy," the 25-year-old continued.
"He's just a normal person; he's very shy and quiet. But he's a great guy. He mostly hangs out with the other Brazilians, but gets on really well with everyone.
"He's under no illusions and he always wants to learn. He's got a different role than at Santos and he's aware of that."
Barca and Spain goalkeeper Victor Valdes has once more stressed he will leave Barcelona at the end of his current contract, and Busquets believes there is little point in attempting to dissuade him at this stage.
Instead, the defensive midfielder has talked up the possibility of compatriot Pepe Reina returning to Camp Nou to fill the space between the posts.
"There's nothing we can do. Knowing him [Valdes], there's no way he'll stay. He's made his mind up and we just have to enjoy having him here for what's left of the season," he said.
"[Iker] Casillas playing [for Spain] isn't unfair, it's up to the coach. They are three top keepers, irrespective of whether Casillas has had less game time.
"It'd be great if [Pepe] Reina joined Barcelona, he'd be a fantastic signing. I don't see Casillas coming!"
Finally, Busquets also backed Tata Martino's rotation policy at Camp Nou this season as he attempts to keep the squad healthy to challenge on all fronts in 2013-14.
"The extra rest is welcome, it's going to be a long season with the World Cup at the end and we're all going to benefit," he added.