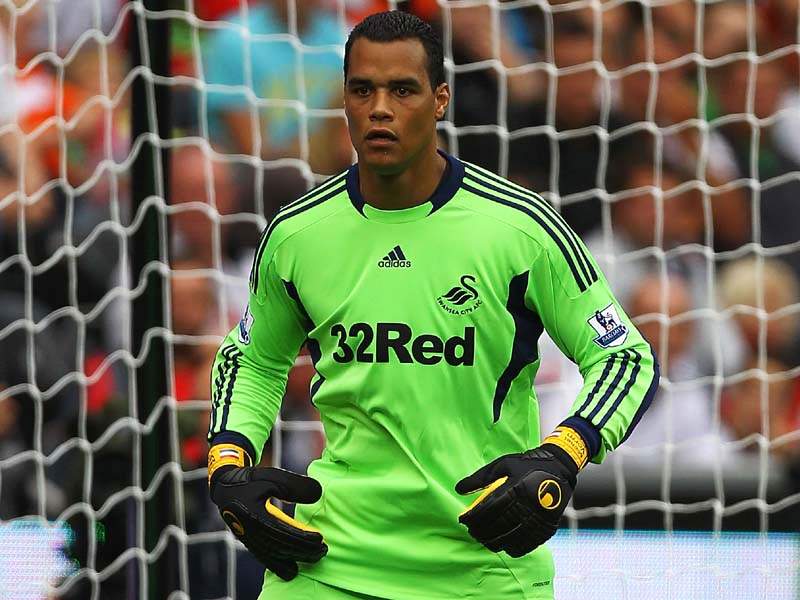 Goalkeeper
Michel Vorm
has claimed that
Arsenal
will be afraid of
Swansea
ahead of the two sides' clash at the Liberty Stadium on Saturday.
The Capital One Cup winners have beaten the Gunners in their previous two Premier League encounters, including a 2-0 victory at the Emirates Stadium earlier in the season, and Vorm believes his team are capable of beating anyone when on top of their game.
In addition, the Dutchman says Arsenal will be feeling the pressure of the race for the top four - and doubts their chances of securing qualification for next season's Champions League.
"Of course we can make it three wins [in a row] - if we play to our best then we can beat everybody," Vorm told reporters. "We don't need to be afraid of anybody.
"It's more that they are afraid of us because they know how well we can play. Arsenal is a game that suits us.
"Arsenal don't like to play against us because they know what we are capable of. They also know they can't afford to lose games so it will be tough for them.
"It's hard because there are a lot of good teams. Look at Spurs, they are almost unbeatable at the moment. A lot of teams are fighting for the top four spots and I don't think they are going to make it."
Swansea lost 2-1 to West Brom last time out but Vorm insists the Welsh club are more suited to playing teams such as Arsenal, who favour a shorter passing style.
"It will be a totally different game to West Brom," he added. "We've played Arsenal a couple of times, we won at home and playing them suits us a bit better.
"But we've nine games to go and we have to learn from the West Brom game. If we take the positives from the first half then we can play so well.
"It's an important game for us because even though we have 40 points we want to win a couple more."