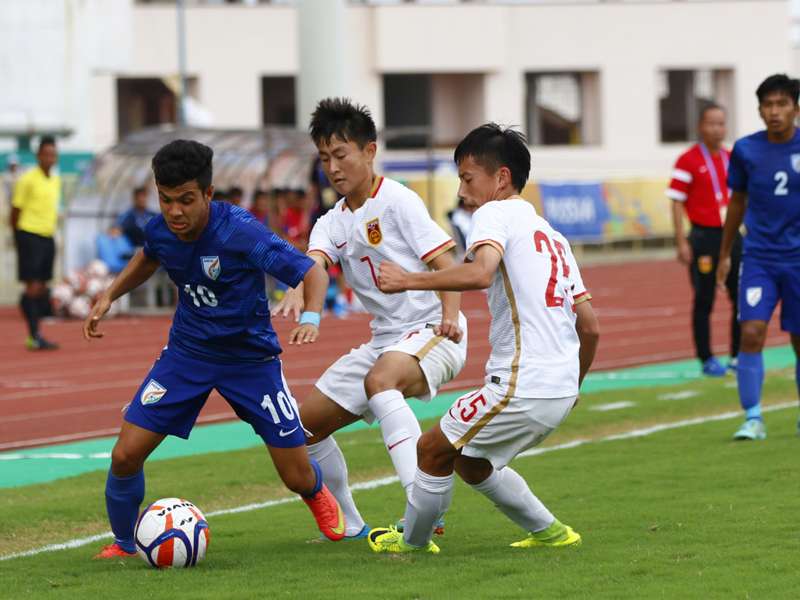 The Boys in Blue succumbed to a 1-0 defeat against China in the ongoing BRICS U-17 Football Tournament at Goa.
The first half saw neither team see much of the ball. With China disarming much of the Indian attack from the flanks, the Colts resorted to tacky passing in the midfield.
Komal Thatal made one commendable effort in the 21st minute but that too went in vain. The first big opportunity for China came in the 28th minute, but Dheeraj's strong fists denied them the goal. Both teams entered the tunnel pegging at half-time with a dire 0-0 scoreline
De Boer: Kondogbia is like Pogba and can be a top player
Coach Nicolai Adam introduced fresh legs for the second half in the ranks of Narendar for Aniket Jadhav to up the attacking roles. The Chinese defence line kept the Indian attack at bay. The Indian Colts had several attempts on goal but failed to convert any.
It was towards the tail end of the match that China took the lead. Huang Cong was on the scoresheet which took the Chinese to a 1-0 victory over the Indian boys.

The victory shoots China to fourth place with four points. However, the Indians sit at the bottom of the table as they are yet to open their points tally.