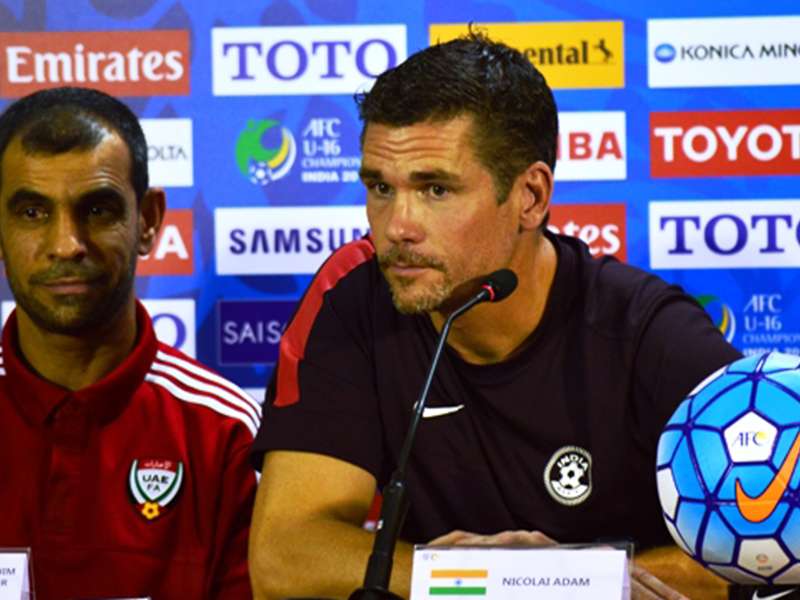 The Indian U16 national team got off to a disappointing start in the Asian Football Confederation's (AFC) U16 Championships, losing 2-3 to the United Arab Emirates (UAE) at Fatorda Stadium, on Thursday, 15th September. The Nicolai Adam coached outfit lead twice but conceded thrice as they were outdone by a clinical UAE side in the second half of the game.
The home side got off to flier as they looked the more comfortable team with the ball at their feet as compared to their opposition on the evening. India's movement and skillful passing culminated into a 11th minute goal, when Sanjeev Stalin expertly placed a free-kick past the UAE goalkeeper to put his side into the lead.
It was one-way-traffic in favour of the home side until the 35th minute, when UAE earned a penalty. India's goalkeeper Dheeraj Singh, though, had other ideas as he denied the visitors the opportunity to draw level with a superb save. He could not, however, deny UAE from the corresponding corner which saw M. Aydh rise high and slot the ball in the back of the net.
India decided to up the ante to get back into the game and did the same in the very next minute courtesy of a tap-in finish by Boris Thangjam. The goal was manufactured by Aniket Jadhav who put in an expert cross at the end of a 40 yard run on the left -side-flank and Boris made no mistake in finishing the move.
At half-time, India were brimming with confidence and boasting a 2-1 lead.
The second half began where India left it, but it was UAE who scored in the 53rd minute as they took advantage of a miscommunication in India's defense.
India's continued to keep the fight on but a 74th minute goal by UAE's A. Fawzi took the game away from them.
Adam's kept the fight on for the equalizer but UAE were resolute in defense thus shutting India out and earning three points from their first game of the tournament.
In his post-match press conference, Nicolai Adam stated that his side will not feel much pressure from the aforementioned result and will continue with their project.
"No games are must win for us. I came here to be a part of a project and we will continue that. Everyone saw how well my team played in the first half and we will continue playing like this," Nicolai communicated, after the defeat.
UAE's coach, Abdel Majeed Alnemer praised India's performance in the game as well.
"We did not expect such a high standard from India, hence our players took time to adapt in the first half.
"Tournaments like these will give them experience and that will only make them better," he concluded.
Here's a video round-up of all the action!