Boca Juniors made their inroads into India by announcing their plans of setting up football schools in the country where kids would be given the training that have made the likes of Carlos Tevez and Evar Banega superstars today. The South American club announced their plans at a briefing at a five-star hotel in Bangalore where the first of their schools would be set up.
"We are extremely excited about this opportunity and are 100% committed to helping develop the football in India. There is so much talent in India with limitless potential that we would like to tap. We want to create a unique experience for all the youngsters. Oscar Aquino will oversee the Boca Juniors Football School India (BJFSI). He is a coach who has more than 20-25 years of experience who has trained players like Carlos Tevez and Joan Roman Riquelme," said Francisco Morea, manager of the BJFSI.
Morea announced that David Monedero would be the National Technical Director of the BJFSI.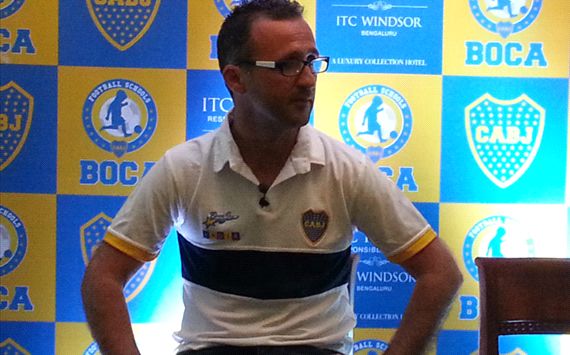 David Monedero will be the man in-charge of the BJFSI
"David is an experienced professional coach and will be a great asset to the BJFSI. He is an expert at identifying and developing young talent. It is this special ability that BJFSI will be employing to unearth the Indian young talents and use his elite-level coaching skills to develop them," said Morea.
BJFSI have planned on running the academy on an ongoing basis round the year and providing progressive training to the students via weekly classes training them in the Boca Juniors way. Prospective students will also have the opportunity to visit the club in Argentina where they would be housed and trained with many other kids from around the world.
"We will house the children in a facility very close to the stadium. They will stay in the same rooms that the other players use, train with the players, watch a professional match. All this will be combined with other things like tourist activities, cultural activities, Spanish lessons. The idea is to select a couple of children and take them to Argentina. We know the distance and we know the costs and we know the difference it would make to our young players," said Morea.
In an exclusive chat with Goal, Kabeer Shetty, an official of the BJFSI revealed that there were plans of setting up such academies in three other places in India.
"We are planning on starting such academies in three other places in India. Goa and Kolkata would be two of these of course. Chennai would be the third of these as we feel Chennai is an untapped potential. I think we could even receive support from the Tamil Nadu football association, something which did not happen here in Bangalore," said Shetty.
With Kerala and the North-eastern states being the other areas where football is the dominant game, the official said that there were no plans as such of setting up their schools in these regions.
"Kerala has a lot of academies run by the state's footballers and the north-east already has its infrastructure in place. We would be willing to play in a tournament with these academies but for now we are not planning to set up academies in those locations," the 27-year old commented.
When queried on whether there would be any tie-ups with the All India Football Association (AIFF), Kabeer explained that at the moment they were focused on remaining a private venture and not complicate it.
"We want to progress slowly and maybe even think about establishing a local division club here in Bangalore and then maybe onto the national league," revealed the official.
With a lot of the talent coming from the under-privileged sections of society, Kabeer said that there were plans on making sure that these kids do not miss out on this opportunity.
"We would be identifying such kids who have the potential and giving them the required assistance," he signed off.