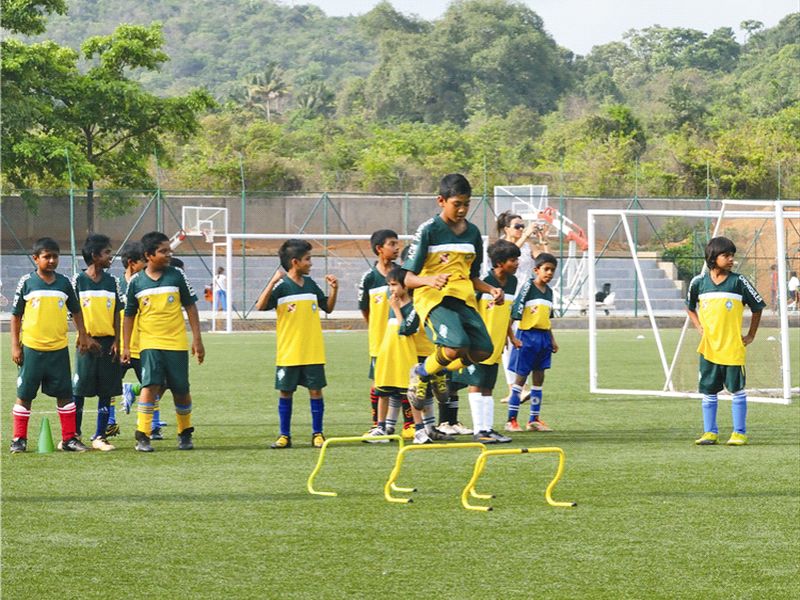 Continuing its special series on the elite football academies in India,
Goal
today has a look at one of the modern establishments aiming to supply young and professional national footballers by nurturing and training them right from the grassroot level; the Brasil Futbol Academia (BFA) based in Goa.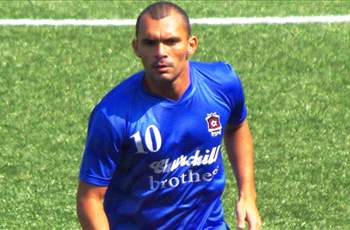 Churchill Brothers' I-League winner Beto is BFA's co-founder alongwith Jose Barreto
Roberto Mendes Da Silva a.k.a Beto, who was recently crowned I-League champion with Churchill Brothers, is the founder of this institution alongwith fellow Brasilian Jose Ramirez Barreto. The former got candid with us and told us all we had to know about his dynamic football school.
In Beto's own words, BFA was started by Barreto and him with a vision to give back to India for all that it has given to them since their arrival here from South America. "India has accommodated us for the past so many years, so we started this academy to give something back to the game here. To create professionals", he said.
Thus the BFA took birth three years back in Goa, which alongwith West Bengal is the hub for football in India. Having said that, the academy has just set up base last week in Siliguri in West Bengal, aiming to expand in the state in the coming season. Their long term goal though is to have 10 such academies up and running all over different parts of India, converting aspiring young footballers into top notch professionals.
Using the experience they have garnered playing in India over almost the past decade, both the founders are convinced that imposing a style of play or technique from foreign leagues or countries is not a part of their modus operandi. The core of BFA's process of teaching is mainly aimed at getting upcoming youngsters in the sport adept with the Indian style of the beautiful game.
For the very purpose, they have a very experienced tactician in the form of Glauco Moraes who has worked with the two Brasilian founders in creating a special 'methodology', in Beto's own words, for the development of Indian football through their academy. Moraes, who joined BFA at the beginning of this season, was associated with famous Brazilian outfit Gremio and has worked with the likes of the great Ronaldinho Gaucho, Lucas Leiva (currently with Liverpool) and Anderson (who is now with Manchester United), during his 16-year spell at the club.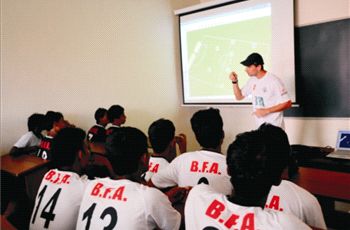 Now BFA has its functions broadly divided in two streams: the School-Level Programme and the Pro-Academy Programme. Under the School-Level initiative, the institution works with students in the age group of 6-14 years as the school outsources its football education to BFA. The training happens either during or after school hours, twice a week with Rs. 1500 being charged for the same per month. Currently, there are 200 school students enrolled with BFA from two schools in Goa.
Under the Pro-Academy Programme, BFA shortlists outstanding players from the School-Level Programme as well as deserving players who undergo trials and trains them all season-long, absolutely free of cost. Understandably so, the age level of trainees in the Pro-Academy Programme is 14-18 years. They undergo their schooling through the system of open schools of the state, which is a common medium for sportspersons to continue their education. At present, there are 60 students in this setup which is based in Margao. All 60 of them are accommodated in the nearby Colva region in homes which are funded by BFA. Their vacation period is during the close seaon from May to July.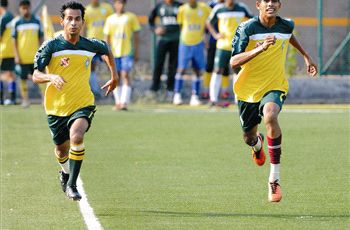 So hence with both processes being classified primarily on the basis of age, Beto revealed what they try to achieve among the different age groups:
6-9 years - Work on their ball control, passing and not much emphasis on fitness
10-14 years - Once basic skills like passing skills are relatively mastered, work on their positioning on the field and teach them tactics and strategies involved in football in depth
14-18 years - Work on their fitness and train them to be thorough professionals strong in all aspects of the game
With this kind of organisation in place, the BFA has earned the distinction of being a one-of-a-kind academy that combines its two programmes, both grassroot and advanced; unlike the other academies.
With such a setup in place, BFA wishes to provide players who can perform at the highest level in the I-League definitely in the coming two years, according to Beto.
With Beto alongwith Jose Barreto as BFA founders, Glauco Moraes has served as the Directer of the institution in the past year. They have a total of 10 coaches conducting the training, comprising of two Brazilian trainers by the name of Rodrigo and Juliano with the other 8 being Indians. Them, alongwith the other members taking care of marketing and other administrative functions, there are a total of 20 officials running the show at BFA.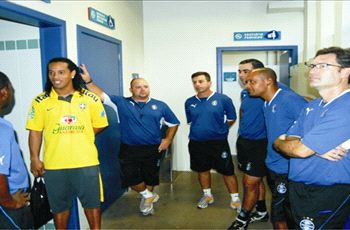 Glauco Moraes (far right), BFA's Director has worked with the likes of Ronaldinho (far left), Lucas (of Liverpool) and Anderson (of Manchester United) during his time at Brazilian side Gremio
As mentioned earlier, the School-Level Programme takes place during or after school hours and utilises the concerned school's facilities to carry out the training sessions. The Pro-Academy Programme too makes use of the facilities with one of the schools BFA has a tie-up with in Margao.
Exposure, Funding & Tie-Ups

Alongwith making a claim that BFA products will certainly feature in the I-League after a minimum of two years, Beto also informed us that Pro-Academy graduates from the last three years have been loaned out to teams in the country's minor leagues so as to gain experience. As stated earlier, these players are at maximum the age of 18 and hence that seems only right for them at such a stage.
Focusing on BFA's plans for Kolkata and on the whole for West Bengal, Beto revealed to
Goal
about their recent tie-up with the Techno India Group, an organisation based in the state with whose help they envision to rope in close to 55,000 students in the near future involving participation from over 14 schools. BFA also plans to open up its own sports complex of sorts in Kolkata, where training can happen in the confines of modern infrastructure and facilities.
Beto also informed that Barreto and he had funded events to start with. Then as the funds started coming in from the School-Programme, they were able to manage matters easily with the Pro-Academy Programme coming in place too. And now with the partnership with the Techno India Group in Kolkata set to being in more funds, smoother functioning of operations is expected for the BFA.
Rating – 6/10
With BFA's status gathering momentum in just three years of its christening, and some major plans set in place for the coming future, things are looking up for Beto & Co with their noble venture. With a sensible setup in place along with the modern day minds to run it, BFA could be the guiding light for football development in India. What remains to be seen is whether this kind of tempo is kept up by the academy's officials in its functioning in the years to come, or if it fades away like many promising startups in this country have over a period of time.
How do you stay up with football when on the move? With http://m.goal.com –your best source for mobile coverage of the beautiful game.