Anselm Noronha




Debate

|

India




Follow on
Hi, so what is your impression on Indian football? Do you think Indian football is going in the right direction? Where do you see Indian football 10 or 20 years down the line? - These are questions all journalists might have at the tip of their tongue when generating their taste buds towards biting on the answers of the people answering their questions.
Everybody talks about the awe of European football and compares it with the quality of football played in India. Others might use the same to defend their interest in the Premier League, Real Madrid or Barcelona over watching the I-League or the Indian national team.
Fair enough for the punters! Although the whole idea of launching GOAL 2013, India's first international convention on football business, is definitely a different ball game. Backed by the All India Football Federation (AIFF) with attendance from representatives of FIFA and the Asian Football Confederation (AFC), this convention is aimed at improving the image of Indian football to the country.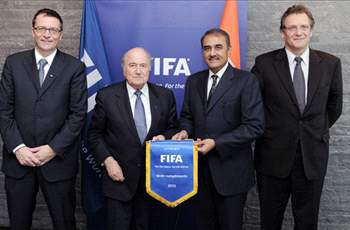 How do these meetings help?
As the Managing Director of Libero Sports India, Sukhwinder Singh explains, "The biggest take away from the 1st edition of 'Goal 2013' would be to create platform for all the stakeholders within Indian football to get introduced to each other. Knowing that this community is still very fragmented, creating such a networking environment is the first and foremost step towards building meaningful businesses within this growing industry."
It's not just about what has to be done, as we all could discuss from the comfort of our own bunkers. But it is more about getting these ideas out in the open and continue discussing about the know-hows and getting the 'wise men' of Indian football to listen to themselves while making promises.
"Great minds discuss ideas; average minds discuss events; small minds discuss people"
– Eleanor Roosevelt
This quote holds a lot of relevance to what we're talking about here. The one who says that these 'talks' are not going to change anything would be none other than a protagonist waiting to be exposed. So beware!
In an initiative as big as GOAL 2013, it will be important to have a specific plan in place which will see improvisation on its implementation realistically and as such to bring these ideas alive.
The gathering will also help
in envisaging the blueprint by a panel consisting of key stakeholders in Indian football, right from the Ministry of Sports and Youth Affairs, Sports Authority of India (SAI), to clubs and their academies, to players, coaches and technical staff and brands, agencies, NGO's, universities and educational institutions among others.



Every initiative has to have a healthy balance between tradition and modern techniques to ressurect a trend that is much needed, while curbing the negative factors hampering the growth of Indian football at large.

May it be youth development, club vs country or club vs city franchisee, the legal policies involved, Rob Baan's Lakshya 2022 or IMG-Reliance's Vision 2026, or learning from the Golden age? Let's talk! More importantly, let's work it out, and together, for each other!


How do you stay up with football when on the move? With http://m.goal.com –your best source for mobile coverage of the beautiful game.