COMMENT

By Arkaprabha Chakraborty
The great human being that he is, Didier Drogba will never complain about something like this. Luckily, we don't have to be quite as silent. To understand what we're trying to say, we must first realize what a USP is. A Unique Selling Proposition is what one product or thing SPECIFICALLY brings to you. A lot of this depends on how you market them in relation to what they do. If Pepsi is to be believed, then all Didier Drogba likes doing every day of the week is score goals. Not a bad thing for a striker. But it pitifully belies what a complete player the 34-year old Ivorian is.
The way he's being ushered in and whisked away for not even 24 hours in the country is just odd. The claims he's making of how he's watched the cricket World Cup and how he's seen a football game of the Indian National team rings hollow. Why on earth would he follow cricket that religiously? How and why would he watch the INDIAN National Football Team playing? Half the time even WE can't see it because their matches aren't broadcast!
Honestly, according to the FIFA rankings, he has at least 160 better teams to watch. No, the words aren't hollow, they're memorized. And it makes it look like he's forcing himself to do this for the revenue. And it completely belies what an utterly selfless and generous human being the man is. Very few know that he is in the process of building a hospital in Abidjan with the money he received from this deal. Possibly the only thing Drogba forced himself to do is to attune himself to play in this utterly ridiculous format for the few hours that he's here for.
At this point, to make it clear against possible misinterpretation, we are very happy to receive Drogba in our country and let us laud Pepsico for it. Such legends are hard to come by, even if it is for less than a day. But this sort of hypocrisy of wanting to 'change the game' by making him coach 7 men for a few hours is nothing short of disrespectful. To have him play against famous 'enthusiasts' of football is just going to make him hold back his abilities. Put plain and simply, he's being mis-marketed.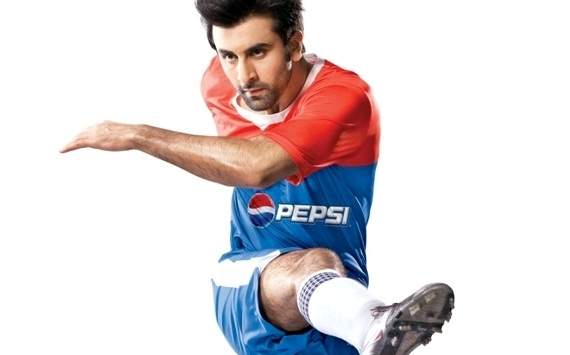 Drogba asks, Who am I playing against? Answer, An ACTOR
He could have quite easily come in to play a football match. Maybe even along with (the laughable titles of) "Penalty King" Lampard and "Star Striker" Torres (why on earth were they part of the advertisement if they have NO further part in it?) and played with a few promising youngsters from the U-23s. They could have made him, like Vincent Kompany did in the Congo recently, play no-rules football with some of the less privileged chilren of the country. And trust me, I have a feeling that the United Nations Development Programme Goodwill Ambassador would have absolutely loved it. But instead, he has been just as much as a 'face' for a one-time-only ad as Lampard and Torres have.
Let us look at a few instances of foreign footballers in the country recently. The most recent of these would be Gary Neville in Mumbai. We all know that he was always a Manchester United player ahead of an England player. So where did he go when he came to India? The Manchester United Cafe and Bar in Mumbai. That is an instance of proper marketing of a player. Keeping him in his comfort zone. Drawing fans by letting him what he does best, being a representative of the red half of Manchester.
What did Audi bring Bayern Munich to do in India? Not sit and sign shirts. Not tour around Delhi in autos. Not play cricket to show how 'interested' they are in India's unofficial national sport, but play a proper game of football. Against the national team in Bhaichung Bhutia's testimonial game no less. The well-drilled, teamwork dependent Bayern team got to showcase that they had made themselves famous for. Work-rate and efficiency. And even then they had a bit of time left over for interviews, a bit of a look around the capital and attend the auto expo for Audi. Well played, Audi.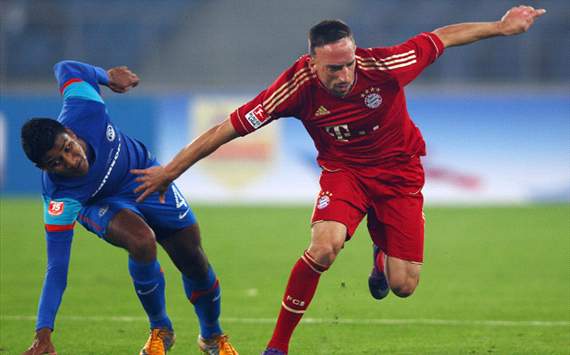 Nirmal Chettri vs. Franck Ribery. Isn't THAT the stuff to want?
Even bigger instance. When Argentina came in with Lionel Messi in Kolkata, they didn't make them show off freestyling tricks in a mall. They didn't make the team a group of tourists trying out local food and clothes. They were there to do what they do best. Play football. So what came about? An official friendly match against Venezuela in the third largest stadium in the world, the Yuba Bharati Krirangan (better known as the Salt Lake Stadium). Conservative estimates say that over 60000 people attended. The highest ones say that it was over 100000 at least. Celebrity Management Group (CMG), well done. It's the kind of thing we need more of.
So where does that leave Didier Drogba, the coach of a team for two hours? Compeletely out of his comfort zone, placed in a segment that he's unproven in as of yet. The way he's being touted as a coach, you'd think that he's a miracle working trainer who can improve a team to an impossible extent in a matter of hours. Even the best coaches need months at least for a team to show signs of improvement! Again, just like much of this enitre ad campaign, Drogba is made to look like he's there for the sake of being there.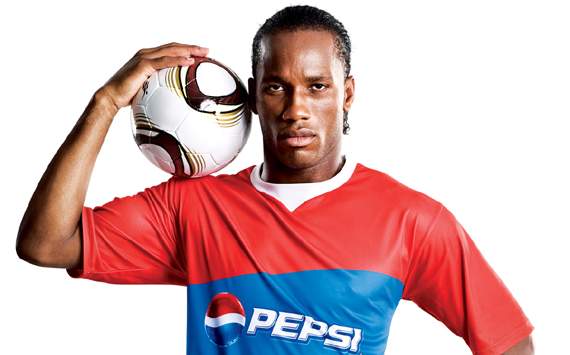 There's so much more to Drogba than Pepsi's showing us
This man loves football. He loves trying to make the world a better place. Use it to your advantage! Don't make him something he hasn't been (yet). Didier Drogba has achieved too much of a legendary status already for his image to take a hit, but it's a good thing for the sake of Pepsi's image will continue to sponsor cricket even after this farcical campaign. Why call it 'T20 football' if it's glorified futsal? More importantly, how can you expect to install a DERIVATIVE of a game when the actual game isn't properly looked after? Did T20 precede test cricket in India? Similarly, how can this precede actual football? We keep wondering...