Zhang Jilong's second visit to India as the president of the Asian Football Confederation (AFC) was marred by the representatives from four I-League clubs' being absent from the AFC Ad Hoc Committee for Professional Indian Football on Friday which did cause embarrassment to the All India Football Federation (AIFF).
The ad hoc committee was set up back in February 2010 under the leadership of former AFC president Mohamed Bin Hammam with the hope of taking Indian football to new heights wherein the roadmap of the same would be drawn.
However lately not much progress has been made and as a result, it doesn't come much as a surprise that the clubs, who formed Indian Professional Football Clubs Association (IPFCA), didn't turn up for the final meeting of the committee which would now be replaced by a task force with representatives from FIFA Development Office, AFC Development and Competitions Committee and AIFF/I-League to continuously progress and monitor Indian football.
Joaquim Alemao, vice-president of the AIFF and president of Churchill Brothers, Rajeev Piramal, co-director of Pune FC, Larsing Ming, member of the AIFF Executive Committee and owner of Shillong Lajong and Pranab Dasgupta, the East Bengal president, who represent the entire I-League formed the missing lot.
Kushal Das, the AIFF general secretary, however stated that it was a rare occasion that the clubs were absent and nothing more to it.
"Mr.Dasgupta was travelling out of the country, Joaquim Alemao didn't want to come. Ming had said he wanted to come for the meeting but he also wanted to be present for his season's final game (Lajong played Salgaocar in Shillong). There is nothing much to read in their absence," Das informed.
The good news which came out of the meeting was that Dr. Shaji Prabhakaran, FIFA Regional Developmental Officer for South and Central Asia gave a report on the status of 'Win India Project' and highlighted the fact that all necessary clearances from FIFA legal department has been taken into consideration to complete the Cooperage Stadium in the next few months.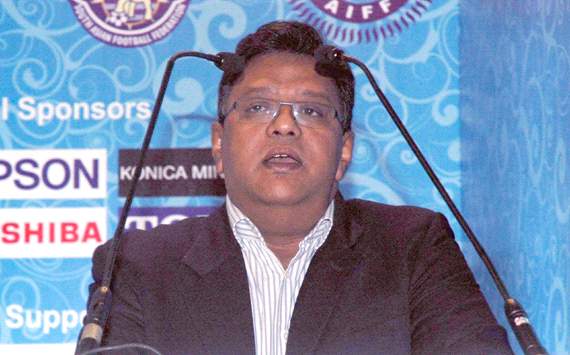 Kushal Das - AIFF General Secretary
Das added that starting next season not more than five rounds of matches would be held in a month and he explained the reason behind this move.
"We wanted to make sure that players do get recovery time and the matches are not clustered," Das mentioned.
Praful Patel, the AIFF president, declared that starting next season most I-League matches would be held under floodlights.
Jilong and co praised the AIFF for having an opening ceremony for the I-League though the AFC president did add that India must do the right things in a professional manner rather than trying to do it in a hurried manner.
Download the Goal.com Mobile app, and the world of football will be at your fingertips and in your pocket!