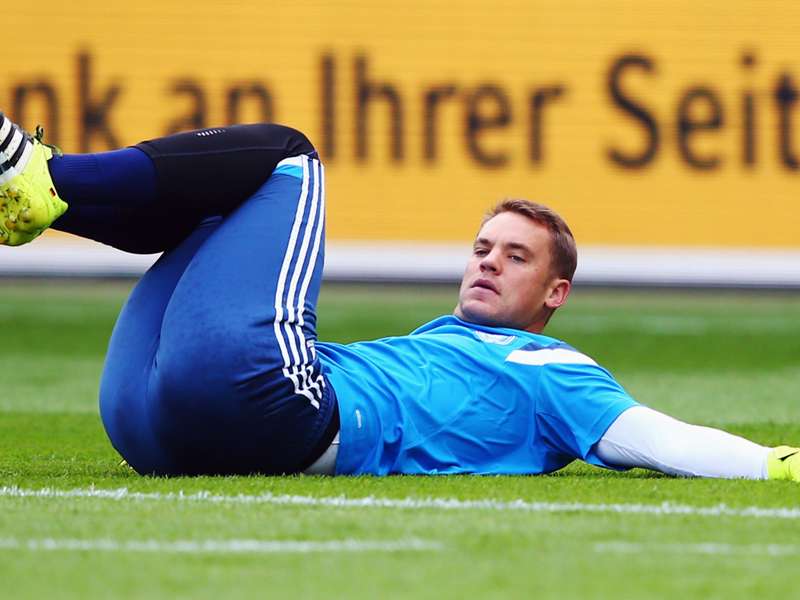 For Manuel Neuer, the 2014/15 season that bore happiness and frustration in equal measure. The goalkeeper was nominated for the Ballon d'Or alongside attacking stalwarts Lionel Messi and Cristiano Ronaldo, after lending a helping hand to his German side in their triumphant World Cup 2014 campaign. He also ended up winning the Bundesliga with Bayern Munich in record time, but faced disappointing exits at the semi-final stages of the UEFA Champions League and DFB Pokal to Barcelona and Borrusia Dortmund respectively.
However, the 28 year-old is as buoyant as ever as he looks forward to the soon to be reusmed Gemran Bundesliga season, after the international break and has revealed his childhood icons in whose mould he looked to grow. The German national keeper also explained that whilst he believes his comrades in goal get he recoginition they deserve he rarely bats an eyelid for applause of his own work.
"I have a couple. Jens Lehmann was always my hero, because he played for Schalke, and he was a bit of a goalkeeping revolutionary - he played the game his own way. There's Oliver Kahn, who as a German keeper you have to respect massively for what he achieved. And I also liked Edwin van der Saar, and the way he played, very much," revealed Neuer, whilst speaking to German kitmaker adidas as part of their #BeTheDifference campaign.
Asked if the custodians get the recognition they deserve, Neuer was unfluttering in his answer.
"I think they do. We have a high profile job and when we do it well, the rewards are high. It would be hard for me to say that I'm not getting recognition as a player, because of course that happens. But for me football isn't about recognition – that is just something that comes with the game that I try not to pay too much attention to. My job is to get on with being the best goalkeeper I can be, training hard, enjoying being part of a team. Obviously though, goalkeepers are a little different to those who play outfield."
Finally, Neuer agrees with the idea that goalkeeping errors are potryaed larger than saves, but believes they should firmly be put behind in order to progress effectively.
"You might make some big saves that get shown on TV highlights, but the cameras might not notice something small but effective you did. If your team wins, it is the goalscorer that gets the recognition, sure. But that comes with the job, and if you don't want to accept it, don't be a goalkeeper. You save a penalty, you're a hero, you make a mistake, you get slammed. That's the business I'm in. Making mistakes and putting them behind you is a big part of playing in goal. They bug you, but you have to forget them."