If you were looking to catch a Hollywood blockbuster last Sunday, rather than flicking on the numerous english entertainment channels, the Yuba Bharati Krirangan was where all the action was. A frenzied crowd of 90,000, a bi-partisan divide among the people, an unexpected protagonist, an early twist, and an 'electrifying' climax. The 299th Derby between old rivals Mohun Bagan and East Bengal had all that was expected, and more.
If you thought club football in India was not popular, you need to think again. The Yuba Bharati Krirangan resplendent with banners, one side Red and Gold while the other Green and Maroon was looking as good as any stadium in the world. And with firecrackers being bursted right in the stadium itself with frequent booms and bangs, this was not a sight you will dream of finding anywhere else. Supporters of both sides, dressed in their jerseys and carrying an assortment of things from bombs to drums, turned up in massive numbers, creating an atmosphere that you needed to experience, which words fail to express.
The on-field action itself was nothing short of exciting. Right from the word go, both teams looked to test each other's weaknesses. The so called 'cagey affair' that is expected when big teams play each other, did not happen and it was a match where there was enough end to end stuff to keep the audience glued. And what would be a derby match without its fair share of controversies, and there was enough on that front too with the highlight being both team's supporters crying sabotage when the lights went off in the stadium with five minutes remaining.
Goal.com
takes a look back at the 'chingri' (lobster) vs 'ilish' (Hilsa) derby to see what worked and what did not as planned.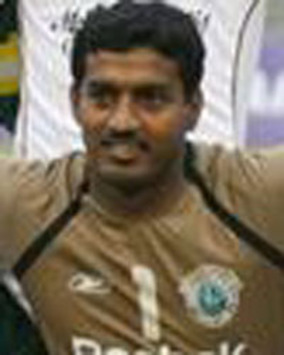 The adage that past form has little value come derby day, was certainly proved true in case of Mohun Bagan's custodian. The nervy Sangram Mukherjee who had looked jittery and lacking confidence in the I-League so far, produced a top class performance on Sunday. The Sangram on display was a far cry from his bungling self, an experienced warrior, oozing with confidence perfectly judging the moments when he had to come out and receive the ball. He held the ball cleanly when called on and more importantly he pulled out some tremendous saves from his bag and gave his team a victory over their arch rivals after about 18 months. Atleast on two occasions, he saved sure goals, leaving the opponent striker baffled and scratching his head as how to get past this unbreachable wall. A hallmark of composure, Mukherjee inspired confidence among his back four and infact enthused his whole team to give their best and ensure the win and was rewarded with an unanimous verdict of being man of the match.

In the post match conference, Trevor James Morgan, like any good coach, failed to attribute the defeat to him missing two of his star players. Having only 3 shots on target with a staggering posssion of 64% clearly pointed to the fact that East Bengal certainly lacked the cutting edge upfront and probably good delivery. Tolgay Ozebe gave East Bengal exactly that, an eye for goal and the ability to finish off half chances which clearly Robin Singh and Alan Gow lacked. Mehtab Hussain, who usually plays in front of the back four is the architect of most of East Bengal's attacking moves, and usually he may not get into the assists charts so often, but he is the one who usually plays the third or fourth ball which ultimately results in the goal. Sushant Matthew, his replacement was nowhere near as tidy as the dependable Mehtab. The inability to convert whatever little that was created, clearly meant East Bengal missed these stars.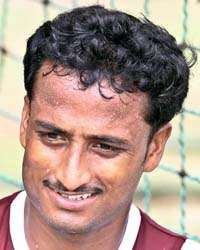 With Mohun Bagan looking to sit on the early lead, it required some inspired defending from the Bagan players to keep the clean sheet that they ultimately came away from the match with. Daniel Zeleny, the new recruit who was just signed, was thrown into what was probably the biggest match of his career, right on his debut. He overcame his big game jitters to put in a composed performance at the heart of the Bagan defense and looked to be a Bagan regular. Robin Singh was in his back pocket for the better part of the match. Even when he managed to break free, and Sangram parried his shot, it was Zeleny who seized on the loose ball to clear it to safety, before any Red and Gold player would get to it. His understanding with Kingshuk Debnath was perfect. Debnath was a pillar of strength for Bagan, the wily Alan Gow with all his experience failing to get the better of him. Putting his body on the line for last ditch tackles to keep Bagan in the match, he certainly sent a clear signal to Savio who had excluded him from the SAFF Cup squad. Even Jose Ramirez Barreto heped out his defenders and was found in the Bagan penalty box tackling the opponent strikers! Although East Bengal defenders did nothing wrong for the whole of the match, but they will be remembered for giving away the penalty.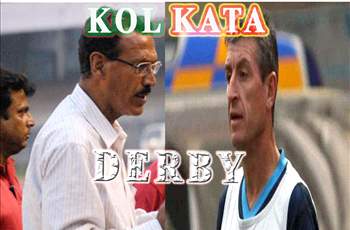 | | |
| --- | --- |
| | |
Already billed as a battle of wits between the foreigner and the homeboy, Morgan might have given a better account of himself, although it was Subrata who managed to walk out with all the spoils, leaving a frustrated Morgan, whose team were clearly the better side on display especially in the second half. Subrata playing Nabi on the flanks was a masterstroke as he nullified both Naoba and Vashum singlehandedly while giving the East Bengal defense all kinds of problems going forward. However with the forcible change of Snehashish having to be brought on for Masih and Nabi changing his flanks, Vashum and Naoba ran rampant on the right, and almost all of East Bengal's attacks stemmed from the right in the second half after Nabi changed flanks. The distinct disconnect between the Bagan midfield with the strikers who were clearly isolated was also a sign of worry for Subrata. Morgan was tactically sound in almost all his calls. Bringing on Baljit Sahni almost got him a goal, but the coach could do nothing if his young striker missed a sitter. Maybe a lack of personnel which ultimately handed Trevor his first derby defeat.
A referee always wants to be in the background of every match he is officiating. The less calls he has to make the better. And when it comes to high voltage encounters as on Sunday, it was a nightmare for referee Pratap Singh. No matter how right or wrong his decisions were, the fact remained that the match result ultimately was the result of him awarding a penalty when Chhetri was brought down by Okpara in the twentieth minute. And the resulting spot kick from Odafa ultimately deciding the match and giving Bagan the win. Predictably, all the other decisions taken by him were brought to an unrelenting scrutiny. The two penatly shouts from East Bengal players which he waved way, especially the one where Alan Gow went down in the box, did not win him many admirers among East Bengal fans. With the fourth referee showing five minutes of injury time, Pratap blew the whistle after only two minutes! But all things said and done, it was one blow from the ref's whistle which ultimately called the match.
What did YOU take away from the fierce derby encounter in Kolkata? Did YOU think Mohun Bagan deserved to escape with a win?
Make use of our comments box below...