The mere thought of a football derby would turn most people's attention towards Europe, South America and their violent ultras, firms and rival supporters. Little does the world know, that right here, in the ancient land of India, dwells a football rivalry so fierce, so melodramatic,so large and so socio-economically significant, that it would blow the devil out of your system.
Every year, the magnificent city of Kolkata stages the East Bengal - Mohun Bagan derby which can be termed as one of the mightiest, heaviest and deadliest football rivalries in world football, let alone Asia. If you have a ticket for this game, consider yourself blessed for the experience of a lifetime this Sunday, 20th November.
In 1997, this fixture, played as the Federation Cup semi-final, turned out to be one of the most memorable derbies written in the history books of this rivalry. A record attendance of 1,31,000 ( I repeat, 1,31,000!) made its way into the Salt Lake Stadium.
One can only imagine the noise level, magnitude of crowd pressure and excitement in the arena, but you have to be physically present at the YBK to FEEL the overflowing emotions, crowd sentiment and joy. Talismanic striker Baichung Bhutia ran riot that euphoric night, smashing in his only hat-trick in the Kolkata derby to secure a fantastic 4-1 victory for East Bengal, and gain the all-important bragging rights for the red and gold brigade.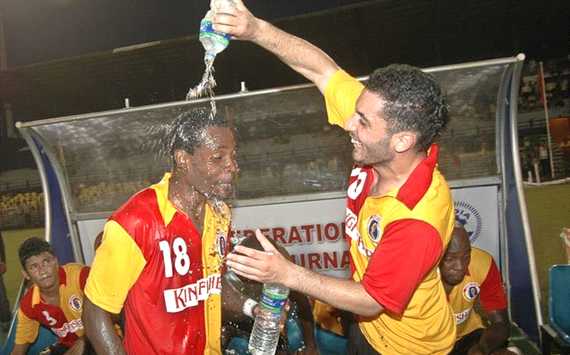 A Hot Contest On The Cards
Traditionally, this derby dates back to 1920. Just like the old firm derby in Glasgow contested between Rangers and Celtic, which has a certain Catholic-Protestant sentiment attached to it, the Kolkata rivalry is fought on a broad based socio-cultural platform.
The fans of Mohun Bagan are known as the 'Ghotis' while supporters of East Bengal are called as 'Bangals'. The Calcutta "bhadraloks" (gentlemen) who ran Mohun Bagan often discriminated against athletes from the eastern parts of Bengal (now Bangladesh), whose culinary tastes, accents and modes of dressing were ridiculed by the more "civilised" city elite. East Bengal was formed in 1920 when a group of eastern officials and players broke away from Mohun Bagan.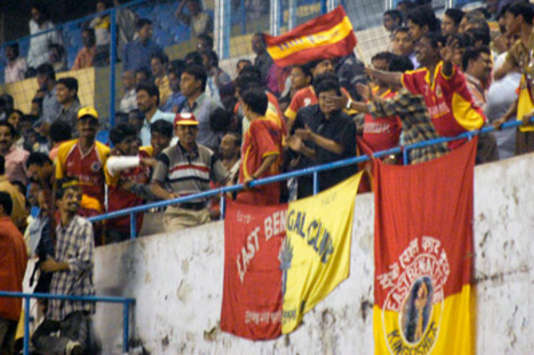 Whose Flags Will Be Flying Higher?
There are many customs followed before and after the game, depending upon the result. Mohun Bagan fanatics celebrate the derby win with prawn while the 'Bangals' prefer 'Hilsa' fish. In certain parts of Kolkata, the favourite fish chosen by the winning team's supporters goes up for sale in the morning at highly affordable prices!
Quite unfortunately, violence is also a part of this fixture with fans clashing repeatedly, and the entire Kolkata police force being required to intervene. On a recent visit to Kolkata to witness the Lionel Messi spectacle take place at the YBK, I noticed the fans of East Bengal holding up their "the real power" banners and the Bagan fans countering them from various parts of the ground holding their green and maroon flags high. It seemed like Messi too was being divided between the two sides of supporters.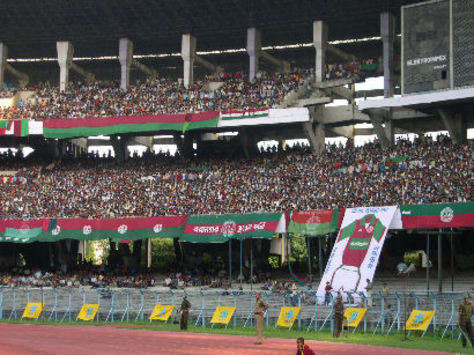 Can We Expect A House Full?
Rockets, fireworks, crackers, flames and burnt torches often accompany the soulful cries of 'Goal! Goal! Goal! Goal!' at the Salt Lake. In 1980, 16 people died at the Eden gardens as fights broke out in the crowd. Fans from either side have often suffered heart-attacks due to excitement. A significant moment in the history of this deadly derby came when East Bengal demolished Mohun Bagan 5-0 in the 1975 IFA Shield. Such was the ignominy surrounding the heavy defeat that several Mohun Bagan players spent the night holed up on a boat on the Ganges River trying to escape the wrath of shell-shocked supporters!
When searched on Youtube, you can find a video named 'the revenge of 1975' posted by the 'ghotis' after Mohun Bagan finally got a chance to hold their noses high again after defeating East Bengal 5-3 in an I-League encounter, claiming the much awaited revenge scoreline. It is now considered cliche to say that 'football is a way of life in Kolkata'. An average Indian might not know what the I-League is, but he definetely would have heard about the EB-MB rivalry. Football flows in the city's flesh and blood, the people being quite romantically obsessed with the local game, a trait found nowhere in the nation (perhaps matched only to a certain extent by Goa).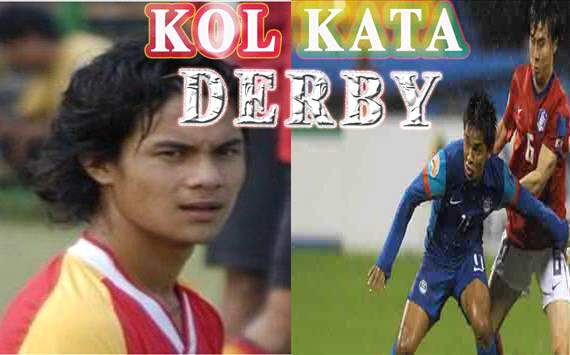 Whose Performance Will Count?
Mohun Bagan were recently annihiliated by Dempo when they lost 5-0 to the former Champions, but their confidence is slowly getting back to normal after that freak scoreline. A major dent might be caused to their confidence, for the remainder of the season, in case they happen to fall prey to East Bengal's trap this Sunday, such is the impact in Kolkatan football. All time stats favour the Red and Golds, who have won more head to head encounters. The green and maroon army's technical director Subrata Bhattacharya considers this fixture to be just like any other game from which 3 points are a must, no matter how you win it.
The fans from both ends still remain persistent that they don't just want a win, but a stylish comfortable demolition of their opponent! East Bengal will be well prepared for the blockbuster clash with their modern 4-3-3 formation which tends to slide into a 4-3-1-2 as the game progresses. A lot is expected from star export Alan Gow and the domestic recruits Mehtab Hussain, Nirmal Chettri and Robin Singh. The Red and Gold Brigade was the better side at Salt Lake last week when EB beat Pune FC 3-1. The win powered the 'Bangals' to 3rd in the table with 10 points from 5 games.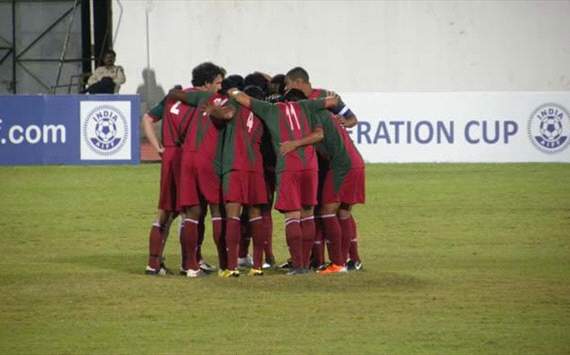 Mohun Bagan, Are You Ready?
Mohun Bagan, on the other hand, sit 2 points clear in 2nd place with 12 points from 5 games. Subrata Bhattacharya has already told the media to expect Sunil Chettri, Jose Barreto, Odafa Okolie and Syed Nabi to start . If that star studded foursome doesn't intimidate East Bengal, then what exactly would? In their previous fixture, MB convincingly thrashed the mighty Churchill Brothers 3-0 and are running high on adrenaline.
So who will survive the deadly derby? Will it be Bagan's famous prawn on sale in the morning 'mandi' or EB's delicious 'hilsa' fish? The stage is set for India's biggest club game. If you happen to be a resident from outside Kolkata, then it's 2nd vs 3rd in the I-League for you. Watch the game live on Ten Action Plus at 6.30 PM IST. If you are going to the game, you are in for a bumpy ride, so fasten your seat belts!