The lone current I-League football club from South India, Viva Kerala will now be known as Chirag United Kerala following merger with Kolkata-based Chirag United Sports Pvt Ltd, who now hold the majority stake in the Kerala outfit, on Saturday.
Just imagine, two friends talking. One of them says, "Chirag United did well last season."
Other friend replies, "Yes, they unexpectedly finished eighth."
Friend 1 mocks friend 2 saying, "Did you follow the I-League last season or what? They finished tenth, not eighth."
Friend 2 feels insulted and decides to bet on the standings and then adds, "Crap. They finished eighth, I clearly remember. By the way, as you only have superficial knowledge of Indian football, you certainly won't know that Chirag had signed Sunil Chhetri on the last transfer day of the past season."
Friend 1 passes a grin and says, "I think you need to rest, mate."
Friend 2 feels as though Friend 1 has treated him with a feeling of contempt and tries to give it back to him by opining, "I know they finished eighth, but I doubt if they will be able to attain that position considering the fact that Chhetri has left them for Mohun Bagan."
Friend 1 starts laughing hard, catching his stomach and exclaims, "That is Prayag United not Chirag United!"
Friend 2 looks in disbelief only for Friend 1 to explain him later that the names for the clubs have been changed and Chirag United Sports Club is now Prayag United Sports Club, and Viva Kerala now is Chirag United Kerala.
In the case mentioned above, Friend 1 is someone who has been a regular follower of the Indian football news in the recent past, whereas, Friend 2 isn't up to date with the news and like most football followers around the world, hasn't even thought in his wildest of dreams that clubs can be made to change their names.
Moreover, he is in absolute disbelief because he can't believe that a club's name can be 'virtually' transferred to another club. However, just to inform you, this isn't the first time this is happening in the history of Indian football, United Sports Club became Chirag United Sports Club about four years ago when Chirag Computers decided to sponsor the United SC football club.
And the party that shall suffer the most in this case are the players as Chirag opine that the players who had a two year contract with Chirag United last year will represent Chirag United Kerala in the 2011-12 season while Prayag United SC thinks otherwise.
Arnab Mondal, Denson Devdas and Abhijeet Mondal are some of the players who haven't received their salaries for the last two months.
"We shall refer the matter to the Players' Status Committee," Chirag United Kerala owner Kaustav Roy was quoted saying.
Prayag United's Siddharth Bhattacharya was adamant that the players who were with Chirag United had signed a contract with United SC and hence shall represent his team.
"The contract they had was with United SC," he mentioned.
Coming back to the rechristening of Viva Keraa,
Goal.com
spoke to P Bhaskaran, the secretary of the Kerala outfit. He said, "The name is changed from Viva Kerala to Chirag United Kerala."
There were a number of rumours that the Viva Kerala - oh sorry, Chirag United Kerala - matches will be played either in Kolkata or in Siliguri, Jamshedpur. Rectifying the rumours, Bhaskaran said that the club will continue to play its home matches in Kerala. "Our home matches will only be played in Kerala itself and not in any other city."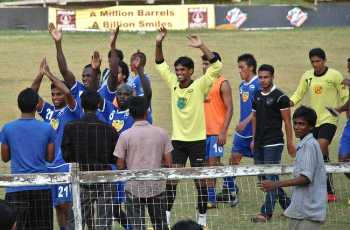 Speaking about the majority stake holders and the money that they made available to the football club, the club secretary said, "Chirag Computers have brought a major share of our club and this season they will be running the team. I don't know about the money that they have given the club has given but we have signed four foreigners."
He added, "There are already some existing players at the clubs and we will be making some signings."
Speaking about the club's pre-season training, he said, "We haven't started with our pre-season training but will be starting it next week."
And yes, Subrata Bhattacharya, the former coach of Chirag United, shall be the technical director of Chirag United Kerala next season.
The secretary confirmed us the name change and what that indicates is, the club that was Chirag United SC last season is no more Chirag United, but Prayag United SC and the club that was Viva Kerala is now, Chirag United Kerala.
What this also indicates is the financial power of certain franchises. Viva Kerala was a team and a brand that made a name for itself, and won thousands of hearts in the last couple of years by performing incredibly well at the highest level of Indian football. For the club to change its name, neither the owners – living under the cloud of a poor financial status and thereby, heavily dependent on the sponsorships to have their ship sailing - nor the sponsors – wanting to make their name – can be entirely blamed. However, we must into notice that the name must be reserved.
Just imagine following their respective takeovers, what if Manchester United was renamed as Glazer United or Arsenal FC was renamed as Kroenke FC, it would have led to a major havoc in England. However, in India, when the same situation involves an I-League club, Indian football fans hardly care.
Changing the name of the football club will disrupt the identity that the club holds. We must also take into account the fact that every club has substantial amount of history attached to it, and if the club names keep on changing based on the sponsors, then, you cannot expect to have loyal supporter base.
Download the Goal.com Mobile app, and the world of football will be at your fingertips and in your pocket!