In spite of playing well, Air India didn't quite seem to find the cutting edge when it came to scoring goals and grinding out results last season. Lack of this particular attribute saw the club from Mumbai drop several points but hang on to the I-League status, only by the skin of their teeth. Last term, this was blamed by the Pilots' coach – Santosh Kashyap - as a result of several injuries occurring due to minimal pre-season practice. Speaking to Goal.com again, Kashyap shed light on his financially challenged side's preparations for this year's campaign.
The previous season, Kashyap joined the Mumbai-based outfit after the team had slipped in to the bottom two of the table, acquiring only three points from the first six games. Thus, he had credited the I-League mid-season break as an important factor in him rallying his troops and for making his side reach safety. With the pre-season to his advantage this time around, he spoke of some difficulties that could hamper his club's progress.
He said, "It's a big challenge (to do well) at Air India because we have signed almost a new team. Moreover, none of our signings are established players because most of the established players have got offers from bigger clubs and perhaps seeing the stature of those clubs, they accepted those offers. Thus, all we could do was to bring in unproven youngsters, mostly from Mumbai."
"Also, it has rained a lot in Mumbai which doesn't aid our preparations. Furthermore, the grass of the grounds that we usually practice on has been pretty tall which makes it impossible to run the machine. So, due to these two reasons, it's today (August 1) that we have started our pre-season training," he added.
Talking more about club's poor financial condition, the coach said, "We are trying to go in for the 'proper' pre-season but as you know, Air India has had an extremely difficult period in the recent past. However, I've asked for an increment in the things that I wanted to do and we'll see how it spans out. The main difficulty, as of now, is the finance but the rain and the conditions of the ground have also had a part to play."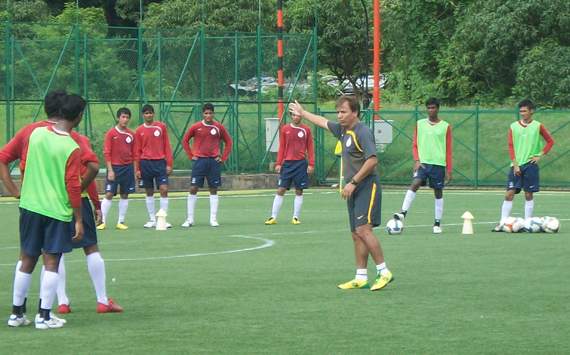 Underling the importance of a club's pre-season, Kashyap said that it's the coach who is responsible for the team having a successful preparation for the new season. "This period, now, is extremely important because towards the end of the season, it's often the pre-season preparations which count and thus, spending more money to get the best resources is important. A coach's role is extremely important and a good coach must make sure that his team has had a good pre-season."
"From my knowledge, last year's pre-season also wasn't the greatest and a lot of injuries occurred due to the not practicing much in the pre-season. Reason? The reason for a poor pre-season an year back is not known to me. However, I can say that I'm facing similar problems but I believe I can overcome these challenges and implement my idea and my style of play, and take the best out of my players and also, motivate them to do well," he added.
Impressed by Salgaocar SC's efforts to put together a fine mix of quality and creativity as a part of their pre-season, Kashyap said that all the I-League clubs deserve similar functionalities provided in order to let their players to do well. "Everyone deserves to have a pre-season training like Salgaocar SC because it's absolutely important for us to educate the players in all the departments - how to respect your team-mates and opponents on the ground, to learn the laws of the game, also about the motivation part, their diet, importance of rest and a probable seminar is needed for players to understand target of the club."
"This is all a part of the pre-season training and the players must undergo each of these aspects otherwise, they may suffer at some point at the season. Karim Bencherifa is doing a fabulous job and I guess, even the last season they had a great pre-season. Thus, I think, they will do well this year as well," he added.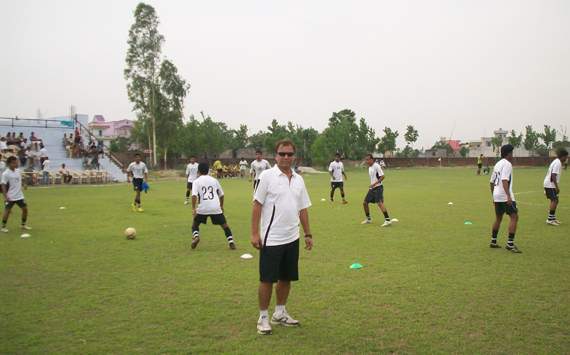 On signing players, Kashyap said that Air India will recruit the foreign talents in September, majorly by the means of trials. "Some of our players are yet to come. Plus, we are yet to sign any of the foreigners. That, I guess will be done in the month of September but again, we will have to look at our finances. We have also got some trials lined up for the foreign players and let's hope that works out well."
Last season, after Kashyap's introduction, the Mumbai based outfit's defence looked rock solid. Revealing some of his defensive signings to Goal.com and speaking of his defence in this term, the former Maharashtra coach said, "This year, I guess we will have a better defensive line. Last year's defence was also, good but was hampered by injury more often than not. We have got in players from various clubs like Kali Alaudeen (ex-Mahindra United), Prem Kumar (from United Sikkim), Collin Abranches (retained), Abhishek Matthew (from Union Bank),Sandeep Sanga (from fellow Mumbai rivals - ONGC), Roysten D'Souza (Mahindra United under-19), Allan Dias (retained) and Pawan Kumar (from JCT, goalkeeper).
Manjit Singh had a great influence on the team last term and contributed to club's success. His free-kicks were a deadly weapon and often led to Air India scoring in the game. Kashyap revealed that the club as desperately trying to sign the attacking minded player. "We are in talks with Manjit Singh to re-sign him this season as well. He was very good in the last campaign."
With just over a month left for the season to start it's campaign in the Federation Cup and with no striker still signed, the former Maharashtra coach is looking at the foreign players to fill the void. "All our international players – Okorogor Praise and Yusuf Ibrahim - have left the club. We are in need a couple of strikers but we are strongly considering the foreign options in the striking positions. So, that area is still yet to be resolved."
It looks like Air India is set for another tough campaign ahead. They have been twice lucky in the last two seasons to stay up, would the fortune favour them again or will Santosh Kashyap work his magic wand to replicate Mumbai FC feat last term in being the ultimate 'underdogs'?