Edmar Figueira, the striker who performed wonders in his two seasons with Pune FC scoring 28 goals, recently made a move from I-League to the highest level in Portugal by signing a one-year contract with the Division I club - Desportivo Feirense. The deal will now see him to compete against the best that Portugal has to offer; just to excite you, he may rub shoulders with Javier Saviola, Joan Capdevila, Oscar Cardozo and Pablo Aimar in a month's time as Desportivo plays its second league game against the Portuguese giants - SL Benfica.
Form, finishing, quick feet, temperament, eye for goal and years of hard work had led the 27-year old in earning himself another chance of playing in Europe.
'Extremely happy', Edmar spoke of the European opportunity presented to him and also, of his eternal football dream. "I'm in Portugal right now and am extremely happy to be back playing in Europe again. I was presented by the club to the fans on Friday (July 22) and I can't wait to get started. I'm very excited, indeed. One day, I wish to play for Real Madrid!"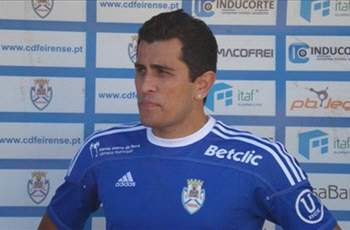 After making his first steps in football as youth at Brazilian clubs - Paraná Soccer Technical Center (PSTC), União Bandeirantes and Paranavai Atletico Club, he turned professional with Sociedade Esportiva Matsubara. His ability, performances and tapped potential saw him have a shot at Europe in 2003 as a young 18-year old with one of Switzerland elite - Grasshopper Club Zurich.
His Swiss performances impressed the German scouts and the German Bundesliga Club, SC Freiburg were interested in signing Edmar, who was a youngster then. Although he lived in Germany for a short period and trained with the German club as a trialist but failed to sign a permanent contract with Freiburg as he lacked a European passport. He was never enrolled by the club as a foreign international as all the foreigners' places were full.
Suffering from a major disappointment, Figueira decided to return to Brazil to again play for Sociedade Esportiva Matsubara and won the BTV Laser Cup in Vietnam.
His quality again shone with Matsubara as he was snapped up by America Football Club (AFC) from Rio de Janeiro, the same club for which the Brazilian legend Romario once played for. After having a successful season with AFC, he returned to Europe again with FC Banants from Armenia in 2007 and played UEFA CUP qualifiers for the club. His career again failed to take a leap as was transferred to Primera Division de Costa Rica in 2008 to play for C.S. Cartagines.
Having scored eight goals in his debut season for the Costa Rica based - Club Sport Cartagines, Pune FC came in for his services and offered him a good deal to play in India. Edmar helped PFC finish third in their first year in the I-League scoring 15 goals. He also won the club's "Player of the Year", the "Golden Ball 2010", "Golden Goal" and the "Players' Player of the Year" awards in his debut season.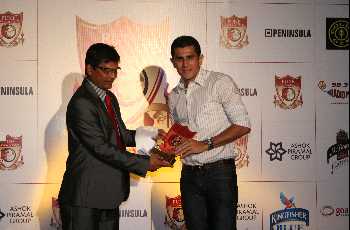 The left-foot striker centre-forward's nine goals the following year helped PFC attain yet another top five position.
The Brazilian revealed that at the end of 2009-2010 season itself, he had plenty of offers from clubs abroad but was determined to see his contract out. "After I was one of the top scorers last season with Pune FC and we finished third, I had received a lot of offers (from clubs) but I decided renew my contract with PFC to stay with them for another year. However, at the end of this season, I realized that it was a time for change and so, when I got C.D.Feirense offer from Portugal, I accepted it immediately."
In spite of all the excitement that surrounds in him looking forward to the newly promoted Portuguese club – Feirense, Edmar says he owes a lot to the PFC fans for supporting him at every hurdle. "Fans gave me a lot of attention and support every single time, both - on and off the field. I will always remember my fans and friends in Pune; they are amazing people. I had a great time and I will surely miss them and everything about the club and the city."
He also spoke of Derrick Pereira as a coach. "In my time there, Derrick was improving day by day."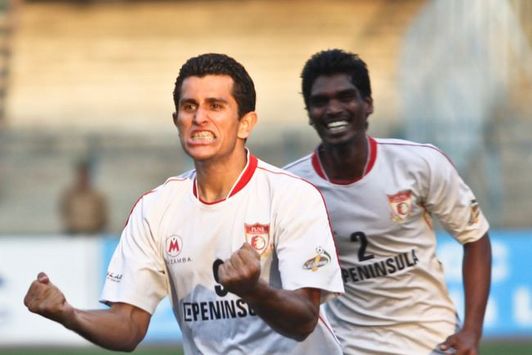 The attacker sees Indian football on a rise and thinks hard work can lead to more I-League players playing in Europe. "India still has a lot work to do in the football field and there is a long way to go but even though it's slow and gradual, it has been improving and is on a rise."
"I think players playing the I-League have got some talent and if they work hard, a lot of them have a chance (of making it to Europe)," he added.
In an emotional good-bye to PFC and its supporters, he promises that he would love ending his footballing career in India. "I thank everybody who has ever supported me and as well as Pune FC. I have had a great time at the club and after some years, I think I will in finish my career in India."
In his two years in the I-League, Edmar has been a hero and a role model for many. His career sure has taken a flight from I-League to Portuguese Division I and it underlines the fact that if you have serious talent, you will get noticed.
Tell us what you think of Edmar's feat...
Download the Goal.com Mobile app, and the world of football will be at your fingertips and in your pocket!