COMMENT
By Greg Stobart
The official statement on the FA website hailed
Steven Gerrard
's "glittering" international career as he announced his retirement from
England
duty on Monday.
The sad truth is, though, that in an England shirt he never managed to reproduce the sparkle that so often came hand-in-hand with his performances in the red of Liverpool.
Ask yourself, in this glittering 14-year career which ends with Gerrard as the third most capped England player ever, what was his best individual performance?
The 5-1 win against Germany in 2001, probably, when he scored with a trademark long-range strike in Munich. But he hardly stood out from the crowd in that exceptional team performance, with Michael Owen taking most of the headlines for his hat-trick.
Beyond that, one of the finest midfielders of his generation often found himself a member of the supporting cast rather than the leading man. Gerrard admitted himself on the occasion of his 100th cap that he had only produced "six or seven" quality displays for the national team.
The Liverpool star gave absolutely everything for the Three Lions in each of his 114 appearances. Of that there can be no doubt - and his place in the side was never in question - but it never quite worked out as England fans so desperately hoped it would.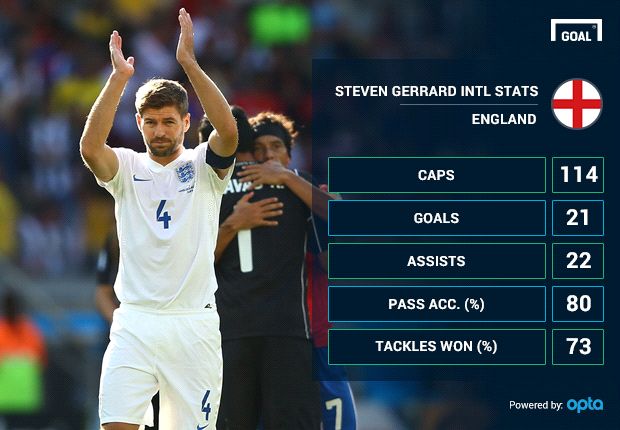 There were none of those many magical moments he produced for Liverpool, a one-man band at times as he drove them to victories on the big stage - not least the Champions League final in 2005 and the FA Cup final a year later.
His potential partnership with Frank Lampard in central midfield was considered so strong that Paul Scholes was shunted out to the left by Sven-Goran Eriksson, and the Manchester United man subsequently retired from England duty after Euro 2004.
But despite countless experiments, tweaks and re-adjustments, it didn't work. Gerrard and Lampard's qualities did not complement each other, and both players suffered from the compromises and half-measures.
Gerrard made his England debut as a 20-year-old at Euro 2000 but none of the five full-time managers he worked under were ever brave enough to build the team around their most talented midfielder.
Under Eriksson, for example, he was forced to rein in his box-to-box instincts to sit deeper and allow Lampard to attack; he played in wide positions - which he hated - for much of Fabio Capello's ill-fated spell; and he was exposed by Roy Hodgson at this summer's World Cup as the anchoring figure in a two-man midfield.
Unfortunately, despite his 21 goals and 22 assists for his country, Gerrard's defining moments in an England shirt have been costly mistakes.
In the first game of Euro 2004, he famously passed the ball straight to Thierry Henry, who won a penalty as France came from behind to beat England 2-1 in Lisbon.
And last month, he made errors in the build-up to both Uruguay goals in the 2-1 defeat that ultimately resulted in England's exit from the World Cup. He made a weak challenge in central midfield in the build-up to Luis Suarez's opener before putting his then-Liverpool team-mate through on goal for the late winner with a poor back-header.
Expectations of the England national team have fallen to an all-time low following their poor campaign in Brazil, but it was not long ago that Gerrard was part of the so-called "golden generation".
Indeed, he was part of an England team that had a genuine chance of winning Euro 2004 and the World Cup in 2006.
He looked broken in his final press conference in Rio de Janeiro as he spoke of the pain of England's exit and his continued pride at being captain.
Gerrard made good on his promise to take his time before making a decision on international retirement, consulting first with respected figures around him.
The decision felt inevitable, though. After playing 39 games for Liverpool last season, he knows that the demands on his ageing legs will be even greater next season with the club back in the Champions League.
At Anfield, Gerrard knows he can still produce the glitter and glamour that sadly never found its way into his England performances.