Opinion
Zambia's 2012 Afcon triumph owes much to its tragic Golden Generation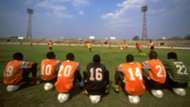 ---
COMMENT    By Solace Chukwu     

Follow on Twitter
---
Life is what one makes of it. So, in fact, is death; on the 12th of February, 2012, Zambia rode the current of one of the most tragic disasters to hit African football and emerged as African Cup of Nations winners for the first time in their history.
However, much as the stadium in Libreville seemed to crackle with its own electricity at times, the twin hands of fate rubbing against each other as they ushered Chipolopolo to destiny, it would be a mistake to consider the 1993 Zambian air disaster simply in those terms. The stakes, after all, were very real; its impact juddering through Zambian football for years.
That side, which perished en route to Dakar for a 1994 World Cup qualifier is considered widely to be a golden generation, and it is not difficult to see why. It featured, at its core, a crop of players who has taken the 1988 Seoul Olympics by storm.
Kalusha Bwalya, then African footballer of the year, was naturally the star attraction - his hat-trick in a 4-0 demolition of an Italy side featuring the likes of Ciro Ferrara, Mauro Tassotti, Andrea Carnevale and Angelo Colombo the undoubted highlight - but it was hardly a one-man show.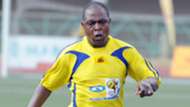 That was a team brimming with talent and bristling with confidence: Derby Makinka's dribbling, outside of the foot passes and bursts forward from midfield and the power of Wisdom Mumba Chansa.
It was not just the individual talents, of course, but the freedom and fluidity with which the collective played - Bwalya, nominally on the left wing, could not be tethered, and would drift into central positions, while namesake Johnson played slightly deeper on the right, opening up that channel for Chansa to attack; Charles Musonda, father of on-loan Chelsea youngster Charly and the only other surviving member of the 1993 vintage, was probably the finest midfielder of his generation, and ran games from deep.
Zambia would finish fourth at the 1990 Africa Cup of Nations after losing their semi-final to Nigeria, and narrowly miss out on another semi-final appearance in 1992 after an extra-time loss to eventual winners Ivory Coast two years later.
However, that 1994 World Cup qualifying felt seminal. Some of the younger elements in the 1988 team, like Makinka and Chansa, had then come into their prime, while for the likes of Efford Kabala it was a final chance to create a legacy on the global stage.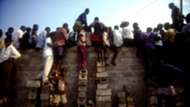 To then be denied that chance, and in such a final and horrific way, was cruel in a startling way.
Morocco qualified instead, before thoroughly disappointing at the Mundial in the USA; it is impossible to know for certain, but it is tempting to wonder what might have been had it been that Zambia side instead.
However, much in the same way that a seed abides alone until it falls to the ground, that tragedy gave birth to, not one, but two redemption stories.
The first, rather more immediately, came at the 1994 Cup of Nations in Tunisia, as Chipolopolo finally crossed their semi-final Rubicon with what was effectively a new team, cathartically defeating defending champions Ivory Coast along the way before failing just short in the final against Nigeria.
That they pushed that Super Eagles team, itself the finest Nigeria has produced, to the very edge was a singular triumph of unity and heart.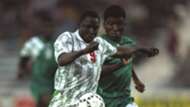 However, if those elements, as well as the challenge of opportunity, so charged their 1994 team, the emotional circumstances of 2012 would be impossible to ignore in accounting for the second triumph.
With the Afcon that year being held in Equatorial Guinea and, pertinently, Gabon, off the coast of which the crash happened, the call of fate was loud as it was unmistakable. It drew an unremarkable side, led by the charismatic Herve Renard, to a glorious destiny.
There were echoes of an old debt repaid, as first a lot of the traditional heavyweights - Egypt, Nigeria, Cameroon - failed to qualify. Then, a mild draw ensured that, those sides that did qualify were kept out of the way till the semi-final meeting with Ghana.
Equatorial Guinea and Sudan were teams Zambia could reasonably expect to beat, and Ghana's tendency to manifest self-harm in semi-finals meant that, for all their dominance of possession, Emmanuel Mayuka's curled winner seemed almost inevitable when it came.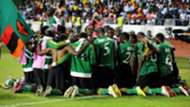 However, for  the subsequent final against perpetual nemesis Ivory Coast, something extra was needed. So, having played the entire tournament in Equatorial Guinea, of course the final had to be in Libreville. Of course.
To then break their duck in the most nerve-shredding manner possible; to channel the frothing emotion of the occasion in a manner that belied their inexperience on that stage; against an Ivoirian Golden Generation with a mighty ability and clout advantage; there is a mistrust of the existence and effect of a spiritual plane. 
However, on that miraculous night in Libreville, it hung like a shroud over the Stade d'Angondje, palpable but immeasurable
"I'm sure the boys up there will be watching," Kalusha had said of his former teammates on the eve of the final.
Looking up at the sky after Stoppila Sunzu had sent a nation into delirium, you could almost see their eyes gleam in the stars.