Super League
Zahasmi admits Kelantan players are affected by controversies
Zulhilmi Zainal & Nik Afiq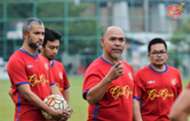 Kelantan head coach, Zahasmi Ismail has admitted that the Red Warriors are not well-prepared ahead of the first Super League game, against Melaka United next week.
Speaking after Kelantan's 5-0 hammering by Premier League side PDRM in a pre-season friendly on Friday, Zahasmi said the situation surrounding the team for the past few weeks has undeniably affected the team's pre-season preparations.
"We started the game without 100% proper preparations, but we will fix this situation. For today, we can't really focus."
"The environment was a bit out of control, especially when the crowd was too close to the pitch, but we must improve our concentration."
"The issues that revolving us, I have to admit, have affected our preparations but our focus now is we want to play football," answered the head coach after the match, which was held at the Pulapol pitch, Kuala Lumpur.
Zahasmi added that he managed to identify the players that have shown more commitment and determination, and will field those players in their first league game this season, against Melaka United next week.
He also admitted that with the foreign players only arriving in the coming days, it might take some time for his men to get a better understanding of each other.
"We are still waiting for the import players to arrive, and they might report for duty in the next few days. We have to face the fact the it may take some time before we can build a good understanding between the players."
"We are looking at the combination of players, who have the commitment, and we can also evaluate those who are determined to play."
"Those are the ones that we will play next week, and we will evaluate again when the import players get  here later," added Zahasmi.
Zahasmi also added that he hasn't studied the Mousedeers' tactics yet, but believes that the new-look Melaka United have had better preparation as compared to them.
Kelantan will face Melaka at the Sultan Mohamad IV Kelantan next Saturday, in their first Malaysia Super League game this season.