Goal United
Young Bafana host 2018 Football for Friendship presentation evening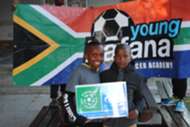 Young Bafana Soccer Academy held a Presentation evening for the 2018 Football for Friendship programme at De Zalze Golf Estate on Tuesday 17th April 2018.
The Presentation was opened by the popular young township singer Litha who entertained the guests with his fine vocal control. Thereafter Founder Bernd Steinhage gave a brief overview of Young Bafana from humble beginnings in 2010, with just eight young players to its current situation where in excess of 100 boys are receiving football and educational outreach assistance.
It was then on to the main thrust of the evening - the introduction of the delegates travelling to Russia to participate in the 2018 Football for Friendship programme . This event will be held in the week leading up to the World Cup opening ceremony and opening match in June 2018. Founder Bernd Steinhage, coach Veron Peter and journalist Graham Knott will be joined by the 12 year old Solethu Mabhendu and Hlonela Sitenge. 
Solethu will be traveling as a player representing South Africa in the while Hlonela will be going as a journalist. Hlonela's task will be to report on the nine different values which define the Football for Friendship mission and how these values will be spread among the 212 children taking part in the event.
Both Solethu and Hlonela spoke of their excitement of a first ever flying experience and travel outside South Africa as well as their appreciation for the opportunity provided by Young Bafana and Football for Friendship. Earlier in the day there was a relaxing Golf outing on the majestic De Zalze course and the guests were treated to tasty pizza from the well-known De Zalze pizza oven Yours in changing lives,