Ligi kuu Bara
Yanga could miss Five Key players for Mwadui tie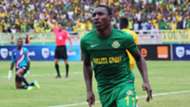 The Jangwani side could be without five key players including Donald Ngoma and Geoffrey Mwashiuya.
Young Africans' spokesman Dismas Ten has mentioned a number of players who could miss the Ligi Kuu Bara game against Mwadui due to different situation on each player.
Ngoma is currently struggling with a knock to the knee. The Zimbabwean has been fighting against his injuries but Mwadui is too early for him.
Thabani Kamusoko is likely to remain on the sidelines as he continues to recover from a hamstring strain.
"Donald Ngoma and Geoffrey Mwashiuya will not be available for Mwadui clash, Mwashiuya is sick but Ngoma is still recovering from his knee injury, Kamusoko and Abdallah Shaibu are also not ready though Kamusoko has started training but we don't want to risk him for now," said Dismas Ten.
Finally, Amissi Tambwe is ready for the clash after recovering from malaria but Obrey Chirwa will start serving his three match ban.
"Tambwe is back, he is now fit after suffering from malaria, he trained well with the team and I hope the technical bench will see if they can use him."
"We are well prepared and ready to get result, we want to win to retain our title," Ten added.
Young Africans have dropped to 5th in the Ligi Kuu Bara and desperately need to take all three points on Wednesday evening to keep pace with their top four rivals.