United States
With options aplenty, Bruce Arena will have some tough decisions to make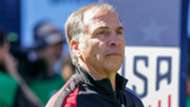 Who is going to sit?
That is the question heading into the U.S. national team's World Cup qualifying camp as Bruce Arena welcomes a plethora of top players into the squad just two months after injuries and suspensions had him scrambling to field a lineup. Now, with the likes of Bobby Wood, Fabian Johnson and DeAndre Yedlin back in the fold, Arena must decide who is going to start when the Americans face Trinidad and Tobago on June 8.
It is a problem Arena doesn't mind having.
"It certainly beats the challenges we had in March, where it was real difficult putting together our team, and yet the guys did a real good job," Arena said on Monday. "This is a nice group we have here, so I think hopefully we can find the right balance in the team, and put them in the right positions to complement them both individually and collectively.
"If we can accomplish that there's no reason to believe we can't be successful in these two games."
The big trip to Estadio Azteca to face Mexico on June 11 looms large, but Arena will likely look to trot out his strongest possible lineup against Trinidad and Tobago in order to ensure securing three points before his team goes to the Azteca, a venue where the Americans have never won a qualifier.
With only two full days between the two matches, the quick turnaround time should give Arena ample opportunity to spread some minutes around.
"Given the circumstances of a lot of games in a short period of time, especially Trinidad and Mexico, we're going to utilize a lot more players than we typically do in this kind of setup," Arena said. "We're watching everybody and thinking about how to best utilize everybody."
Arena has called in a very experienced group, and while there are some promising youngsters who haven't broken double digits in national team appearances, the strong nucleus of experienced stars should give Arena enough proven options to give the U.S. a chance at winning both June qualifiers.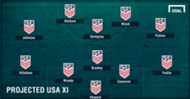 "When you look at the roster top to bottom, you feel good about the guys who are able to come in and not only compete for spots but obviously get on the field and perform," U.S. goalkeeper Tim Howard said. "I think we're past the experimentation phase. These are all guys who the manager believes in wholeheartedly. They're not here for anything other than to play minutes and to play important minutes."
Given the players available, there is a good chance Arena will be forced to sit at least two very good players who might normally start when healthy. In the attack, Arena has three good forwards for two spots, including Clint Dempsey, who scored four goals in the March qualifiers and would seemingly be tough to bench. Arena could shift Dempsey into a playmaker role underneath Jozy Altidore and Bobby Wood, but that would force teenage sensation Christian Pulisic into a winger role. The
Borussia Dortmund
standout spent most of the recent club season as a winger, but he showed against Honduras in March that he can be an effective playmaker in central midfield.
Wood will play a key role in how Arena shapes the U.S. attack. The Hamburg striker missed the March qualifiers with a back injury, and finished out the recent Bundesliga season dealing with a knee issue that reportedly required pain-killing injections.
"(Wood) looks fine," Arena said. "I know he had some injuries at the end of the year with Hamburg, but from what I could see today he looks fine.
"It's the first time I've seen him (in training)," Arena added. "I've obviously met him in Germany a couple of times, but he's a good player. He's a little different than our other strikers so that's a real plus and I think the four guys we're going to have in camp are good strikers and we can certainly utilize all of them."
Arena will also need to decide how to shape his backline. DeAndre Yedlin is a good bet to play at right back while Jorge Villafana should slot in at left back. John Brooks is the front-runner at left center back, while Geoff Cameron is the logical choice at right center back. That foursome would leave Omar Gonzalez on the bench, though Arena could shift Cameron either to right back or to a defensive midfield role to make room for the Pachuca defender.
Don't look for Arena to save anybody for the Mexico match. Securing the win at home is crucial to help the U.S. climb back into a top three spot in the hexagonal round standings, especially when a trip to Mexico — where the Americans have tied El Tri but never beaten them — looms large.
"We need to win our home game against Trinidad. That's vital," Howard said. "Prepare ourselves physically as best we can, then the task of playing Mexico in Mexico. Which is always tough, but again, we need to keep climbing that table and we feel this is a good opportunity to do it."
Healthy U.S. squad poses questions
Howard and his teammates are fully aware that stumbling against Trinidad and Tobago would send the Americans to Mexico desperately needing points, which makes the current camp a crucial one to prepare the U.S. for a tough schedule. That's something the U.S. has grown accustomed to.
"I thought the last camp was pretty important too," Arena said, alluding to the fact the Americans went into the March qualifiers with zero points from their first two Hex matches. "We came out of death valley and put our heads a little bit above water now. But we've got to keep going. We're far from being where we want to be."