Emmanuel Frimpong
Why people don't understand Bendtner and I - Frimpong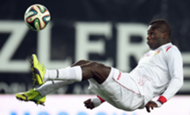 Ghana international Emmanuel Frimpong says he shares some similarities with former Arsenal teammate Niklas Bendtner.
Having progressed through the Gunners' youth ranks, the controversial footballer played together with the Denmark striker between 2011 and 2014.
On various occasions, the two men have been described as cocky and disrespectful, a notion the Ghanaian addresses.
"Nicklas is a bit like me," Frimpong told 6'eren.
"Sometimes people don't quite understand Nicklas.
"He believes in himself and believes that he is the best.
"Why not? If he does not believe in himself, who will? There is nothing wrong with that.
"Nicklas has some funny stories like me and sometimes we did some stupid things.
"Nicklas was super cool and very fun. He always made me laugh."
Their 'arrogance' aside, Frimpong and Bendtner have both struggled to hold down a steady club career.
The Ghanaian had three successive loans stints prior to his Arsenal departure and has since played for four clubs including current Swedish outfit AFC Eskilstuna.
Bendtner, likewise, was farmed out to Birmingham City, Sunderland and Juventus on consecutive loans, before leaving Emirates Stadium.
Since, the 29-year-old has featured for VfL Wolfsburg, Nottingham Forest and present team Rosenborg.