A-League
Why Kevin Muscat is 'very comfortable' with Keisuke Honda's Cambodia role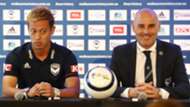 Keisuke Honda might be playing for Melbourne Victory this season, but he'll also be coaching the Cambodian national team in one of the more bizarre joint roles ever seen in football.
The Japanese star is adamant his move into management won't impact his playing commitments and it's a sentiment shared by his club coach Kevin Muscat.
With Honda opting to retire from playing international football after the 2018 World Cup, Muscat confirmed Honda's management role is far more preferable to what could have been the case. 
"Very, very comfortable," Muscat told Fox Sports when asked about Honda's Cambodia role.
"And I repeat the word "very" because I'm possibly one of only a handful of people who has all the information, so I am in a better position to have a view on it.
"There was another option - that he went away in the international window and played for the Japanese national team.
"So, regardless, he wasn't going to be here anyway. I think we have landed in a better place, in terms of the amount of time he is going to spend here."
Honda began his managerial career with a 3-1 loss to Malaysia last month and will only travel to the country during sanctioned international breaks.
Ahead of his expected A-League debut against Melbourne City on Saturday, Honda declared he's more than ready to make an impact. 
"We've been training for two or three months and I have never done anything like this preparation," Honda said.
"That's good to experience but finally we can play against Melbourne City on Saturday. I'm so excited."