Ghana
Why Azumah Nelson wants Abedi 'Pele' for Ghana job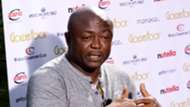 In a rather outrageous one, three-time world boxing champion Azumah Nelson, has called on the Ghana Football Association to appoint three-time African Footballer of the Year Abedi Ayew 'Pele' as the next coach of the Black Stars.
From a reported 95 applications, the FA has already shortlisted about five coaches, and media speculations say former Black Stars' coach Kwesi Appiah is expected to be handed the job.
Meanwhile, Ayew, whose only coaching experience comes from his activities with his founded second tier outfit Nania FC, has always stated his disinterest in leading the national side.
"I support the appointment of local coach for the Black Stars and, whoever is deemed qualified should be given the mandate," Nelson said on Tuesday.
"But for me personally, I think the GFA should contact Abedi Pele if he is interested in the position.
"I think Abedi Pele represents a persona that commands respect and can handle the team, considering his passion for the game and his level of experience and he's blessed in all endeavours.
"We should appoint someone who commands respect, because players will disobey coaches who lack respect and it could hinder the progress of the team."
Considered Ghana's greatest footballer of all-time, Ayew won the 1982 Africa Cup of Nations with the Black Stars during his heyday.
He also lifted the Uefa Champions League trophy with French side Marseille in 1993, two years after being named BBC African Footballer of the Year.
His two sons, Andre and Jordan, are current members of the Black Stars.