World Cup
What went wrong for Brazil? Neymar the main culprit as Selecao flop again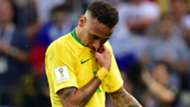 With the hype there came hope, but on the pitch there was only the reality that Brazil were just not good enough once more. Perenially among the World Cup favourites, they so often fall short of expectations and there has to be a feeling of regret at the way they exited the 2018 event in Kazan on Friday.
In 2006 their star-studded squad was left standing as Zinedine Zidane turned in a performance for the ages, but four years on their elimination to the Netherlands seemed to have been coming a mile off – especially after having struggled to see off North Korea – as Dunga's shortcomings were laid bare.
Four years ago it was the loss of Neymar which had them on the back foot from kick-off in the semi-final against Germany and they infamously failed to turn up. But this time around it was the Paris Saint-Germain star who didn't show when his country needed him most.
The broken foot he sustained in PSG's 3-0 win over Marseille in late February left him very little time to work his way back towards match fitness. As with so many star players in the past, the very thought of him failing to make the finals sent shivers through the majority of fans back home. And, just as with almost every other case, he was a shell of himself once he did return.
Having made a goalscoring comeback against Croatia on June 3, Brazil was hopeful that it would see the very best version of Neymar in Russia. In truth, he never got close. If anything, he ended up being a massively disruptive presence.
Away from the pitch he was forever being criticised for his play-acting antics. His previous injuries in recent times, not just this year but also the broken back he sustained in 2014, have perhaps planted the seed that as a star player he needs to be protected more, but nobody was buying it. And his form just wasn't sharp enough on the field to get the Selecao going.
This Brazil was set up by Tite to play around Neymar. The goal-less Gabriel Jesus continued to get starts entirely because Roberto Firmino's natural game was more intrusive upon Neymar's style and attacking channels than the Manchester City man's. What's more, Philippe Coutinho was too often stifled by the No.10 being in the same sort of path which he himself was trying to explore.
So much of their attacking play depended on Neymar, and depended on him being the best version of himself. But in the quarter-final defeat to Belgium they just didn't get it right in attack. Between them, Neymar, Coutinho and Gabriel Jesus rarely truly threatened despite Brazil's weight of possession and territory.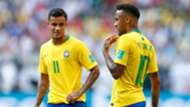 Coutinho did have one glorious chance to level from a Neymar cutback but it was so memorable exactly because it was such a rarity. Instead it was left to the likes of Thiago Silva, Paulinho and the goalscorer Renato Augusto to blow their better chances. Rather than play into the hands of their star forwards, Brazil were restricting them in order to build the side around a man who was physically but not mentally all there.
Of course, every failure tends to attract a scapegoat and back home in South America minds were quickly made up that Fernandinho is this year's fall guy. Playing his first competitive World Cup game since that 7-1 loss to Germany due to Casemiro's suspension, the Manchester City midfielder scored an own goal and failed to add the required protection for the back four as Belgium broke with regularity. But it was not Fernandinho's fault that Brazil's 26 shots returned only a single goal. And neither was he culpable when they took until injury time to break down Costa Rica in the group stage.
It is an increasing quandary in the minds of top-level managers in football's age of the individual. When you have a star on the level of a Neymar, Lionel Messi or Cristiano Ronaldo, just how far does their form have to drop for them to no longer be your best option? When you have somebody who can turn the game in a flash, do you select them at all costs regardless of their fitness in the hope that they supply that moment of genius?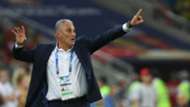 You're damned if you do and damned if you don't. Tite might wonder what might have happened had he left the half-fit Neymar on the sidelines at some point in this tournament, or even withdrawn him early, but had he done so and they had still lost he would have been the prime candidate for public crucifixion. You just cannot win when leaving out one of the game's great stars, sometimes even if you get the victory.
Brazil will remain the most successful country in World Cup history regardless of what happens in the final six games of this year's edition. But in so many ways they are also the team who always find a way to undermine their own chances.
This year they just couldn't make the best use of their superiority in games, and Neymar's presence or otherwise was always likely to be a bone of contention unless they brought home a sixth world title.