UEFA Champions League
What makes an exciting goal?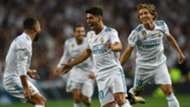 We want to know what you think makes a great goal.

What's your favourite type of strike?

What is it that makes those iconic moments even more memorable?

Our team of experts have analysed some of the most historic and spectacular goals from the beautiful game's great history, considering technique, aesthetics, player, team, occasion and timing. Please fill out the survey below and tell us what you believe makes a truly great goal.