Arsène Wenger
'Wenger won't be at Arsenal next season' - Merson predicts imminent exit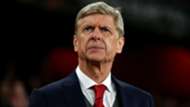 Arsene Wenger will not be at Arsenal next season, says Paul Merson, with the Frenchman set to buckle under ever-mounting pressure.
Having fended off protests against his reign in 2016-17, the long-serving Gunners boss hoped FA Cup success and a new two-year contract would help to shift some of the focus off him.
He has, however, fallen under the microscope again this season, with top-four struggles and a forgettable showing in the Carabao Cup final seeing further questions asked of his future.
Merson admits it is becoming increasingly difficult to see how Wenger could remain in a post he has occupied for over 20 years, with the strain beginning to show on a vastly-experienced coach.
Pressed by Sky Sports on whether he sees the Frenchman at Emirates Stadium in 2018-19, the former Gunners star said: "No. As I sit here I say no.
"If they go to AC Milan and win next Thursday, and they go on and win the Europa League, for me that's a great season for where Arsenal are at the moment. If they win a European trophy it would be a phenomenal feat.
"But I can't see it. I don't even fancy them to go and beat Brighton on Sunday. I feel [Wenger] would've gone if he didn't have AC Milan on Thursday night. I feel he would've then gone if he got beat by Brighton.
"You've just got to look at his press conference the other day. It seemed to me that he was asking for the board to be loyal to him now, because he was saying, 'I've been loyal to this club, I could've gone anywhere in the world'.
"He was trying to tell the board that they should stay loyal to him now. But I feel there's a lot of pressure on him at the moment."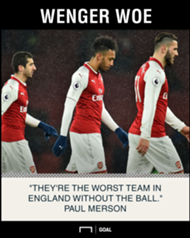 Wenger has often been accused of failing to match the ambition being shown by big-spending rivals, and Merson admits issues in the transfer market are at the heart of Arsenal's current struggles.
He added: "The players he's brought in just haven't been good enough. Arsene's in charge, he runs it from top to bottom. That's the problem. I felt sorry for him last Sunday, as he put a team out there who acted as if they wouldn't be getting the blame.
"They know that Wenger is the man who will take the blame, and that's a problem. They're hanging their manager out to dry. Who's going to get the blame on Sunday if they lose? It'd be Wenger again, and it's gone beyond that now.
"I feel Arsenal have gone. Confidence is shot, and I don't think they'll be up for a fight against Brighton. I can't see Arsenal being able to live with them. For me, they're the worst team in England without the ball."