A-League
'We will win and that's it' - Sydney's Carney on A-League grand final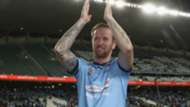 Sydney FC winger David Carney has declared nothing less than success will do for the Sky Blues as they attempt to finish their brilliant season with an A-League championship.
The Harbour City club have swept all before them in 2016-17, breaking a raft of A-League records - including the all-time points tally, but must overcome Melbourne Victory on Sunday to complete the premiership-championship double.
Carney wouldn't entertain the thought of defeat when speaking to reporters on Tuesday.
"We will win and that's it. It's been built in us since day one this season - we win every game and no-one at this club thinks about losing," he said.
Victory unfazed by Allianz Stadium pitch
As a 22 year-old, Carney won the first ever A-League championship with Sydney and 11 years on, the veteran is on the cusp of adding another.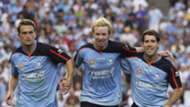 Andrew Packer, David Carney and Robbie Middleby, Sydney FC, 2006 A-League Grand Final
Carney was part of the Sky Blues side that won the inaugural championship, beating Central Coast Mariners 1-0 in the 2006 Grand Final.
But the match could have easily gone the other way.
"I remember we started off very slow and they had a couple of chances at the start - for some reason we were a bit flat," Carney said.
"They were on top and we were lucky to still be 0-0 after 25 or 30 minutes.
"The first 20, I don't think I was the greatest myself.
Waratahs won't move rugby match before grand final
"It took a good run or something like that to get into the game - sometimes you need that.
"When you're a kid you just want to start off well but sometimes you need that little bit of good fortune to set you away and get you into the game.    
"I think our experience in that team at the time overcame it. 
"We had the likes of Dwight Yorke and Steve Corica scoring the winner and that sort of got us over the line. 
"I remember the second half we seemed to dominate them, but it's a long time ago."
Life has come full circle for Carney.
Ninkovic never dreamed he would play in Australia
He joined Sydney in 2005 after a few years in the United Kingdom but after three years left his hometown again for stints in England, Netherlands, Spain, Uzbekistan and the United States.
Having initially returned to the A-League in 2013 with Newcastle Jets, Carney has been at Sydney since midway through last season and is looking for another championship medal.
"It's surreal in a way where you win it when you're just starting off your career and now I'm coming to the end of my career and I'm playing it again," he said. 
"I started that one but I've just got to be there for the boys and hopefully when I do make an impact it's a good one. 
"I seem to do well against Victory so I'm happy we're playing them."